Curated by the Global Wellness Institute and Renee Moorefield, member of the GWI Advisory Board
and CEO of Wisdom Works Group.
"Dig the well before you're thirsty."
––Chinese proverb
As an integral part of The Wellness Moonshot: A World Free of Preventable Disease Initiative, you are an ambassador who helps people prepare to make wellness central to their lives, communities and workplaces.
Your leadership means intentionally promoting wellness to reduce suffering and to elevate the wellbeing and happiness of others. It means emphasizing healthy lifestyle habits to help individuals and groups buffer stress and optimize vitality. It's about cultivating inclusive environments, at work and at home, where people can feel psychologically and physically safe, express their individuality, and belong. And, as we've all witnessed firsthand during this global pandemic, your wellness leadership means acknowledging that setbacks and losses happen. But when they do, you seek strategies, such as encouraging self-care, connecting with others, and facilitating expansive conversations of grief and gratitude, to bring about personal and collective renewal.
At its essence, your wellness leadership is grounded in pragmatic optimism. Why? Because, when it comes to preparing for the profound shift from an unwell to a well world, you realize: You are part of creating the future today.
---
CREATING A WELL WORLD: HOW DO YOU PREPARE?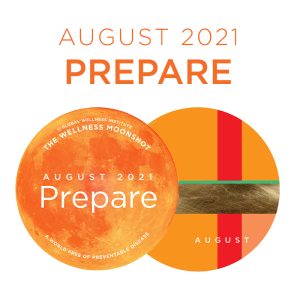 Start by embracing this truth: No one has the definitive wellness playbook. If they did, we'd likely all be using it by now. Nevertheless, there are many ways to, as the Chinese proverb says, "dig the well before you're thirsty." You can put conditions and resources in place to cultivate healthy behaviors and high levels of wellbeing before crises happen so that people have the tools to deal with those challenges. This kind of preparing means investing upstream in systemic approaches for whole health and prevention, rather than focusing only downstream on reactive intervention.
Strategies for wellness and wellbeing become capacity-builders, expanding the capabilities of people and groups to mitigate too much stress and, in turn, utilize stress to grow their adaptability and resilience.
---
In your wellness leadership repertoire, preparation is key. Try these capacity-building activities with your team and organization—and be sure to include yourself:
Leading Your Team & Organization
Demonstrate a leadership of care. Explore how other leaders are striving to prioritize employee wellness and wellbeing. For example, consider these ideas from companies such as Mozilla, Fidelity, Bumble and Marriott International: Continue offering key benefits, such as child- or elder-care, that help people effectively manage demands in their lives. Embrace flexible work arrangements designed around the principles of learning, collaboration, inclusion and wellbeing—all of which lend to vibrant people and a productive workplace. Declare official wellness days (or weeks) to signal wellness is important for everyone (and make sure you're an effective wellness role model). Open new job possibilities for employees to explore; perhaps there is a better fit between the purpose of your team or organization and the lives people want to evolve. Seek ways to increase autonomous decision-making and shared trust across the organization. The truth is: If you use this opportunity to normalize wellbeing and care in your workplace culture, you'll go a long way in preparing your organization and the people in it for the next challenge (pandemic or otherwise) that will invariably come along.
Ask the bigger question. Even as the pandemic recedes in some parts of the world, many are feeling deep fatigue and burnout while others are rethinking their careers As Stanford University sociologist Marianne Cooper underlines, "Expecting people to just 'return to work' does not acknowledge the challenges and difficulties employees endured. Employers can't expect employees to just pretend like we didn't just live through a social catastrophe—especially as that catastrophe continues to unfold around the world." Instead of reacting rashly to the statistic that over 40% of the global workforce is now considering leaving their employers (and that employer might be you), allow this stat to instigate a bigger question: How can we prepare employees to reset their lives and work—and, in doing so, come to know our organization as a facilitator of their wellbeing? Invite employees to respond to this question, too; this is about creating answers that bolster not only them and their loved ones but also your organization's resilience.
Be a wellbeing coach. When it comes to personal wellbeing, most people are looking for a coach or facilitator more than they are a boss or expert. Support your family, friends and teams by shifting into empathy and listening. Some people respond to an uncertain future with anxiety or fear, while others light up with enthusiasm. Create an emotional spaciousness that allows people to honestly be where they are without guilt or shame, whether that means helping them mine the wisdom of their sadness or channel their excitement about what's ahead. And invite people to relook at the value of wellness; how we eat, move, connect, rest and breathe today prepare us for the ups and downs that are an inherent part of life and work.
---
Leading Yourself
Prepare a mantra. Do you have a saying that helps you lead well when challenges occur? If not, develop a mantra right now when life is saner, rather than wait until you're in over your head. When faced with major difficulties, such as helping his city navigate COVID-19, a budget shortfall, or the racial reckoning galvanized by George Floyd's death, Minneapolis mayor Jacob Frey says to himself, "Find a way." (To learn how he uses this mantra, start at 1:33 of the popular Rich Roll podcast.) This self-coaching strategy helps you, psychologically and neurologically, maintain a positive view of yourself as well as your competence to influence a healthy future by rising above the fray.
Ready your personal foundation. As a wellness leader, you are often activating and sustaining major wellness change in families, organizations and communities. Don't forget: Transformation is an endurance sport, not a sprint. Ask yourself: What life practices will help me prepare myself for the long haul? And commit to those practices, such as keeping healthy boundaries, gardening, riding your bike, or enjoying a daily dose of wonder, that enable you to lead and live with equanimity, resourcefulness and wellbeing.
---
PREPARE FOR WELLNESS THROUGH THE WELLNESS MOONSHOT COMMUNITY
Helping each other prepare to lead wellness is one of the greatest gifts of The Wellness Moonshot: A World Free of Preventable Disease community. Using #wellnessmoonshot, give an example on social media about what you're doing to help yourself and other prepare to lead wellness; we'll spread your inspiration worldwide. And remember to join the GWI's Wellness Moonshot celebration on August 20 to connect and learn from others!
Next month, we'll touch on what it means to intentionally LEARN as a wellness leader and use learning strategies to enhance wellness for others. Until then, check out each of these Wellness Moonshot articles from past years with invaluable insights and strategies for your wellness leadership journey.
---

TIPS TO EXPAND YOUR MOONSHOT
As a wellness leader, you are often activating and sustaining major wellness change in families, organizations and communities. Don't forget: Transformation is an endurance sport, not a sprint. Ask yourself: What life practices will help me prepare myself for the long haul? Save this thoughtful advice, which is excerpted from Renee Moorefield's article, on why it's essential to PREPARE for the next challenge that will invariably come along.
READ TIPS  
---
MORE RESOURCES