LEADING WELLNESS ECONOMY RESEARCH
from the Global Wellness Institute
The Global Wellness Institute initiates, analyzes, and trumpets authoritative wellness industry research. We believe that accurate and in-depth research and data on the wellness economy—and its 11 sectors—are the foundation of the Institute's goal to empower wellness worldwide.
---
Explore All Wellness Economy Reports
Reports by Topic/Sector Reports by Date Reports by Region
---
Featured Research Reports
---
The Global Wellness Economy
The wellness economy is a colossal global industry, estimated by the Global Wellness Institute at $5.6 trillion in 2022. The wellness economy encompasses eleven varied and diverse sectors, which enable consumers to incorporate wellness activities and lifestyles into their daily lives.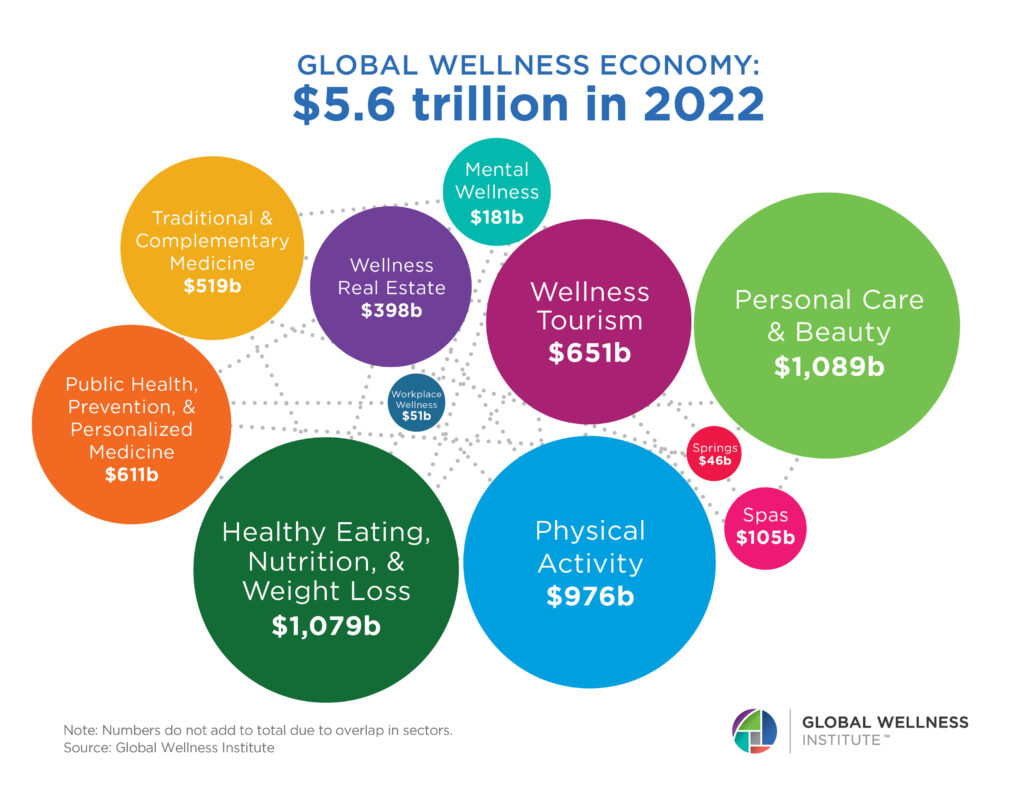 Explore more wellness charts & graphs
---
About the Global Wellness Institute Wellness Economy Research
The Global Wellness Institute provides comprehensive, objective, and global research on the wellness economy and its 11 sectors. We strive to be the go-to resource for those seeking to understand how wellness has become a driving force in today's global economy, at the nexus of consumer markets, business opportunities, and government policy-making.
All of our research is available for free to the public, and therefore we rely on sponsorships to underwrite the work. Our research sponsors understand well the value of supporting research, both as a service to the public and a business decision, as sponsors receive visibility throughout the year and are forever linked to the important work of the Institute. Please click here for more information about sponsoring research.
Please note that all reports are the property of the Global Wellness Institute. Quotation of, citation from, and reference to any of the data, findings and research methodology from the reports must be credited to the Global Wellness Institute. To obtain permission for copying and reproduction, please contact the Global Wellness Institute by email at [email protected].