The Global Wellness Institute Initiatives are led by an Initiative Chair, who is a renowned thought-leader in his or her particular area of focus. Each Initiative seeks to shape a project with a goal to impact wellness throughout the world. This may take the form of a best practices manual, a campaign to raise awareness about an issue or an event, a project to impact wellness in a particular market segment or region of the world, or a way to innovate within the chair's field of expertise.
On this page you can read more about the following Initiative projects:
Briefing Papers
Trends
Whitepapers
Infographics
Manuals and Guides
---
Briefing Papers
The Global Wellness Institute Initiatives prepared individual briefing papers to be shared with the public and Global Wellness Summit delegates. Those papers are snapshots of their industry sector and include valuable information on latest trends, challenges and Initiative accomplishments. Below is a full list with links to each paper.
Africa Wellness Initiative: Briefing Paper
Beauty Meets Wellness Initiative: Briefing Paper
Consulting Best Practices Initiative: Briefing Paper
Digital Wellness Initiative: Briefing Paper
Eastern European Initiative: Briefing Paper
Exploring Salt & Halotherapy Initiative: Briefing Paper
Global Mentorship Program Initiative: Briefing Paper
Hot Springs Initiative: Briefing Paper
Hydrothermal Initiative: Briefing Paper
Immersion Initiative: Briefing Paper
Massage Makes Me Happy Initiative: Briefing Paper
Mental Wellness Initiative: Briefing Paper
Social Impact Initiative: Briefing Paper
Sustainability Initiative: Briefing Paper
Wellness & Government Initiative: Briefing Paper
Wellness Architecture Initiative: Briefing Paper
Wellness at Work Initiative: Briefing Paper
Wellness Communities Initiative: Briefing Paper
Wellness for Cancer Initiative: Briefing Paper
Wellness for Children Initiative: Briefing Paper
Women in Leadership Initiative: Briefing Paper
World Retreat Initiative: Briefing Paper
---
Trends
Ten Shifts Driving a New 'Thrive' Revolution at Work
Prepared by Renee Moorefield, CEO of Wisdom Works Group and Chair of the Wellness at Work Initiative
Ten crucial shifts that are fueling the new focus on thriving in the workplace have been identified– from a movement away from narrow "wellness programs" to the complete reinvention of work itself to a much more powerful focus on mental wellbeing, women-friendly workplaces and nature-infused biophilic work environments.
---
Whitepapers
Mental Wellness Initiative Whitepaper
Prepared by the Mental Wellness Initiative
The world is suffering from a mental wellness crisis: Roughly one billion people suffer from anxiety, and one in four people experience mental disorders. This new report from the Global Wellness Institute's Mental Wellness Initiative answers this need for more evidence-based pathways to mental wellbeing.
Wellness Communities Initiative Whitepaper
Prepared by the Wellness Communities Initiative
The purpose of this document is to help inform and guide the effective development of wellness communities around the globe. It was created by an international group of business leaders with active commercial interests in the development of wellness communities and wellness lifestyle real estate, now estimated to be a $100B global marketplace. It is intended to serve as an informative resource, which will be updated over time as the marketplace matures, and is designed to answer four key questions including:
1. What is a "Wellness Community"?
2. What are the minimum criteria recommended to consider a community "well"?
3. What other criteria may be considered?
4. What measures – qualitative and quantitative – should be considered when attempting to attract, justify and/or measure investment in this type of real estate?

Wellness in the Age of the Smartphone Whitepaper
Prepared by the Digital Wellness Initiative
The purpose of this paper is to consider how the rise of mobile technology is impacting human wellbeing. The authors, drawing from backgrounds in medicine, hospitality, economics and technology, argue that the optimism and excitement about emerging technologies that have the potential to improve human wellness should be tempered with conservative caution that also considers the potential downsides. They look at current research on the impact of technology on sleep, obesity, mental health, relationships, safety, and productivity to raise awareness of some of the pitfalls of technological progress. They call for a greater research and policy focus on understanding the intersection between technology and wellbeing.
---
Infographics
Workplace Wellbeing Infographic
Prepared by the Wellness at Work Initiative
Where is wellness at work today? Where has it been? And where it is going? This infographic tells the story in a snapshot. We hope you find it useful as you explore wellness approaches for your organization.

Wellness for Cancer Infographic
Prepared by the Wellness for Cancer Initiative as a result from the roundtable on March 31, 2017.

Infographic About Wellness in Eastern Europe
Prepared by the Eastern European Initiative
The below infographic is the result of a survey taken between August 15, 2016 and October 31, 2016. The Initiative's goal was to assess the general awareness of wellness in the Eastern European region, and to evaluate the limitations and opportunities of actively participating in wellness activities. The majority (70%) of respondents were females between 25- and 34-years-old.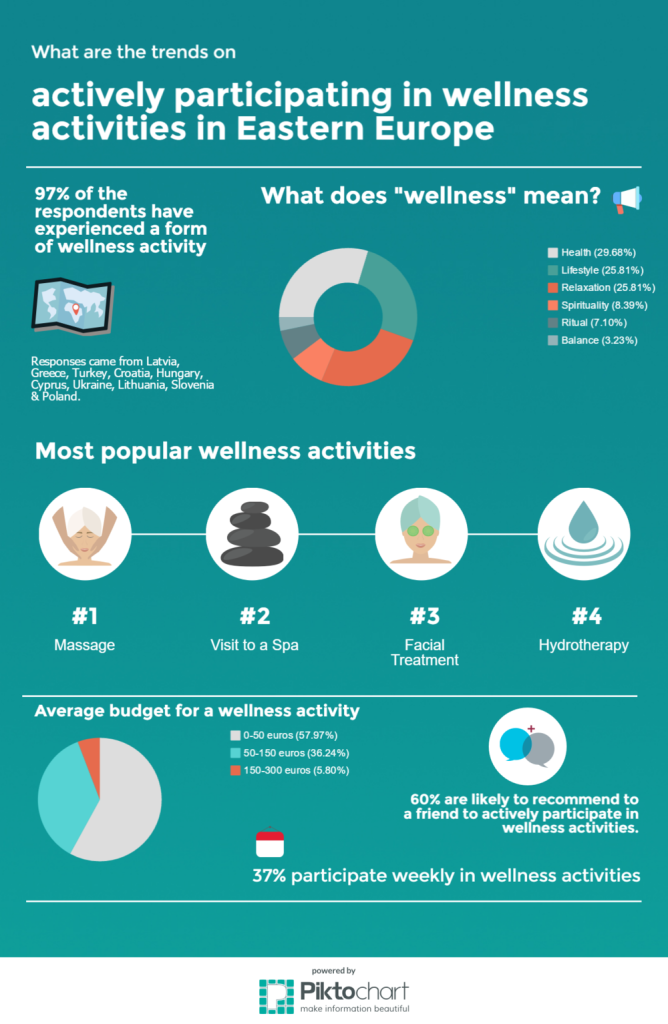 ---
Manuals and Guides
---
The Global Wellness Institute serves as an umbrella organization for numerous Initiatives, that are independently chaired and run. The resources, editorial, research and opinions presented by the Initiatives do not necessarily reflect the opinions of the Global Wellness Institute.