IN PARTNERSHIP WITH NATIONAL ACADEMY OF SPORTS MEDICINE® 
Wellness in the U.S.
---
The United States is by far the world's top wellness economy, boasting the largest markets in nine out of eleven wellness sectors – spanning physical activity, healthy eating, mental wellness, beauty and personal care, wellness tourism, and more. With its sophisticated wellness markets, world class cities, natural resources, recreational infrastructure, and diverse cultures and heritage spread over 3.5 million square miles of varied geography and topography, the U.S. offers something for everyone who is interested in wellness.
For a fully immersive, outdoor experience, explore one of sixty-three national parks, or choose to take a quick break from a busy day with a walk in a park, run on a beach, or a bike ride through the city. For a more personalized, relaxing experience, the U.S. has some of the world's finest spas and wellness resorts, offering traditional and state-of-the-art wellness treatments. Many Americans live in wellness communities – intentionally developed real estate that put human health and well-being at the center of its design and operation. Americans' love of sports often inspires movement from childhood leagues to adult teams. The U.S. is a global innovation leader in many wellness sectors, pioneering many new products, services, and therapies in diverse wellness spaces – from food and beverages, fitness programs, and mind-body treatments to recovery, sensory experiences, and diagnostics that meet the wellness needs for consumers and visitors.
U.S. KEY FACTS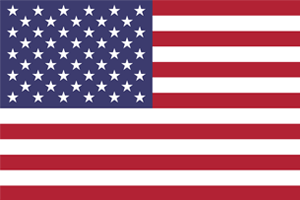 Population
329,484,123 (2020)
Life Expectancy for Men
76.3 years (2019)
Life Expectancy for Women
81.4 years (2019)
Learn more about this partnership:
Read press release

U.S. WELLNESS ECONOMY REPORT
---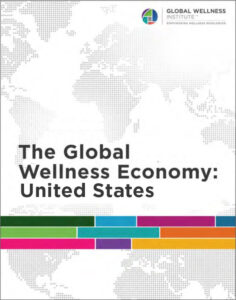 This country report is the first detailed measurement of the size of the U.S.'s wellness economy, presenting data on its eleven wellness sectors. The report shows the trajectory of the wellness economy from 2017 to 2019, the pandemic impacts in 2020, and subsector details where data are available. It also contains global and regional comparisons to show where the U.S. stands vis-à-vis its peers and competitors. This report and its data will be valuable for any businesses and investors who are interested in the opportunities and potential offered by the U.S.'s dynamic wellness market.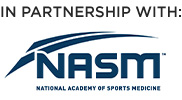 WELLNESS ECONOMY BY SECTOR IN THE U.S.
---
The wellness economy, as defined by GWI, is broad and diverse. Its eleven sectors encompass many different types of consumer activities and expenditures, including products, services, travel, and technology. Every country's wellness economy is unique. Its composition can vary widely from country to country, based on its development history, culture, socioeconomic conditions, and government policy. Below we present the U.S.'s top-line wellness economy data and how it ranks globally. More details are available in the downloadable country report.
U.S. Rankings out of 218 countries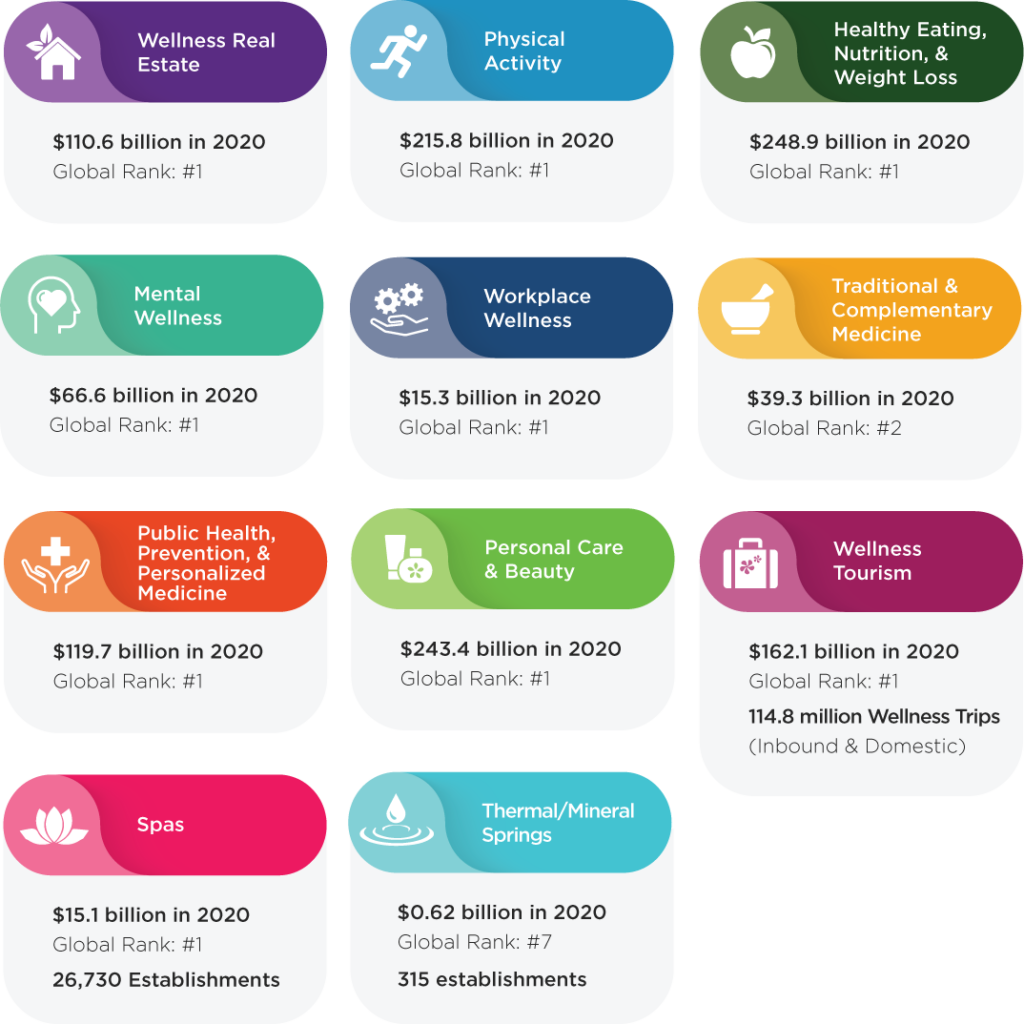 KEY WELLNESS EXPERIENCES IN THE U.S.
---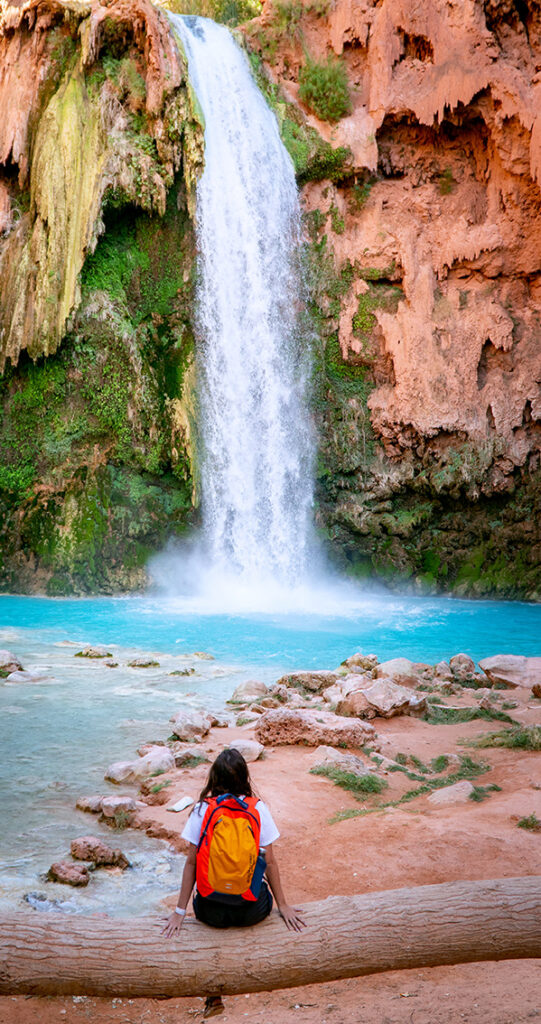 Whether you are visiting a city or exploring the vast expanse of the American landscape, you can integrate wellness into your trip. If nature and outdoor recreation appeal to you, the U.S. national parks, state parks, and national forests offer millions of acres of grounds for hiking, climbing, camping, and many water sports. Nature and majestic landscapes – from the deserts and canyons of Arizona, the snowy mountains of Colorado, to the coastal beaches and the lakes of Michigan – provide a respite from the hustle and bustle of everyday life, and the opportunity to engage in sports that can challenge you physically and mentally. For those seeking wellness treatments and therapies, the U.S. is home to more than 26,000 spas (day spas, medical spas, destination spas, hotel/resort spas) and over 300 thermal/mineral springs where you can experience communal bathing and the healing powers of water.
If you are interested in an urban getaway with a wellness touch, there is an abundance of city hotels that prioritize wellness – not only are they equipped with gyms and spas but they also place a high priority on helping you get good sleep, eat healthy and nutritious food, practice mental wellness and mindfulness, and find social connections and a sense of community. In a racially and culturally diverse country, U.S. cities offer many immersive experiences through music (e.g., festivals in Austin, Chicago, Nashville, and more), food (regional cuisine, ethnic cuisines, diverse health food landscape that spans organic, plant-based, farm-to-table, raw foods, etc.), and the arts. Many cities have created public art installations, public recreational space, urban trails (e.g., the Highline in New York) and greenways for citizens and visitors to enjoy walking, running, and cycling in proximity to nature.  Whether you are seeking to steep yourself in nature to nurture your physical or mental wellness, or to reinvigorate your mind and soul through the arts or social connections, the opportunities to increase well-being in the U.S. are plentiful and accessible.
OTHER GWI RESOURCES & REPORTS FOR THE U.S.
---
PROVIDED IN PARTNERSHIP WITH NATIONAL ACADEMY OF SPORTS MEDICINE® (NASM™)
---
The Global Wellness Institute is grateful to NASM™, for supporting the development of this country report and making its significant U.S.-specific wellness data available to the world.
For over 35 years, National Academy of Sports Medicine (NASM) has earned its reputation as the gold standard in fitness education with best-in-class evidence-based programs in personal training, nutrition coaching, wellness coaching, sports performance, and more. Above and beyond any other certification provider, NASM trainers work at every level of organized sport while NASM wellness coaches inspire lasting change in their clients and co-workers across fitness, healthcare, pharmaceutical, and human resource organizations.
Visit the NASM website