WELLNESS DEFINITIONS
Wellness Defined
The Global Wellness Institute defines wellness as the active pursuit of activities, choices and lifestyles that lead to a state of holistic health.
Wellness Economy Defined
The Global Wellness Institute defines the wellness economy as industries that enable consumers to incorporate wellness activities and lifestyles into their daily lives.
The wellness economy encompasses 10 sectors, as defined below.
Wellness real estate: The construction of residential and commercial/institutional (office, hospitality, mixed-use/multi-family, medical, leisure, etc.) properties that incorporate intentional wellness elements in their design, materials and building as well as their amenities, services and/or programming. Note that wellness real estate is broader than (but encompasses) wellness lifestyle real estate, which focuses on the residential component.
Workplace wellness: Includes expenditures on programs, services, activities and equipment by employers aimed at improving their employees' health and wellness. These expenditures aim to raise awareness, provide education, and offer incentives that address specific health risk factors and behaviors (e.g., lack of exercise, poor eating habits, stress, obesity, smoking) and encourage employees to adopt healthier lifestyles.
Wellness tourism: The aggregation of all expenditures made by wellness tourists—primary and secondary, international and domestic—including spending on lodging, food and beverage, activities and excursions, shopping, and in-country transportation.
Spa economy: Refers to spas and the related cluster of sectors that support and enable spa businesses. The spa economy includes spa facilities, spa education (for therapists and managers/directors, both initial training and continuing education), spa consulting, spa capital investments, spa associations, and spa-related media and events.
Thermal/mineral springs: Encompasses the revenue-earning business establishments associated with the wellness, recreational and therapeutic uses of water with special properties, including thermal water, mineral water and seawater.
Fitness and mind-body: Includes gyms and health clubs; personal training; yoga, Pilates, tai chi, martial arts, and other mind-body practices; fitness and exercise clothing; fitness and exercise equipment; and wearable devices.
Healthy eating, nutrition and weight loss: Includes vitamins and supplements, fortified/functional foods and nutraceuticals, natural and organic foods, health foods, sports nutrition, nutrition and dietary services, and weight loss/management products and services.
Personal care, beauty and anti-aging: Includes beauty and salon services (excluding spas); skin, hair, and nail care services and products; cosmetics, toiletries, and other personal care products; dermatology; prescription pharmaceuticals for skin care; as well as products and services that specifically address age-related health and appearance issues, such as cosmetics/cosmeceuticals for skin/face/body care, hair care/growth, and pharmaceuticals/supplements that treat age-related health conditions.
Preventive and personalized medicine and public health: Includes medical services that focus on treating "well" people, preventing disease, or detecting risk factors—for example, routine physical exams, diagnostic and screening tests, genetic testing, etc. Personalized health uses sophisticated information and data for individual patients (including genetic, molecular, and environmental screening, analysis, and diagnostics; personalized disease management services; and health IT such as electronic health records, telemedicine, and remote patient monitoring) to provide tailored approaches for preventing disease, diagnosing and managing risk factors, or managing and treating conditions.
Traditional and complementary medicine: Encompasses diverse medical, healthcare, holistic, and mentally or spiritually-based systems, services and products that are not generally considered to be part of conventional medicine or the dominant health care system—including homeopathic, naturopathic, chiropractic, Traditional Chinese Medicine, Ayurveda, energy healing, traditional/herbal remedies and supplements, etc. The nomenclature for this sector is evolving alongside growing consumer adoption of traditional/indigenous, complementary, alternative and integrative medical practices outside of the conventional/Western medical system.
Wellness Tourism Defined
The Global Wellness Institute defines wellness tourism as travel associated with the pursuit of maintaining or enhancing one's personal wellbeing.
Primary wellness tourist: A tourist whose trip or destination is primarily motivated by wellness.
Secondary wellness tourist: A tourist who seeks to maintain wellness while traveling or who participates in wellness experiences while taking any type of trip for leisure or business.
International wellness tourism receipts: All receipts earned by a country from inbound wellness tourists visiting from abroad with an overnight stay.
Domestic wellness tourism expenditures: All expenditures in a country made by wellness tourists who are traveling within their own country with an overnight stay.
Spas Defined
The Global Wellness Institute defines spas as establishments that promote wellness through the provision of therapeutic and other professional services aimed at renewing the body, mind and spirit. Spa facilities offer a wide variety of services (e.g., massages, facials, body treatments, salon services, water-based treatments, health assessments and more) as well as sales of related products.
Most consumers and industry experts would agree that at its core—no matter its size, form or business model—a spa is an establishment that focuses on wellness. The concepts of wellness, the healing traditions drawn upon, and the therapeutic techniques applied differ dramatically across both nations and types of spas.
Spa sub-categories are defined as follows:
Day/club/salon spas: Offer a variety of spa services (e.g., massages, facials, body treatments, etc.) by trained professionals on a day-use basis. Club spas are similar to day spas but operate out of facilities whose primary purpose is often fitness. Salon spas operate out of facilities that provide beauty services (e.g., hair, cosmetics, nails, etc.).
Destination spas and health resorts: Offer a full-immersion spa experience in which all guests participate. In addition to spa and body treatments, all-inclusive programs typically include a myriad of other offerings such as fitness, mind-body, special diets and cleanses, energy work, personal coaching, nutritional counseling, weight loss, sports medicine, preventive or curative medical services, etc. This category also includes the traditional sanatoria and health resorts in Europe that offer spa-like services (e.g., massage, hydrotherapy, thermal water bathing, etc.) for wellness and therapeutic purposes.
Hotel/resort spas: Located within a resort or hotel property, providing spa services on an à la carte basis to hotel guests and outside/local guests. Spa treatments and services generally complement a hotel stay or a wide range of other activities at a resort.
Thermal/mineral springs spas: Include the revenues generated by spa- and wellness-related treatments (e.g., massage, facials, hydrotherapy, etc.) at the following types of establishments: day-use spa facilities and destination/health resorts that incorporate an on-site source of natural mineral, thermal or seawater into their spa treatments, as well as other bathing/recreational springs establishments that offer complementary spa services.
Medical spas: Operate under the full-time, on-site supervision of a licensed healthcare professional, providing comprehensive medical and/or wellness care in an environment that integrates spa services with traditional, alternative or cosmetic medical therapies and treatments.
Other spas: Includes all other facilities that are not captured by the categories described above, such as cruise ship spas, airport spas, mobile spas, as well as historically-/culturally-based facilities (e.g., Turkish hammams, Indian Ayurveda centers, etc.) that have incorporated spa-like services into their offerings.
Thermal/Mineral Springs Defined
The Global Wellness Institute defines the thermal/mineral springs sector as revenue-earning business establishments associated with the wellness, recreational and therapeutic uses of waters with special properties. Our figures count thermal/mineral springs establishments that operate as a business, and as such, do not include springs that do not have any built facilities and/or do not charge any kind of fee for access. Establishments that use heated water—not naturally-sourced thermal/mineral water—are also excluded from this category.
There are many categories and types of thermal/mineral springs establishments, as illustrated below: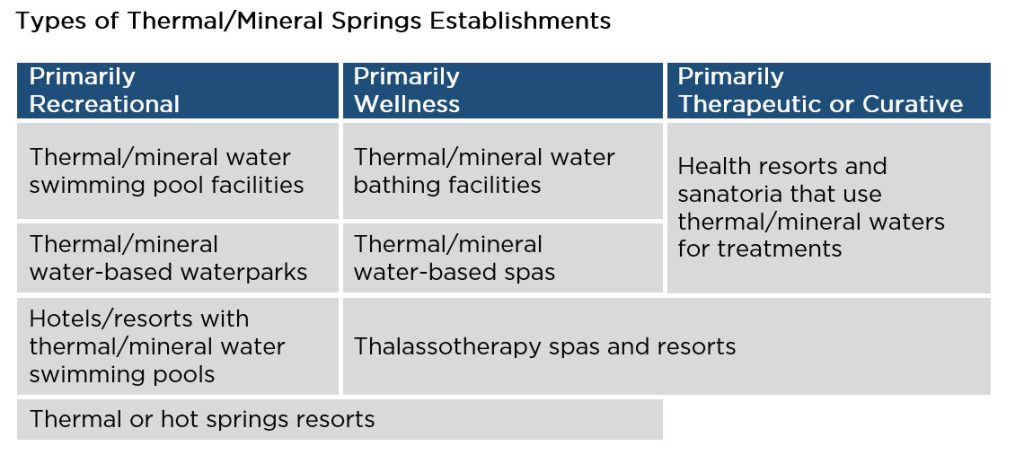 Our revenue estimates include all revenues earned by the establishments in the above categories (not just revenues from thermal/mineral-water bathing and treatments). Therefore, our estimates include revenues earned from bathing/swimming offerings, spa/wellness services and other treatments, other recreational activities, food and beverage, lodging, and other services offered by the establishment.