We can help you with your story, please contact:
Beth McGroarty; beth.mcgroarty@globalwellnessinstitute.org +1.213.300.0107
Statistics & Facts
Since 2007, many landmark research reports have been commissioned and published.  They are available in their entirety for free here. Below are some of the key charts from each report, the updated, topline industry figures and the GWI official definition of wellness, wellness tourism and spa.
The Latest Numbers
The global wellness industry is a $4.2 trillion market.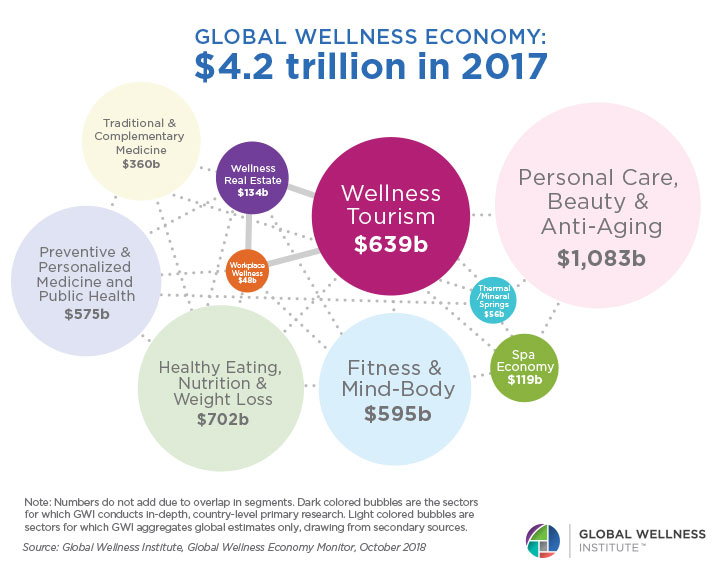 Key sectors include:
Personal Care, Beauty & Anti-Aging ($1,083b)
Healthy Eating, Nutrition & Weight Loss ($702b)
Wellness Tourism ($639b)
Fitness & Mind-Body ($595b)
Preventative & Personalized Medicine and Public Health ($575b)
Traditional & Complementary Medicine ($360b)
Wellness Lifestyle Real Estate ($134b)
Spa Economy ($119b)
Thermal/Mineral Springs ($56b)
Workplace Wellness ($48b)
Additional Facts:
The global wellness industry grew 12.8% from 2015-2017, from a $3.7 trillion to a $4.2 trillion market. To put that in economic context, from 2015-2017, the wellness economy grew 6.4% annually, nearly twice as fast as global economic growth (3.6%).
Wellness expenditures ($4.2 trillion) are now more than half as large as total global health expenditures ($7.3 trillion). And the wellness industry represents 5.3% of global economic output.
Among the ten wellness markets analyzed, revenue growth leaders from 2015-2017 (per annum) were: 1) the spa industry (9.8%), 2) wellness tourism (6.5%) and 3) wellness real estate (6.4%).
---
Wellness Defined
Consistent with the World Health Organization's definition of "health," the 2013 Global Wellness Tourism Economy report defines wellness as a state of complete physical, mental, and social well-being.* It goes beyond mere freedom from disease or infirmity and emphasizes the proactive maintenance and improvement of health and well-being. Expressed on a continuum that extends from reactive to proactive approaches to health, wellness falls firmly on the proactive side, incorporating attitudes and activities that prevent disease, improve health, enhance quality of life, and bring a person to increasingly optimum levels of well-being.**
* Preamble to the Constitution of the WHO, www.who.int/about/definition/en/print.html.
** The continuum concept is adapted from Dr. Jack Travis' Illness Wellness Continuum. Travis was one of the pioneers of the modern wellness movement in the late 1970s.
---
Workplace Wellness
Wellness at work is the right to work in a manner that is healthy, safe, motivating, and edifying. We are responsible for conducting work in a way that improves our wellness and the wellness of others. Already a $40 billion industry, despite the fact that only 9% of the 3 billion-plus global workers have access to some type of workplace wellness program at their jobs.
---
Wellness Tourism Defined
The wellness tourism economy is all expenditures made by tourists who seek to improve or maintain their well-being during or as a result of their trip. It includes different types of expenditures and tourists:
International Wellness Tourism Receipts: All receipts earned by a country from inbound wellness tourists, with an overnight stay.
Domestic Wellness Tourism Expenditures: All expenditures in a country made by wellness tourists who are traveling within their own country of residence, with an overnight stay.
Primary Wellness Tourists: Where wellness is the sole purpose or motivating factor for the trip or destination choice. These tourists account for 13% of wellness tourism trips and 16% of expenditures.
Secondary Wellness Tourists: Seek to maintain their wellness or participate in wellness experiences while taking any kind of trip. Accounts for the significant majority of wellness tourism trips (87%) and expenditures (84%).
---
Spa Defined
An inherent goal of the 2007 Global Spa Economy report was to promote the value of flexibility in defining the term "spa" and to understand its different interpretations by businesses and consumers around the world. With this end in mind, the team from SRI International put forth the following definition for spas:
Spas are defined as establishments that promote wellness through the provision of therapeutic and other professional services aimed at renewing the body, mind, and spirit.
Most consumers and industry executives would agree that at its core – no matter its size, form, or business model – a spa is an establishment that focuses on the promotion of wellness. The concepts of wellness, the healing traditions drawn upon, and the therapeutic techniques applied differ dramatically across both nations and businesses.
---
Research Reports
Full Global Wellness Institute research reports are available for free download and print purchase here. Click graphs to enlarge.
Please note that all reports are the property of the Global Wellness Institute. Quotation of, citation from, and reference to any of the data, findings, and research methodology from the report must be credited to the Global Wellness Institute. To obtain permission for copying and reproduction, please contact the Global Wellness Institute by email at info@globalwellnessinstitute.org.
The Future of Wellness at Work
The Global Spa & Wellness Economy Monitor 2014
The Global Wellness Economy: 2013 & 2014
Spa Management Workforce & Education: Addressing Market Gaps 2012
Wellness Tourism and Medical Tourism: Where do Spas Fit? 2011
Spas and the Global Wellness Market: Synergies and Opportunities 2010
The Global Spa Economy 2007