2018 Build Well to Live Well:
Wellness Lifestyle Real Estate & Communities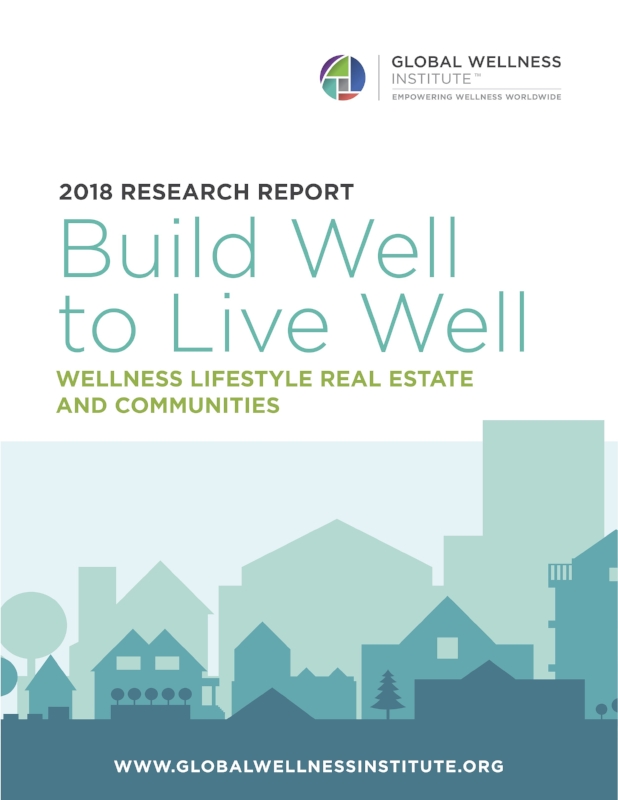 Each year, the Global Wellness Institute (GWI) commissions a comprehensive research project that results in the publication of a major report on a topic of relevance and importance to the field, making the GWI at the forefront of pioneering global research.
The much-anticipated report, Build Well to Live Well, is the first research to size and analyze the global and regional wellness lifestyle real estate and communities market. The 150+ page report finds that real estate and communities that intentionally put people's health at the center of design, creation and redevelopment are the next frontier in residential real estate.
The global market is growing fast: over 6% a year from 2015-2022. Consumer demand for healthy homes is outstripping supply: in the U.S., for example, there are an astonishing 1.3 million potential buyers each year but with a pipeline of 335 projects – and that pipeline leads the world.
Read the press release here.
The Build Well to Live Well Report can also be purchased as a part of the NEW 2021 packages:
---
Research Abstract
As first reported in the 2017 Global Wellness Economy Monitor, Wellness Lifestyle Real Estate represents approximately USD $119B of the USD $3.7T global wellness economy. This rapidly growing sector has historically included residential, hospitality, and mixed-use real-estate developments with wellness-related facilities and services incorporated into their planning, design, and programming. The purpose of this study is to foster the effective future growth and development of this sector by:
Defining what constitutes "wellness communities" and "wellness lifestyle real estate;"
Articulating the defining characteristics and key elements;
Probing the global demographic and consumer trends driving the growing demand for this market;
Identifying case studies and innovative practices around the world; and
Developing a KPI framework to communicate the value and wellness impacts to potential consumers, investors, developers, and policymakers.
7 Future Trends Driving Development:
1. Blurring the lines between home, work, and leisure
2. Making healthy homes affordable
3. Bringing back multigenerational and diverse neighborhoods
4. Catalyzing medical industry clusters and health services to build wellness communities
5. Moving from green to regenerative living
6. Leveraging technologies to create smart-healthy homes and cities
7. Rediscovering hot springs as a wellness living anchor
Initial research findings were presented at the 2017 Global Wellness Summit in Palm Beach, watch the video recording here.
The complete report was released on January 24, 2018.
We thank our Industry Research Sponsors












If you are interested in sponsoring GWI Research click here.