Defining the Mental Wellness Economy
November 2020
The Global Wellness Institute (GWI) released its major research report for 2020: "Defining the Mental Wellness Economy." It's the first study to define mental wellness as opposed to mental health and to clarify the key concepts and pathways. It's also the first research to measure mental wellness as a global industry and to identify and benchmark its key sub-segments.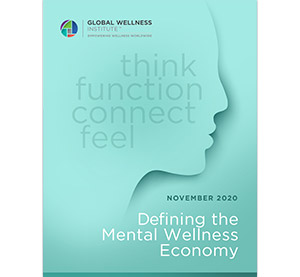 Impact of the Global Mental Wellness Economy
This important study identifies and measures four submarkets of mental wellness. Each section contains information about innovators and businesses in the sector, along with significant trends.
Senses, Spaces & Sleep ($49.5 billion)
-Sleep Services & Napping
-Sensory Products & Services
-Sleep Monitors & Trackers
-Sleep & Sensory Apps
-Sensory Technology & Wearables
-Sensory Spaces
Brain-Boosting Nutraceuticals & Botanicals ($34.8 billion)
-Functional Foods & Beverage for Brain Health
-Supplements for Brain Health
-Natural Sleep Remedies
-Cannabis & Psychedelics – Drugs & Products, Clinics, Therapies & Retreats
Meditation & Mindfulness ($2.9 billion)
-Studios/Centers/Teachers
-Apps & Technology
Self-Improvement ($33.6 billion)
-Self-Help Gurus & Personalities
-Self-Help Organizations & Institutions
-Self-Help Coaching & Therapy Apps
-Brain Training
-Anti-Loneliness Apps & Technology
Global Wellness Economy Sectors

Download All Global Mental Wellness Economy
Research Report Graphs & Figures

About the Authors
Defining the Mental Wellness Economy was co-authored by Ophelia Yeung and Katherine Johnston, Senior Research Fellows
at the Global Wellness Institute. Together, they have four decades of experience leading research and strategy development for businesses, governments, and nonprofits worldwide. Since 2008, Ms. Yeung and Ms. Johnston have pioneered groundbreaking research and co-authored numerous studies that define and measure the global wellness economy and its subsectors, under the auspices of the Global Wellness Institute. Tonia Callender, GWI Research Fellow, contributed significant research in industry and regional developments and data for this study.
For more information about the Global Wellness Institute, click here.