THERMAL/MINERAL SPRINGS
The Global Wellness Institute has tracked and measured the global thermal/mineral springs industry for more than a decade. In 2013, we estimated that thermal/mineral springs was a $50 billion industry globally. Since that time, the thermal/mineral springs industry has grown rapidly alongside the broader wellness movement. As of 2019, we estimated 34,105 thermal/mineral springs establishments operating worldwide, earning $64 billion in revenues. This represents a 4.2% annual revenue growth rate from 2013-2019 (and was followed by a pandemic-related downturn in 2020). Growth has accelerated in recent years with rising consumer interest and business investment in the sector all around the world. The thermal/mineral springs industry was among the fastest-growing wellness sectors prior to the pandemic, with 6.8% annual revenue growth from 2017-2019.
The majority of thermal/mineral establishments around the world are rustic and traditional bathing and swimming facilities. They target their local markets and charge relatively low admission fees. About a quarter of the establishments are higher end, targeting tourists and offering value-added spa services. Those that offer spa services account for a much greater share of industry revenues (over two-thirds) and have also experienced higher revenue growth historically.
The thermal/mineral springs industry is heavily concentrated in Asia-Pacific and Europe, reflecting the centuries-old history of water-based healing and relaxation in these two regions. Together, Asia-Pacific and Europe typically account for about 95% of the total global establishments and revenues each year.
Thermal/mineral springs bathing experiences appeal to a growing segment of consumers seeking to connect with nature; experience cultural traditions; and pursue alternative modalities for healing, rehabilitation, and prevention. Responding to these trends, both private investors and governments across many countries are investing in the sector. In countries with long-established thermal bathing traditions, governments are increasingly promoting these as a key wellness tourism offering. They are investing in renovation and reopening of primitive, outdated, and closed-down facilities, as well as upgrading service standards and training to meet the expectations of international tourists. An estimated 150 new thermal/mineral springs projects have opened worldwide in 2018-2021, and over 150 more projects are in the pipeline for future openings/development.
Thermal/Mineral Springs Defined:
GWI defines the thermal/mineral springs industry as encompassing revenue-earning business establishments associated with the wellness, recreational and therapeutic uses of waters with special properties. GWI's figures count thermal/mineral springs establishments that operate as a business, and as such, do not include springs that do not have any built facilities and/or do not charge any kind of fee for access. Establishments that use heated water—not naturally sourced thermal/mineral water—are also excluded from this category. There are many categories and types of thermal/mineral springs establishments, as illustrated below: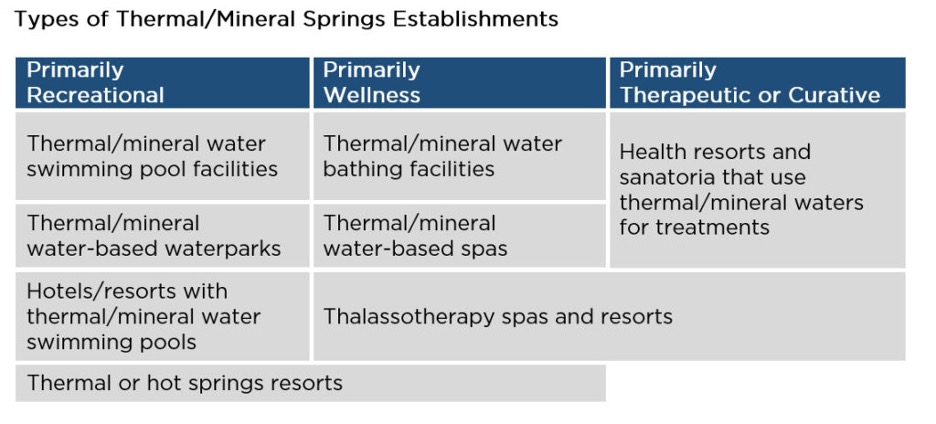 Our revenue estimates include all revenues earned by the establishments in the above categories (not just revenues from thermal/mineral-water bathing and treatments). Therefore, our estimates include revenues earned from bathing/swimming offerings, spa/wellness services and other treatments, other recreational activities, food and beverage, lodging, and other services offered by the establishment.
For more information:

GWI's thermal/mineral springs figures are updated and released every few years in the Global Wellness Economy Monitor. For the most recent data and research, see Wellness Economy Data Series.
Additional information and resources are available through GWI's Hot Springs Initiative.