PHYSICAL ACTIVITY
Physical activity is essential to health, and yet, collectively, we have become more inactive.
Physical activity is intrinsic to wellness, and the link between physical activity and good health has been clinically and scientifically proven. Yet, in recent decades, there has been an alarming trend of declining physical activity in countries around the world, to the point where as many as 27.5% to 31% of adults worldwide are now physically inactive (according to data from The Lancet). These trends are occurring at a time when we need physical activity more than ever to mitigate the rise of obesity and chronic disease, as well as the impacts of population aging.
There is no question that our modern lifestyles discourage physical activity. Practically all aspects of life—from work and home chores to socialization, shopping, entertainment, etc.—have been transformed by urbanization, technology, motorized transportation and new business models to become ever more sedentary. Meanwhile, our modern built environments—with auto-centric planning, declining recreational and green spaces, etc.—also discourage natural movement (such as biking to work or walking to the store). Not surprisingly, most people now need to schedule time and activities to stay physically active.
The opportunity to engage in physical activity that enables a healthy life should not be a privilege or choice but a right.
The global growth of the fitness industry plays an important role in expanding access to physical activity by making exercise more convenient, affordable, fun, personalized and results-driven. Health clubs and gyms have experienced tremendous global expansion over the last decade. The conundrum is that alongside the growth of the fitness industry, physical inactivity, obesity and chronic disease have all continued to rise. As the fitness industry develops more and more choices for those who are able and can afford to exercise, there remains a massive swath of inactive population who have limited options (including many seniors; women and girls; children and teens; people in poor health; and those living in poor, rural and marginalized areas). The reality is that participating in "fitness" remains a privilege that is not accessible for many people around the world.
Health-enhancing physical activities are much broader than things that typically take place within a gym or health club. To make good health equitable to all, it is necessary for all populations to engage in physical activities of many kinds beyond what is generally considered within the narrow definition of "fitness." For this reason, GWI's research takes a very broad look at recreational physical activity in all its forms—from health clubs and fitness apps; to yoga, Pilates, barre and tai chi; to sports, dance and outdoor recreation activities like running and cycling.
The Physical Activity Economy
Physical activity is not only something that we do for our health but also generates significant economic activity. Expenditures on leisure-time fitness, exercise and active recreation represent a growing household spending line item, providing business and innovation opportunities for entrepreneurs and investors around the world.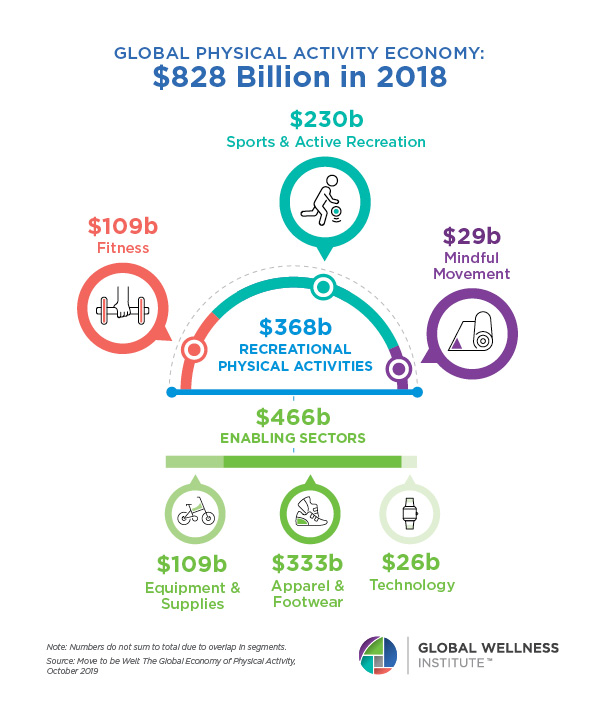 GWI defines the global physical activity market as consumer spending associated with intentional physical activities performed during leisure and recreation. The core of the market is the services that allow consumers to participate in three categories of recreational physical activities: fitness, sports and active recreation, and mindful movement. It also includes the supporting sectors that enable and facilitate participation in recreational physical activities: apparel and footwear; fitness equipment, sporting goods, and related supplies; and fitness- and exercise-related technologies.
GWI estimates that recreational physical activities generated $828.2 billion in private-sector economic activity in 2018. Within this market, 44%, or $367.7 billion, represents direct consumer expenditures on activity participation (fitness, sports and active recreation, and mindful movement). The remaining 56%, or $465.9 billion, represents the enabling sectors. Worldwide, GWI estimates that 35% of the population participates in recreational physical activities, spending $367.7 billion out-of-pocket on doing these activities in 2018.
[Note that the data presented here were extracted from GWI's 2019 report, Move to be Well: The Global Economy of Physical Activity. This report provides detailed data and analysis for each of these subsectors and breaks out consumer spending and participation rates for 150 countries around the world. More up-to-date physical activity market data can be found at: Wellness Economy Data Series.]
Consumer spending on recreational physical activities does not capture the full extent of global participation.
Importantly, a large portion of the global population, especially in less wealthy countries, participates in recreational physical activities without spending much money—for example, playing soccer in an empty field, swimming in a public/community pool, running in the streets, or doing tai chi in a park. Many of these free activities depend on publicly funded infrastructures such as local parks and recreational centers, but participation in these activities still generates significant private-sector economic activities, such as athletic shoes and clothing purchases, government purchases of equipment for community gyms or parks, etc. In addition to private consumer expenditures, government spending plays a substantial role in supporting physical activity by investing in public sporting and recreational facilities, youth and community sports, educational programs and movement-friendly urban planning.
Business innovations and public initiatives can help to overcome barriers and close the physical activity gap.
Reversing the global trend of physical inactivity is a gargantuan task that will require concerted efforts by the public and nonprofit sectors, in addition to private enterprises, to improve access and remove barriers to physical activity for all. GWI's physical activity report provides numerous examples of innovations, new business models, and public policy initiatives around the world that can help overcome barriers to physical activity, increase participation, and extend the many benefits of movement to more people around the world. These include tech-based innovations, fitness for seniors, prescribing exercise, dance as exercise, creating safe spaces for women and girls, workplace- and school-based exercise programs, embedding physical activity in the built environment, and much more.
For more information:
GWI's 2019 report Move to be Well: The Global Economy of Physical Activity takes a comprehensive look at the global market for physical activity, including participation rates, consumer spending, and emerging trends and models in regions around the world. This expansive market includes fitness and gyms, sports and active recreation, and mindful movement, as well as the supporting sectors of equipment, apparel and technology.
GWI's 2020 white paper Resetting the World With Wellness: Staying Active examines how the COVID-19 pandemic has worsened the global physical activity crisis, why this decline is causing alarm among the global public health community, and why it is our personal responsibility to incorporate movement into our daily lives.
GWI's physical activity figures are updated and released every few years in the Global Wellness Economy Monitor. For the most recent data and research, see Wellness Economy Data Series.