WORKPLACE WELLNESS
The Global Wellness Institute estimates that the workplace wellness market was $47.5 billion in 2017 (as compared to $43.3 billion in 2015 and 4.8% annual growth rate). However, this market is very small when compared to the economic burden of an unwell workforce—a cost estimated by GWI at 10–15% of global economic output (factoring in the medical costs and productivity losses caused by chronic diseases, work-related stress, injuries and illnesses, and disengagement).
GWI estimates that less than 10% of the global workforce is covered by any kind of workplace wellness programs or services, and these workers remain highly concentrated in North America and Europe. This luckier slice of the workforce mostly lives in the world's wealthiest economies or works for large or multinational companies. For these workers, workplace wellness concerns typically revolve around preventable/chronic disease, mitigating stress, improving work-life balance, enhancing engagement, and improving workplace culture and management structures.
Yet, work-related fatalities and injuries remain far too high around the world, and billions of workers do not have access to basic healthcare and essential medications, do not have a stable job, do not make a living wage, and work in fundamentally dangerous or unhealthy conditions. Globally, only one in four workers are in full-time positions with a permanent contract and job security. As we advance the conversation on wellness at work, we must not forget this "90%" and the importance of protecting them and enhancing their welfare.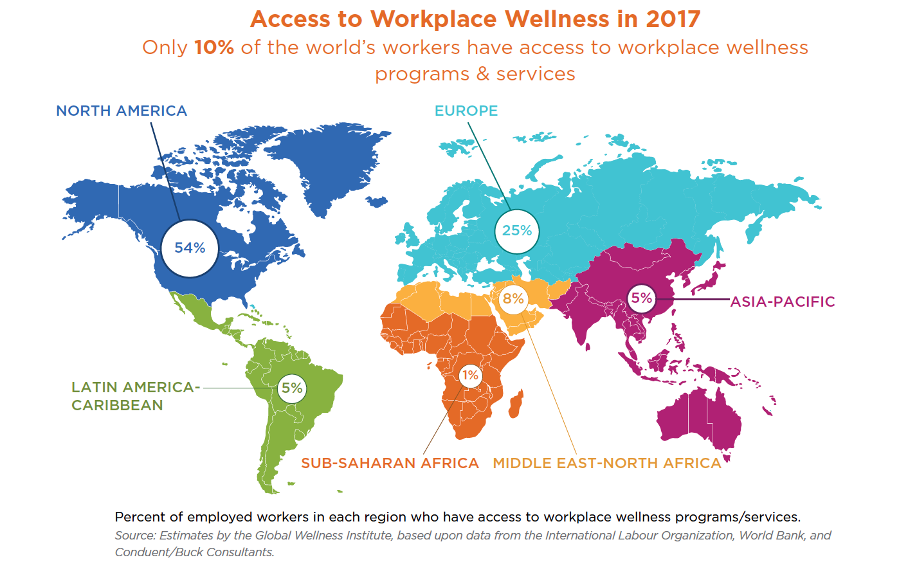 Measuring Workplace Wellness:
GWI measures the size of the global workplace wellness industry by estimating the expenditures made by employers to improve employee wellness. Workplace wellness expenditures aim to raise awareness, provide education, and offer incentives that address specific health risk factors and behaviors (e.g., lack of exercise, poor eating habits, stress, obesity, smoking) and encourage employees to adopt healthier lifestyles. They include a wide variety of services, products and platforms, such as health screening assessments, diagnostic tests, incentive programs, wearable devices, counseling services, etc. They serve a wide range of needs, from exercise, healthy eating and sleep to chronic illness, obesity, addiction, depression and stress.
For more information:
GWI's 2016 report The Future of Wellness at Work examines the current state of wellness in the global workforce, makes a case for the importance of wellness in the future of work, and provides a framework for actions that will help improve workforce health and unleash human potential.
GWI's 2020 white paper Resetting the World With Wellness: Work, Health, and Dignity spotlights how the dangerous, unhealthy, inequitable and stressful work conditions that have been exposed by COVID-19 can spark a collective will for radical change, which is necessary to bring health and dignity back to our working lives and workplaces.
GWI's workplace wellness figures are also updated and released every few years in the Global Wellness Economy Monitor. For the most recent data and research, see GWI Wellness Industry Reports & Publications.