Hot Springs Initiative Resources
As the Hot Springs Initiative, our intention is to connect the global community of hot springs and geothermal resources by raising awareness of this unique and distinct segment of global recreation, health and tourism industry (community). The following are a list of helpful resources.
On behalf of the Global Hot Springs Initiative board I would like to invite hot springs owners, senior operators and academics specialising in the study of hot springs to join us for the fourth and fifth Global Thermal Think Tanks . This year we are very fortunate to have two think tanks one at the Bishuiwan Hot Springs Resort in Guangdong Provence, China (Oct 12-13) and the other at the Ueda-jo Castle in Nagano Prefecture, Japan (Oct 18-20). These two countries represent more than 54% of the US$56 billion global hot springs market and both have long hot spring histories and very dynamic and growing industries. Our Hot Springs Initiative Board Members, Mr Jeff Wang and Mr Tomonori Maruyama and their incredible teams are bringing together programs that will open up an exchange of knowledge and friendships between the leaders of their countries hot spring industry and the world.
We look forward to welcoming you to the heartland of the natural hot spring warmth of Asia in China and Japan.
Relaxing regards,
Charles Davidson, Chairman, Global Wellness Institute Hot Springs Initiative

Register now for the only hot springs industry conference in the United States. The Hot Springs Connection will take place on November 4 – 8, 2019 in Palm Springs and Desert Hot Springs, California, USA. Designed for hot springs owners, operators, general managers, facilities directors and marketing professionals, the conference will continue to represent a national effort for commercial geothermal pools, spas and resorts.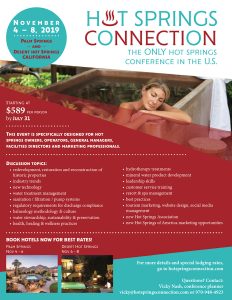 The conference is divided into two series. The first, in Palm Springs (Nov. 4 – 6), will have presentations, seminars, workshops, trade exchange and networking opportunities with colleagues from across the U.S. The second will continue in Desert Hot Springs (Nov. 6 – 8), including field trips and tours to local spas, resorts and historical sites.
For more information, go to www.hotspringsconnection.com or contact: Vicky Nash, member of the Global Wellness Institute Hot Springs Initiative, Hot Springs Connection, Inc. , 970-948-4923, vicky@hotspringsconnection.com
Studies/Reports
Presentations
Books
Conferences
Hot Springs View Dials
The "dial" below is an interactive inforgraphic which helps the user find hot springs locations in various countries. View dials have been created for: Australia, Austria, Canada, France, India, Iran, Japan, New Zealand and United States. They can and will be generated for other countries in the future. The intention of these dials is to help create awareness that there are hot springs all over the globe and to seed in the minds of hot springs visitors that they can include hot springs in their travel itineraries.
How to use the interactive Hot Springs view dial: Below is the view dial for Australia. You will see that each arrow that goes from the center map to the outside circle represents a hot springs property. The name of the hot springs property is given on the arrow as is the distance and directions from your starting point ("datum point") to other hot springs all over the globe. The "datum point" hot springs is marked in red on the maps. While this example infographic for Australia that you are seeing is not "clickable," you can download a PDF file version and then you will be able to reach the websites of each of these hot springs properties. Click on the country view dial to download the high resolution PDF file. Each Hot Springs property on the view dial will have an embedded link to its website.
---
The Global Wellness Institute serves as an umbrella organization for numerous Initiatives, that are independently chaired and run. The resources, editorial, research and opinions presented by the Initiatives do not necessarily reflect the opinions of the Global Wellness Institute.