Collaborative Paper From the
Digital Wellness Initiative & the Breathe Initiative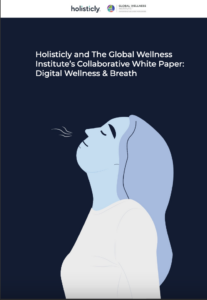 As the fields of technology and telehealth evolve, health practitioners and experts are finding more preventive and holistic options that could be made available to everyone; making conscious and healthy living a right, rather than a luxurious lifestyle. Our collaboration with the Global Wellness Institute (GWI) is driving this vision one step closer to it being a reality as our two initiatives that align perfectly in today's modern world came together for this; the Breathe Initiative and the Digital Wellness Initiative. Combining digital wellness with methods to optimize your breathwork to help you stimulate a healthier body, mind, and spirit! Who doesn't wish to just tune IN for a few moments to rest & rejuvenate? There are tremendous online wellness resources but we need to balance tech with humanity–staying connected to self in small moments throughout the day for optimal wellbeing.
---