"We believe that gratitude not only positively impacts how we feel about ourselves and the world around us but realizes our vision of a world of understanding and care."—Mia Kyricos, Senior Vice President and Global Head of Wellbeing, Hyatt
Gratitude is a state of being, a mindset, an emotion, a virtue, a human strength, a coping response, a conscious practice and so much more. It is truly the wellspring of wellbeing. Let the following ideas about gratitude help you empower wellness in your family, team and organization, and the planet—in December and beyond.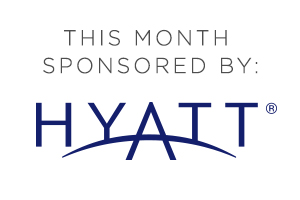 SCIENCE INVITES US TO BE GRATEFUL
From observing religious traditions to reflecting on the past year, December is often a time when we deliberately pause to be grateful. We donate to our local nonprofits. We share a holiday meal with others. We go out of our way to say thanks and praise our coworkers. We spend quality time with family and friends. This season of the year reminds us that we don't need more goals or parties or things—we need more gratitude for the abundance already outside us and within.
When we shift from gratitude as a passing season to gratitude as a way to live and lead, science says the benefits are plentiful.
Gratitude enhances our mental, emotional, physical and spiritual health. Eastern and Western healing traditions have long known gratitude as part of a holistic wellness strategy. Gratitude reduces our hassles in life and work (as well as our complaints), decreases anxiety and depression, increases the feel-good neurotransmitters in our brains, buffers us from the negative, and is a source of our resilience and adaptability during stressful times. When we are grateful, our mental strength swells, and we're better equipped to turn post-traumatic stress, such as with a life-threatening illness, into lifelong growth. With gratitude guiding our understanding of who we are, we appreciate what we have in the present, rather than overidentifying with the past or the future. We are more apt to tap into the spiritual dimension of our existence.
Gratitude forges positive connections. It expands our sense of ourselves and others; connects us with prosocial emotions, such as positivity and appreciation; and opens the door to new relationships. When we are grateful, our brain region for empathy lights up, enabling us to better understand other peoples' perspectives and walk in their shoes. The find-remind-and-bind theory goes as far as to say that gratitude is central to forming reciprocal, altruistic bonds in our most important relationships, "those with the people we care about and count on from one day to the next"—the people at work and home who have the greatest effect on our wellbeing.
Gratitude uplifts our work and our organizations. A culture of gratitude at work is linked with greater job satisfaction by employees; less turnover; less depression, isolation, aggression and conflict; increased humility by leaders that can lead to better employee empowerment; and more helpful coworkers. When we are grateful, we are more likely to experience fulfillment and success at work as well as build positive bonds and trusting relationships with others. Gratitude plays a big role in providing effective feedback, too; of employees canvassed by Glassdoor, 81 percent say they are motivated to work harder for leaders that show sincere appreciation.
LIVE AND LEAD WITH GRATITUDE
Gratitude is often described as "the key that opens all doors" and "that which unlocks the fullness of life." As a wellness leader, how can you proactively use gratitude to lead workplaces, families and communities where people thrive?  Experiment with these ideas:
Share Your Commitment
The Wellness Moonshot truly comes to life through you and your organization. We are incredibly grateful for your involvement—you represent close to 400 participating organizations impacting more than half a million employees worldwide! We look forward to expanding this impact on our wellness journey together in 2020.
Post a photo of how you or your organization is amplifying gratitude during the week of the full moon (December 8–15) with #wellnessmoonshot. We'll spread your inspiration to others!
We close 2019 with this meditation by author SARK:
May you unfold willingly.
May you be truly nourished.
May peace be in your every step.
May gratitude fill you.
May you reach others with your radiant heart.
RESOURCES TO SUPPORT YOU FROM THE GLOBAL WELLNESS INSTITUTE
Mental Wellness Whitepaper
Wellness at Work Initiative
Wellnessevidence.com