Wellness for Cancer Initiative

---

TREND 1: The most exciting innovation in early detection—The Galleri test has arrived!
One of the MOST exciting developments in early cancer detection is the Galleri test.
While medical guidelines recommend screening for breast, prostate, colorectal, cervical and lung cancers, over 70% of all cancer deaths are caused by other cancer types that are not commonly screened for.
The Galleri blood test can detect the presence of over 50 different cancers with a 99.5% specificity with one simple blood draw. This means that if the test result is positive for a cancer signal, it has less than a 1% chance that the test is wrong.
The test is also able to identify the site of the cancer's origin in the body with an 89% accuracy.
Of the 12 cancers responsible for two-thirds of all cancer deaths per year in the US, the Galleri test can detect these with a 76% sensitivity.
The Galleri test is intended to be complementary to and not a replacement for recommended cancer screenings.
It is estimated that if the Galleri test were added to routine cancer screenings, the number of cancers detected in adults in the US through screening could increase from 200,000/year to over 600,000/year, a three-fold increase in cancer detection. Today, many cancers are found too late, leading to poor outcomes," says Dr. Liu., Mayo Clinic Oncologist  "The ability to detect cancer early is critical to successful treatment.
https://newsnetwork.mayoclinic.org/discussion/groundbreaking-early-cancer-detection-test-studied-at-mayo-clinic-introduced-nationally/
https://www.healthline.com/health-news/this-new-test-can-detect-50-types-of-cancer-from-a-single-blood-draw
https://grail.com/our-products/
TREND 2: Wellness brands evolve to become more inclusive without ostracizing, stereotyping or collectively grouping individuals by offering the "cancer" service.
Statistics show that 1 in 2 individuals will be diagnosed with cancer. The ability to address and adapt services and programs for individuals requires sensitivity and finesse.
If the medical industry can personalize medical treatments for cancer, surely the wellness industry can adapt any of its services for cancer and many other conditions.
As the wellness industry emphasizes greater personalization, it does not seem sensible or practical to have one menu for healthy clients and another menu for clients with a disease or chronic illness. When we label, we limit thoughts and beliefs about what we think a person is capable of receiving. People diagnosed with cancer are not all the same. What happens when a person has more than one condition? Or with a person living with metastatic (incurable) cancer—does this mean he can only receive "the cancer massage" for the rest of his life?
Individuals living with cancer or touched by cancer are not a demographic. They are just as unique as any other human—each with their own set of wellness preferences. Cancer is only a part of someone's whole life; it does not define them as a person or their wellness choices. This is an important distinction that the wellness industry is learning and adopting.
During a recent conference hosted by Professional Beauty Group, several cancer thrivers' voices were shared alongside wellness thought leaders who had experienced or were touched closely by a family member with cancer. Together, they shaped the conversation surrounding their experiences and their hopes for the evolving wellness industry.
Marina Efraimoglou, owner of Euphoria Retreat and cancer thriver, mentioned that people are "almost" identified by their situation—a breakup, divorce, cancer or chronic situation—but it is our job to help them see that they are so much more than their disease.
Corrina Yap, director of wellness at Rosewood Hong Kong and cancer thriver, expressed that as an industry, we are still learning, but we cannot "other" individuals (making them separate from) by offering them the disease-oriented service.
Neil Jacobs (CEO Six Senses) and John and Karina Stewart (owners of Kamalaya) each shared personal experiences with cancer and why it is so important to recognize the whole individual by providing the same menu of services for guests and adapting them for each guest's unique and personal situation.
Lauri Medina, MD, (oncology surgeon) and Lauren Huffmaster (cancer survivor and executive director of Adventure Therapy Foundation) discussed the need to be more sensitive. A woman aged 30 with two kids is coming in for a service just as any other woman aged 30 with two kids. This woman may even have metastatic cancer, which means she will likely die of cancer, but she cannot allow cancer to define her or her family's journey. Being normal and living a life that is normal for them is the most empowering way we, as an industry, can be supportive.
The Bra Sisters (UK) spoke about how women, during cancer treatment and beyond, want lingerie that is more feminine and less medical-looking. They were inspired to start their business based on their personal experience shopping for lingerie and having to go to the back of the store to shop in a sub-set of bras made for people with cancer.
TREND 3: Access to living well and healing evidence and practices from leading doctors and wellness practitioners has never been so readily available.
This past year, while the whole world was experiencing trauma, healing and living well summits surfaced in a variety of ways. Healing as a topic itself applies to everyone, and with the rise in digital summits, there was greater accessibility of quality content from leaders in the fields of healing and wellness.
A multitude of collaborations surfaced—whether cancer-only forums or summits sponsored by cancer organizations and charities OR healing-focused summits with cancer as a common thread.
We provide three inspiring examples where cancer was a thread within a larger context of healing summits.
Hay House HEAL Summit hosted a seven-day summit with each day covering a healing topic related to the body, heart, emotions, mind, energy, spirit, and the sharing of miraculous healing stories. Thought leaders addressed cancer as part of a topic.
Deepak Chopra spoke about cultivating a healing mindset with respect to cancer or any illness. Dr. Chopra emphasized that an individual may have a diagnosis, but they are not their prognosis.
Kelly Turner, PhD, a best-selling author, researcher, and consultant in the field of integrative oncology, addressed common threads that she has studied on healing mindsets and cancer.
Veronique Desaulniers, DC, The Breast Cancer Conqueror®, spoke about seven lifestyle changes to beat cancer.
Siegel, MD, a world-renowned expert in cancer treatment and holistic medicine, addressed healing emotions and how childhood trauma can lead to illness if unaddressed.
Joe Dispenza, DC, New York Timesbest-selling author, researcher, and international lecturer, discussed his latest findings from the fields of neuroscience, epigenetics and quantum physics to explore the science behind spontaneous remissions. He addressed how this knowledge can help people heal who are experiencing illnesses, chronic conditions, and even terminal diseases—so they can live a more fulfilled and happy life and evolve their level of conscious awareness.
The Embodiment Conference hosted 1,000 speakers over 10 subjects, which ran simultaneously and reached an audience of 500,000.
Doctors, practitioners, and the general public came together in these sessions and discussions.
Simultaneous topic channels included Meditation & Breath, Yoga, Coaching & Therapy, Dance & Creativity, Ecology & Research, Intimacy & Relationship, Leadership & Business, Martial & Healing Arts, Movement & Anatomy, and Trauma & Social Change.
Cancer and many other chronic illnesses were addressed as part of the greater topic.
Love & Resilience: The Contemplative Care Summit
New York Zen Center's Contemplative Care Programs have transformed the lives of individuals around the world by supporting the integration of spiritual practice and caregiving.
Over the past decade of engagement in healthcare environments, New York Zen Center witnessed an acute need for an approach to care that extends beyond the patient and their loved ones to include the clinicians themselves.
Too often, and as seen during COVID, clinicians experience burnout, a sense of isolation, and loss of meaning in their work and lives. Now, more than ever, there is a critical need for deeper connections with patients, team members and loved ones in this time of the pandemic.
Thirty-two presenters focused on themes such as Loving Relationships, Livelihood & Work, Illness & Aging, Death & Dying, and Ritual & Imagination.
Sensei Koshin Paley Ellison and Sensei Chodo Robert Campbell discussed the transformative and practical aspects of contemplative caregiving.
TREND 4: Yoga and oncology continue to be a priority in clinical research.
Yoga has increasingly become recognized as a complementary approach to reducing the onset and severity of cancer-related symptoms and/or symptom management.
Individuals are likely to approach yoga as a complementary therapy option based on recommendations from their healthcare team.
Individuals use yoga to enhance recovery and wellness.
The underlying reasons for the use of yoga among cancer patients and survivors include relaxing; coping with cancer-related distress, pain and fatigue; taking an active and positive role in their cancer recovery; managing other non-cancer conditions (cardiovascular, disease, arthritis); and increasing energy, physical activity, immunity, sleep and mental cognitive abilities.
Clinical research has demonstrated the acceptability and feasibility of yoga among cancer patients during cancer treatment and after transitioning outside a medical setting. 
89% of US National Cancer Institute's (NCI) accredited comprehensive cancer centers provide information on yoga, and 69% offer on-site yoga.
This rise in information and access to yoga, breathwork and meditation is becoming more present in cancer centers around the globe.
https://www.ncbi.nlm.nih.gov/pmc/articles/PMC6541520/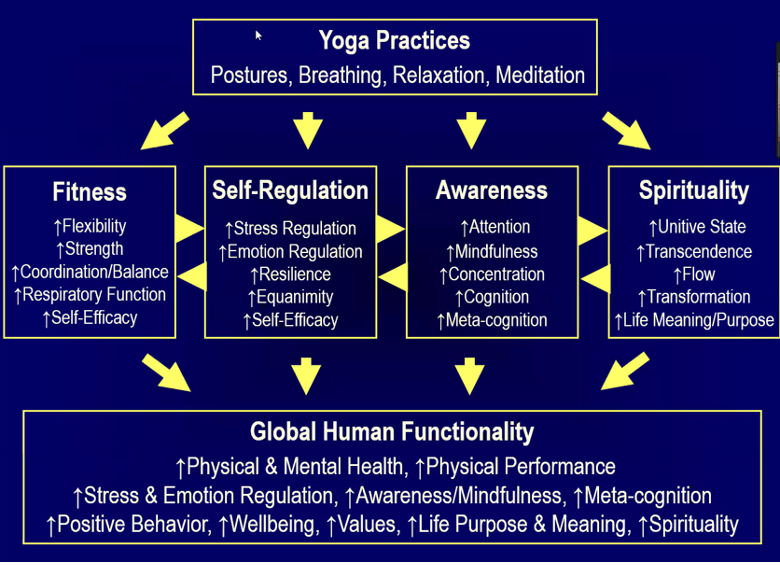 Source: Yoga Alliance on the Evidence of Yoga and Cancer
TREND 5: Unleashing the power of the immune system as a smart way to prevent, control and eliminate cancer continues to make strides.
Compounding the fear of cancer is the fact that cancer's treatment is often considered worse than the disease itself. But due to decades of research, cancer immunotherapy (also known as immune-oncology) includes medical treatments designed to harness the power of one's own immune system to prevent, control and fight cancer.
Immunotherapy enhances the ability of the individual's immune system to recognize, target and eliminate cancer cells, wherever they are in the body, making it a potential universal answer to cancer.
The immune system is precise, so it is possible for it to target cancer cells exclusively while sparing healthy cells.
The immune system can adapt continuously and dynamically, just like cancer does. If a tumor manages to escape detection, the immune system can re-evaluate and launch a new attack.
The immune system's "memory" allows it to remember what cancer cells look like, so it can target and eliminate cancer if it returns. This "immunomemory" may result in longer-lasting and potentially permanent protection against cancer recurrence.
Harnessing the power of the immune system treats the patient, not the tumor. And many believe that it may be reasonable to start using the other "C" word—CURE—to describe the future of cancer.
Source: https://www.cancerresearch.org/
---

Building upon the progress made the past three years, The Wellness For Cancer Global Wellness Institute Initiative predicts that wellness will continue to become more accessible and tailored to all guests, including individuals at risk of or touched by cancer. Leading this integrative lens are wellness hotel and destination brands and preeminent skin-care brands that are integrating cancer awareness as a strategic customer service initiative that is embedded within their overall business and operational strategies, including customer touch points (e.g., spa and wellness service and programs, food and beverage), product/service development, and community outreach.
TREND 1: Spa and Wellness Industry becomes serious about being Cancer Aware by establishing minimum education standards
As the spa and wellness industry continues to have more open conversations about being cancer aware, global training standards will emerge as currently the entry level of therapist training varies significantly. Cancer treatments affect all systems of the body, and the ability to tailor a massage or beauty treatment rest on the foundational knowledge of a therapist and not on a one set protocol that purports to be appropriate for every body.
TREND 2: Beauty not only moves to being clean but also into being Cancer Aware
With shifting statistics of 1 in 2 individuals being diagnosed with cancer during their lifetime and the consumer push toward being clean to avoid cancer-causing ingredients, skin-care brands recognize the need to study and communicate which of their products can safely be used by clients whose skin has been impacted by cancer treatments and whose skin health is comprised of various skin types all at the same time.
While testing of skin-care ingredients and the impact on people in cancer treatment is poor and virtually nonexistent, brands will test their products with clients to ensure to the best they can that clients won't have skin reactions to their products at a time where there is little tolerance by the client for additional adverse skin reactions.
TREND 3: Wellness Brands apply principles of healthy living to people touched by cancer
Leading wellness brands will adapt principles of breathwork, meditation, focused attention exercises, yoga asana, exercise and plant-based diets to people touched by cancer to support healthy living, resiliency, and the way in which the mind and body functions to express themselves. Additionally, brain health exercises that can be applied to all aging individuals have been shown to improve cognitive function in cancer survivors with respect to attention, brain speed and memory, resulting in less anxiety, depression and fatigue.
TREND 4: Sleep programs will address circadian rhythms from cancer prevention through cancer treatment and into survivorship.
While the wellness industry is deploying a spectrum of sleep programs, the importance of circadian rhythms can be extended from cancer prevention, through cancer treatment and into survivorship. With disrupted circadian rhythms linked to cancer biology of several cancers (e.g., breast, prostate and colorectal cancers),  insomnia affecting up to 80 percent of individuals with cancer, and sleep disturbances reported to last up to 10 years post cancer treatment, the importance of helping guests explore ways to improve their sleep is vital.
TREND 5: Menopause programs assist women with lifestyle changes for cancer prevention, through cancer treatment and to prevent the risk of recurrence
Newly launched menopause programs help individuals manage symptoms, such as hot flashes, mood disturbances, sleep, skin health and psychological issues associated with the process of menopause.
These programs can also address the nutritional and physical aspects of functional aging, which include the increased risk of breast cancer after menopause. While menopause itself doesn't increase breast cancer risk, an aging body does.
The culprit—estrogen—with 80 percent of breast cancers in post-menopausal women fueled by estrogen. While certain types of estrogen decrease during menopause, the body continues to produce it in later years with most of it coming from adipose fat cells and adrenal glands. The weight gain during menopause is a risk factor for post-menopausal cancer since more fat cells mean more estrogen. And this type of fat also increases inflammation in the body, which is also linked to a higher risk of breast cancer.
Additionally, menopause programs can be adapted to the many young women who are thrown into medically induced menopause from their cancer treatments.
---
The Global Wellness Institute serves as an umbrella organization for numerous Initiatives, that are independently chaired and run. The resources, editorial, research and opinions presented by the Initiatives do not necessarily reflect the opinions of the Global Wellness Institute.