NEW Global Wellness Institute Research
Ranks 150 Countries by Wellness Market Size
The US ($1.2 trillion), China ($683 billion) and Japan ($304 billion) are the world's largest wellness economies;
Switzerland, Iceland and the US rank first for wellness spending per capita–where consumers spend over $3,600 a year

The nonprofit Global Wellness Institute (GWI) released today "The Global Wellness Economy: Country Rankings," the first research to measure the wellness economies of 150 nations. It's packed with information on national wellness markets from average wellness spend per capita to the wellness market's contribution to each nation's overall economy. The research was presented today at the first Global Wellness News™ broadcast in New York City.
The report is a companion to GWI's recently-released "The Global Wellness Economy: Looking Beyond COVID," a complete global update on all 11 sectors of the wellness market, finding that the world wellness economy is worth $4.4 trillion and forecast to reach $7 trillion by 2025.
"This last year, the GWI generated country-level data for all 11 wellness sectors. So now, for the first time, we can answer the question everyone asks: How big is the total wellness market for each country and who ranks highest?" said Ophelia Yeung, GWI senior research fellow. "Which nations are growing, which are shrinking? How do national wellness markets differ and why? This report is the first to answer these questions."
The Top 20 Wellness Markets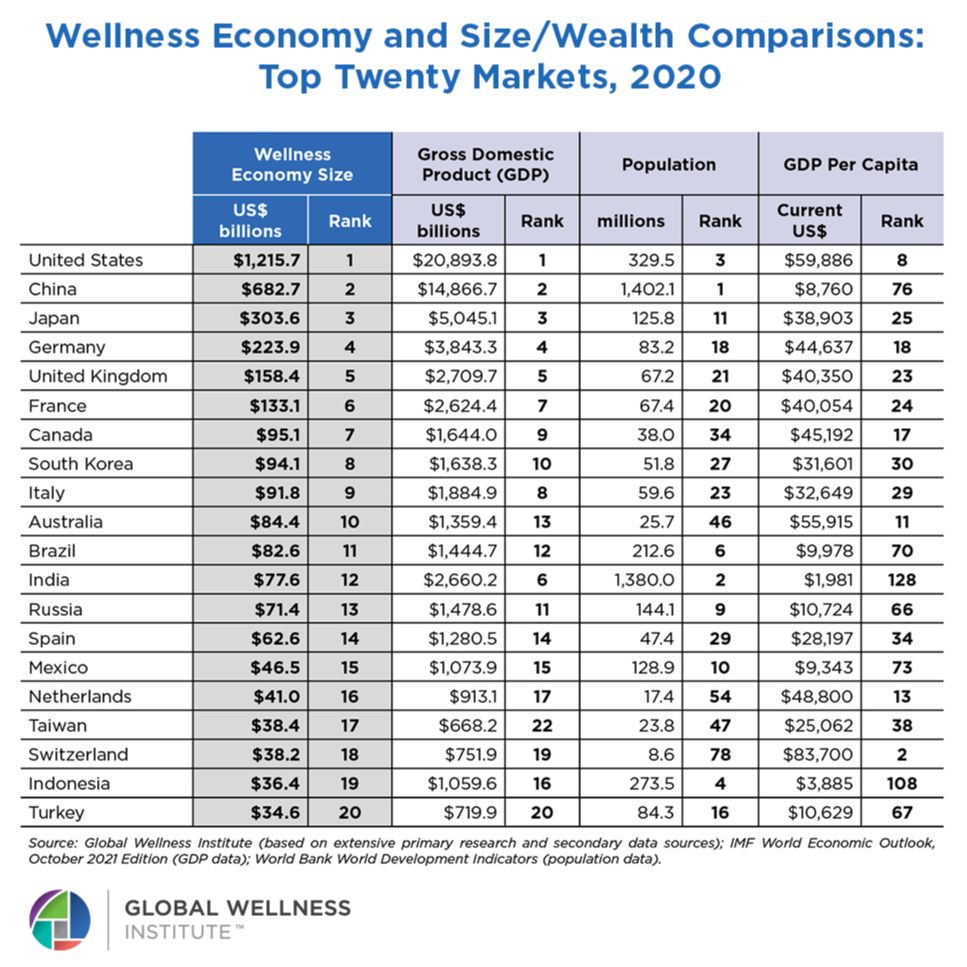 The US is by far the largest market, at $1.2 trillion–nearly double the size of the second-largest market, China, at $683 billion. In fact, the US accounts for 28% of the entire global wellness market, while the top ten markets represent 71% of the world total.
The report provides granular data on national wellness markets, from growth rates in the pre-pandemic years of 2017-2019 to how the pandemic has impacted each market.
"These new rankings reveal the countries that spend the most on wellness–important information for governments and businesses. But the size of a wellness market does not necessarily capture which countries are most 'well': which nations have the best health outcomes or fair access to wellness," said Katherine Johnston, GWI senior research fellow. "There's much research to do. Who is benefitting from the growth of the wellness economy in each country, and who is not? What's the relationship between the wellness market and the health and well-being of a nation's population? What can governments and policymakers do to bring more wellness to more people? This will be the focus of our November 2022 report on wellness and policy to be released at the Global Wellness Summit in Tel Aviv."