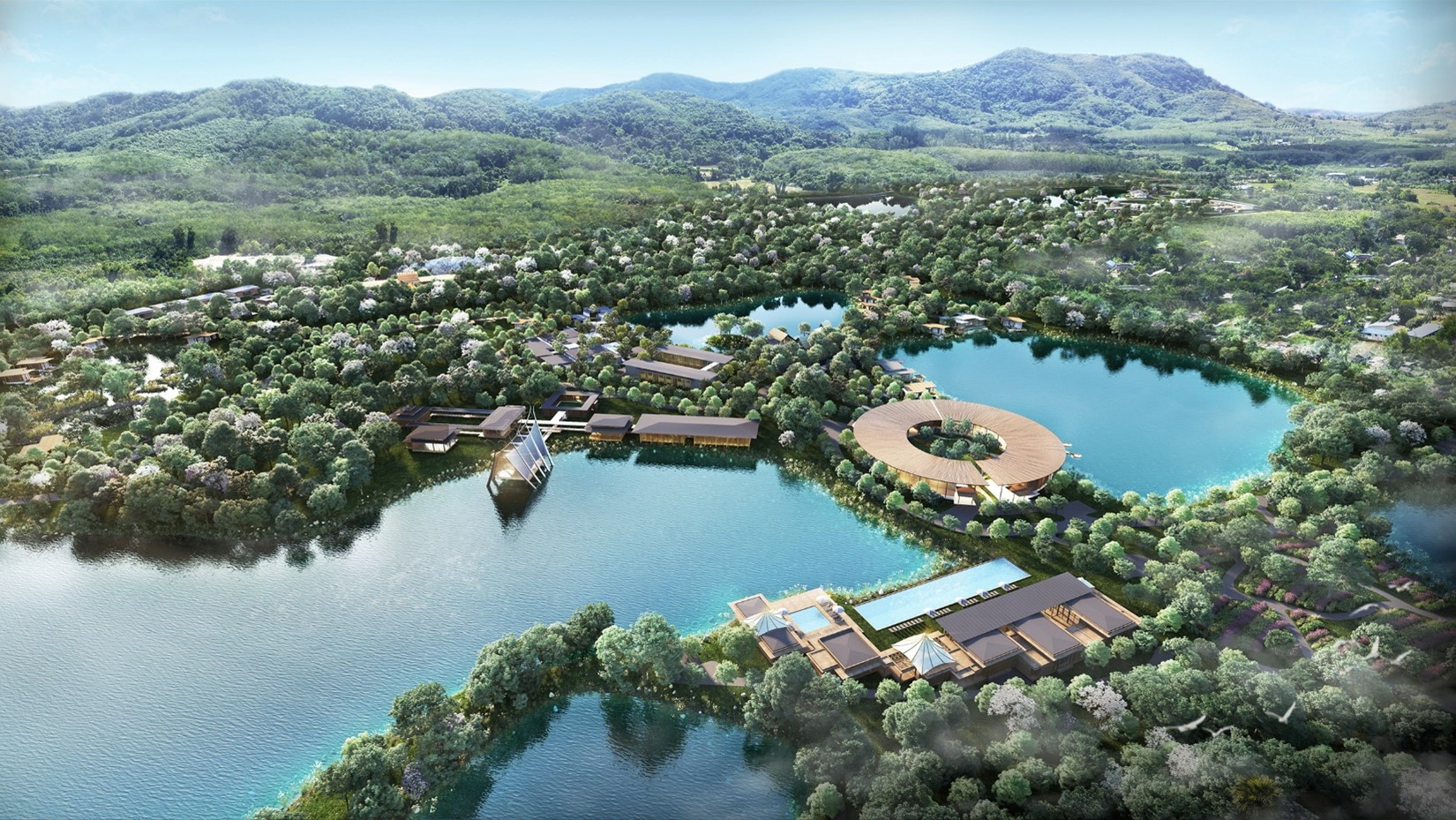 Photo: Tri Vananda Biophilic Design
Six Trends in Wellness Real Estate & Communities from GWI's Initiative
FROM THINKING PAST BRICKS-AND-MORTAR TO PEOPLE AND COMMUNITY FIRST TO APPLYING WELLNESS TO ANY SIZE REAL ESTATE PROJECT-FROM THE SMALLEST TO THE LARGEST
The Global Wellness Institute's Wellness Communities and Real Estate Initiative has identified six trends that create a framework for how developers and investors can think about the planning and design of wellness real estate, that can be found here below and support the inclusive focus on people, and intentionality about wellness real estate design, activation, and financial sustainability long-term. Register today to learn more about this design approach later this month at the Symposium.
TREND 1: CREATED "ON PURPOSE"—NOT IN NAME ONLY
Sustainable wellness communities are becoming more and more intentional from initial concept planning to purposeful activation. Healthy environments that are mindful of the environment are the new expectation for consumers and residents. These built environments are being proactively envisioned, designed and built on purpose—fueled by an intentional wellness vision that will endure for generations. Wellness is not an afterthought. It is the primary intention of wellness communities.
So what?: Many "wellness" communities are wellness only in name. Authentic wellness communities are designed on purpose from the beginning and at every stage of development with the intention of improving people's lives.
TREND 2:  ALL SIZES MATTER—PRINCIPLES OF WELLNESS COMMUNITIES APPLIED AT ANY SCALE
Consumers are demanding wellness in their built environments. Forward-thinking developers realize the elements of the most transformational wellness communities are scalable—they work at the large scale and the smaller scale—a multiphase master plan in North America, a four-home neighborhood in Switzerland, a revitalized Borghi in Italy, an office park in Singapore, and more.
So what?: Wellness can function at any scale, and although solutions vary with the size of the project, the principles of wellness communities are meaningfully applied to guide the development of communities at any scale.
TREND 3:  PEOPLE FIRST—VERSUS BRICKS AND MORTAR FOCUS
Wellness communities are becoming truly impactful by being focused on and driven by delivering human-centric benefits that enhance the wellbeing of the people who engage with the community, which in turn drives value and reputation of the real estate for the developer. Starting with the end users' experience and creating tangible health benefits is key.
So what?: We have focused on bricks and mortar for way too long as wellness integration was "too expensive." Today, "too expensive" has been redefined, and the true value is in the tangible, meaningful things that improve people's lives.
TREND 4:  UNIQUELY CONTEXTUAL—RESPONDING TO THE LOCAL CONTEXT
Adaptable and responsive to local contexts, new wellness communities are not formulaic or measured by a checklist that must be followed rigorously. They are guided, and inspired by, a set of key elements that improve people's lives in the relevant context and at the right levels for each unique community.
So what?: What makes life better in one place doesn't necessarily mean living better somewhere else. Wellness communities respond to the local context with solutions that have the greatest and longest-lasting impact.
TREND 5: ACCELERATED AND ACTIVATED—REQUIRES PROGRAMMING, OPERATIONAL SUPPORT AND CONTINUED EVOLUTION—NEVER FINISHED
Wellness communities are immersive, reactive and dynamic. They are also planned and programmed. Wellness is not passive. It is not simply providing a spa or a garden. It is activated in the spaces in between and activities within. It requires programming and operational support. The key is to adapt and continue to evolve over time and accelerate the wellbeing of community occupants. Wellness communities are never "finished." They evolve, and so does their activation. More "human-centric" than "building-centric," they are inclusive, living, breathing and engaging places that activate wellbeing for life.
So what?: How many spas, gyms and community gardens have been left to die or didn't evolve when needs did or the opportunity was there? Activation is an iterative way of thinking and something that never stops.
TREND 6: AN EAR TO THE PAST AND AN EYE TO THE FUTURE—PROVIDES INSPIRATION
Holistic wellness communities celebrate traditional wellness practices proven over thousands of years and creatively infuse them, where appropriate, into today's new wellness communities. We learn from past successes and failures to plan the communities of tomorrow.
So what?: The piazza inspires town squares and placemaking. A day of rest inspires digital detoxing and deeper social connectivity.
Learn more about the WELLNESS COMMUNITIES & REAL ESTATE INITIATIVE
Wellness Real Estate & Communities Symposium
Tuesday, September 28, 8:00 AM-4:00 PM ET • In Person NYC & Virtual