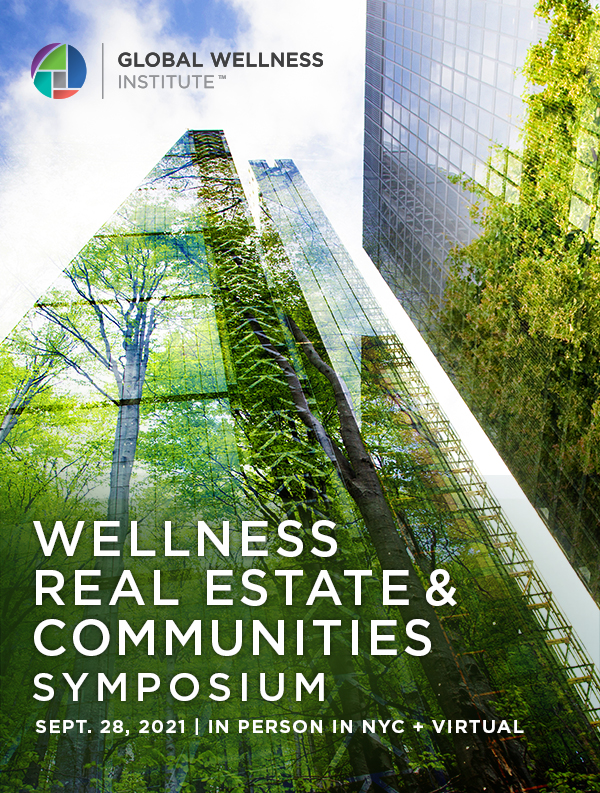 Global Wellness Institute




Wellness Real Estate & Communities Symposium
Tuesday, September 28, 8:00 AM-4:00 PM ET (In Person in NYC + Virtual)

The pandemic supercharged demand for "well" homes and communities. In response, the Global Wellness Institute, the nonprofit that issued ground-breaking research on this sector, will hold the first-ever event that takes a deep dive into this booming market. On September 28, top executives, real estate developers, investors, architects and select media will examine the future of Wellness Real Estate & Communities from the highest-level perspective.
The Symposium will be a full day (8:00 a.m.-4:00 p.m. ET) of keynotes, panels and interactive discussions. Attendees will be among the first to have access to GWI's new research on the current size of the sector, its projected growth, and the forces powering the market and movement for real estate and communities designed to support health and wellness.
---
Global Wellness Institute presents
Wellness Real Estate &
Communities Symposium
Tuesday, September 28, 2021
etc.venues | 601 Lexington | NYC
8:00AM-4:00PM ET
RSVP to join the event in person or virtually on
Tuesday, September 28, 2021
---
The agenda will feature experts addressing the hot topics in wellness real estate and communities, such as:
New research will be presented throughout the day: GWI's senior research fellows, Katherine Johnston and Ophelia Yeung, will present the market numbers for 2020.
The current US and global landscape and which markets are heating up
How new trends in technology and design hardware are being used to create smart-healthy homes and communities
What consumers are demanding
The cutting-edge developments with wellness programming. Are nature, human connection, green and regenerative living, or medical-wellness at their core?
How a work-from-home future will spur new developments that blur the line between home, work and wellness with new destinations and concepts
How hotel and wellness resort groups are zeroing in on a mixed hospitality and a wellness residence model
How wellness concepts are remaking retirement and senior living models
With a retail and office space downturn, what is the future of urban wellness developments?
Is a new wave of more affordable and inclusive wellness communities on the horizon, driven by forward-thinking governments, policymakers and developers?
---
WELLNESS REAL ESTATE & COMMUNITIES SYMPOSIUM REGISTRATION
If you have questions or need assistance, please reach out to Beatrice Hochegger at [email protected].
---
A Special Thank You to These Event Sponsors