Zeel, Soothe, Unwind Me:  Disrupters for Spas?
Monthly Barometer Excerpt
If any more proof was needed that technology is turning the whole world of business upside-down, look no further than the automotive industry. As "software is eating the world" (an expression coined by entrepreneur Mark Andreessen), a tech company can now mutate into a car company, which is why Apple and Google have decided to enter the auto market. Since electronics have "invaded" the car—representing 40 percent of its cost—owning technology and licensing software will prove more beneficial than old-fashioned manufacturing per se.
Wellness Edition
The implications are as obvious for the spa and wellness industry as they are for any other market. Consider these two examples:
(1) In a previous edition we spotlighted Zeel, an Uber-like digital platform that sells in-home massages.. Similar companies such as Soothe (which has raised $1.7 million from angel investors and now has 1,000 therapists in six U.S. cities) and Unwind Me are expanding fast. Think of the potentially very disruptive consequences for spas  and some well-established businesses such as hotels. For example, what if a client staying in a luxury hotel for business were to order his massage through an app instead of using the hotel's spa?
(2) Health app usage is now growing 87 percent faster than the overall app marketplace, and 80 percent of funded health apps are fitness/lifestyle trackers. These apps could revolutionize the insurance industry in many different ways. Take the diabetes epidemic engulfing the world, for example. An app could help people with diabetes keep their diet/blood sugar/activity levels constantly in check. When following the guidelines from their doctors, they could in turn receive a rebate on their health insurance.
ABOUT THIERRY MALLERET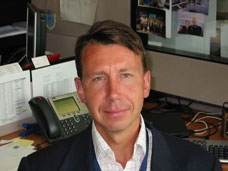 Thierry Malleret is the co-founder and primary author of the Monthly Barometer, a predictive analysis provided exclusively to private investors and today's most influential opinion and decision-makers. Previously he was a senior partner at IJ (Informed Judgement) Partners, an investment boutique for ultra-high-net-worth individuals based in Geneva. Thierry also founded and directed the Global Risk Network at the World Economic Forum (WEF), bringing together top policymakers, CEOs and academics to consider how global issues will affect business and society in the short and long term. For a number of years, Thierry conceived and implemented the WEF program at Davos. He holds MAs (in economics and history) and a PhD in Economics. He writes a Wellness Edition of his Monthly Barometer, exclusively for the Global Wellness Institute. For a copy of the full report, join the GWI as a Member or Ambassador.