Workplace Wellness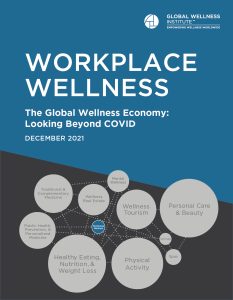 The Global Wellness Economy: Looking Beyond COVID
Released December 2021
The GWI's most in-depth research on wellness markets ever: For the first time, it provides detailed numbers and analysis for all eleven wellness sectors: pre-pandemic, pandemic, and future growth rates; rich regional and national data; and the major trends that will impact each sector post-COVID.
WELLNESS MARKET SNAPSHOT
Workplace Wellness (pandemic loser, future winner, with a difference): This segment grew 4.6% annually from 2017 to 2019–reaching a market high of $52.2 billion–but then shrank 7% in 2020, to $48.5 billion. Companies are recognizing that a compartmentalized, programmatic approach to employee wellbeing is not particularly effective in tackling the rising challenges of stress, work-life balance, and mental health, so many are shifting to more meaningful, holistic approaches encompassing everything from changing company culture to focusing on the built environment. These expenditures cannot be measured as "workplace wellness," so expenditures may decline even as the focus on employee wellbeing actually expands. Even so, the market is pegged to grow 4% annually through 2025, reaching $58.4 billion.