Wellness Real Estate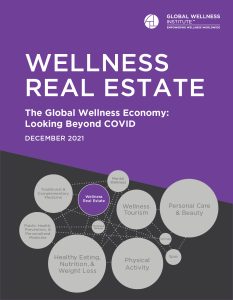 The Global Wellness Economy: Looking Beyond COVID
Released December 2021
The GWI's most in-depth research on wellness markets ever: For the first time, it provides detailed numbers and analysis for all eleven wellness sectors: pre-pandemic, pandemic, and future growth rates; rich regional and national data; and the major trends that will impact each sector post-COVID.
WELLNESS MARKET SNAPSHOT
Wellness Real Estate (pandemic and future winner): With COVID-19 dramatically accelerating the understanding of the role that the built environment and our homes play in our physical and mental health, the wellness real estate market was the #1 growth-leader both before and during the pandemic: The market grew from $148.5 billion in 2017 to $225 billion in 2019 to $275 billion in 2020 (22% annual growth). Wellness residential projects (either built or in the pipeline) skyrocketed from 740 in 2018 to over 2,300 today. Wellness real estate will continue its growth surge: The market will double to $580 billion from 2020 to 2025 (16% annual growth).