Traditional & Complementary Medicine, and Public Health, Prevention, & Personalized Medicine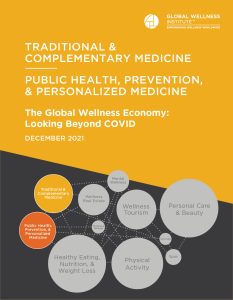 The Global Wellness Economy: Looking Beyond COVID
Released December 2021
The GWI's most in-depth research on wellness markets ever: For the first time, it provides detailed numbers and analysis for all eleven wellness sectors: pre-pandemic, pandemic, and future growth rates; rich regional and national data; and the major trends that will impact each sector post-COVID.
WELLNESS MARKET SNAPSHOTS
Traditional & Complementary Medicine (pandemic loser, future winner): This market spans different holistic, indigenous, ancient therapies and products (acupuncture, Ayurveda, Traditional Chinese Medicine, chiropractic, etc.). It grew from $376 billion in 2017 to $432 billion 2019, but contracted to $413 billion in 2020. It will see healthy 7% annual growth from 2020-2025, reaching $583 billion.
Public Health, Prevention & Personalized Medicine (pandemic and future winner): Another sector that saw positive pandemic growth (4.5%), largely because many governments and healthcare systems ramped up their public health and prevention expenditures during the COVID-19 crisis. The sector grew from $328 billion in 2017 to $359 billion in 2019 to $375 billion in 2020 (when it represented about 4% of total global health expenditures at $8.8 trillion). With painful lessons from the pandemic about the terrible costs of underinvesting in public health, the segment is forecast to grow 5% annually through 2025–to reach $478 billion.