Beyond GDP, Regenerative Hospitality and Wellness Initiative Resources
Regenerative Travel Principles for Hospitality White Paper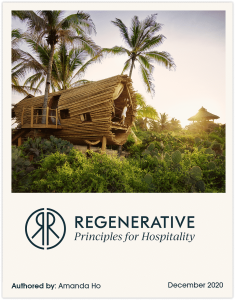 We are at a turning point as a human species to reverse the trajectory of climate change with an urgent call to repair and replenish the damage to our environment and our communities. Regenerative principles are emerging as the future of tourism with the potential and capacity to create better conditions for people and life to flourish.
This white paper leverages case studies from hotels who might be practicing regeneration without explicitly using the terminology; plus a lexicon of "regenerative terminology" so readers can go from the theoretical to the practical applications of Regenerative Travel as a force for positive change.
We invite you to join the journey of co-evolution through regeneration as we build our framework on the regenerative principles for hospitality.
Beyond GDP: Regenerative
Hospitality & Wellness Initiative Resources
Regeneration 2030 Summit
As a result of the Regeneration 2030 Summit, that took place in October 2020, the Regenerative Society Foundation was born, to guarantee the medium-long term evolution to the Regeneration 2030 program. The foundation is co-chaired by Andrea Illy (Chairman, illycaffè & Co-founder, Fondazione Ernesto Illy) and Jeffrey D. Sachs (President, UN SDSN) and led by the founders: Davide Bollati (Chairman, Davines Group), Maria Paola Chiesi (Shared Value & Sustainability Director,Chiesi Group), Oscar Di Montigny ( Chief Innovation, Sustainability and Value Strategy Officer, Banca Mediolanum & President, Flowe), Eric Ezechieli & Paolo Di Cesare (Co-founders, Nativa), Francesco Mutti (CEO, Mutti) and Raimondo Orsini (Director, Fondazione per lo Sviluppo Sostenibile).
Regeneration is the next step towards sustainability, as it ultimately pursues the concept of human ecology, the complex study of human interaction with the planet. It also embraces happiness, as a prerequisite for any regenerative action. The Foundation's purpose is to promote the creation of a regenerative society by accelerating the transformation of the current depletive paradigm of economic, cultural and social extraction – founded on 'industrial growth' – into a regenerative paradigm in which human activities create favorable conditions for life on this planet.
All the Foundation's activities are carried out with a multilateral approach, engaging policy makers, entrepreneurs, B Corps, spiritual leaders, academics, members of NGOs, civil society, and UN agencies. We strive with compassion, wisdom and courage to build a new era in which, by 2030, happiness and human well-being will be core economic and political drivers on a global scale, and we will have taken radical action to tackle the climate crisis.
We encourage you to sign the pledge as an individual or organisation as a commitment to transition towards a regenerative economy for climate and happiness: Pledge
Watch the videos from the first of a kind hybrid event in Parma 2020, bringing together global leaders, involved in a collaborative effort to build a regenerative society. Watch the Event