Wellness 2030: The New Techniques of Happiness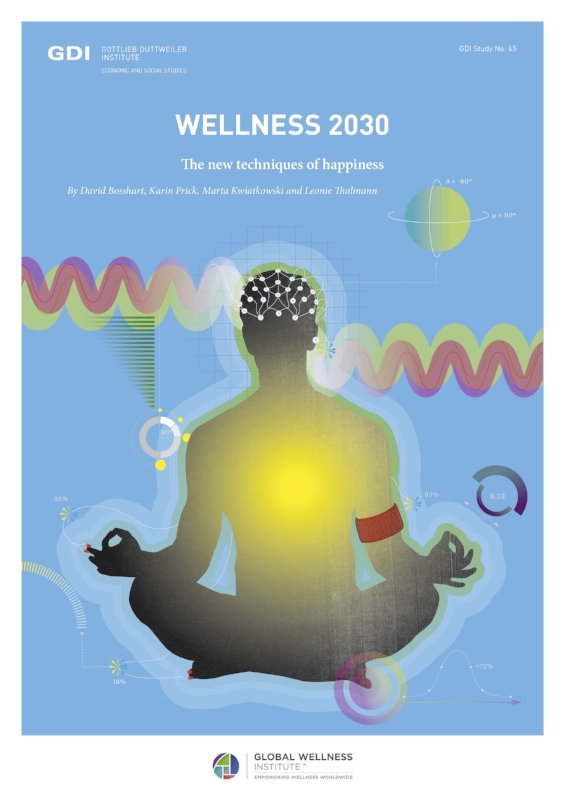 A collaboration between the Global Wellness Institute and the Gottlieb Duttweiler Institute in Switzerland, "Wellness 2030 – The New Technologies of Happiness" investigates how new technologies and techniques of self-optimization will transform the wellness market over the next dozen years. This new research report takes an in-depth look at today's happiness providers, the wellness industry, while offering a radical vision for that industry's future.
For instance, if humans have constantly tried to discover the key to happiness (using every tool they had access to), digitalization has expanded the technical range of these tools and offers up individual metrics for happiness. We are on a quest to decode happiness: from the surge in Silicon Valley biohackers aspiring to overcome traditional human limitations like aging and disease to the rise of "data selfies" that will capture and project information about our inner emotional lives and add them to our current images of our outward appearance.
Read the press release here.
Watch David Bosshart's (CEO, Gottlieb Duttweiler Institute) presentation of the report here. (Note: text is in German, English version will follow soon).

Research Abstract
Despite the global economic contraction and startling geopolitical events that have marked recent years, wellness is thriving. But this is just the beginning. The speed at which technology, society, the economy, and the environment are changing will never be as slow as it is today. The Gottlieb Duttweiler Institute (GDI) and the Global Wellness Institute have thus joined forces to map the landscape that will define "Wellness 2030".
People in wealthy countries around the world are seeking to obtain happiness through self enhancement. Today, radically new technologies support this endeavor. Humans are literally being decoded, bio-hackers recode them. Constant monitoring of all our body functions by smart devices will foster predictive maintenance and make treating diseases obsolete.
With Data Buddhism, tiresome training of body and mind will be replaced by instant-upgrades of ourselves. My virtual "data selfie" is becoming more important than the reflection in my bathroom mirror. No matter where, in 2030 whichever provider has the most accurate consumer information prevails. The wellness industry will consequently become an extension of the data economy. Entirely new players will create entirely new wellness categories and offers. Your fiercest competitor will not be the other spa next door.
Five technology trends that will shape the future wellness market:
1. Humans and technology converge
2. Biohacking: the shortcut to well-being
3. Data selfies
4. Wellness is social – make people happier and healthier together
5. Biofeedback replaces surveys and "likes"
These trends' implications for the future wellness industry:
1. The wellness industry will become an extension of the data economy.
2. Biohackers and Silicon Valley are the new pioneers of wellness.
3. The wellness industry needs to embrace the hackers mindset.
4. In the era of customer ratings, consumer data management will become a key area of expertise.
5. Blurring the boundaries between wellness and healthcare.
About the Gottlieb Duttweiler Institute: GDI is a Zurich-based independent think tank focused on economics, society and consumption – and the oldest think tank in Switzerland. GDI researchers develop future scenarios, and the early identification of megatrends and countertrends, for the economy, society and the retail sector, which are reported in major studies and books and discussed at conferences.
---
*In addition to conducting our own in-house research, the Global Wellness Institute supports and partners with organizations and thought leaders who conduct research on a variety of wellness topics. While these research and findings may not represent the views of the Global Wellness Institute, we are committed to sharing different viewpoints and global research that stimulate thoughtful and rigorous discussions to help empower wellness worldwide.