Asia's $1.5 Trillion Wellness Economy Shrank

t

he Least During the Pandemic 

 

 
The GWI's recent research report ranks 150 countries by their annual wellness spend. It also measures every global region's spend and recent growth rates. The report finds that Asia-Pacific is the world's largest wellness market ($1.5 trillion), followed by North America ($1.3 trillion) and Europe ($1.1 trillion). 
Asia's wellness market simply has the most recent momentum. It grew a very healthy 8.1% annually in the two years before the pandemic, and shrank the least of any region during the COVID-19 crisis (-6.4%) vs. -13.4% for North America and -11.4% for Europe. Asia's wellness economy was buffered during the pandemic by very high growth rates in key sectors such as wellness real estate and public health/prevention/personalized medicine. At the same time, its physical activity and beauty/personal care markets were hit less hard.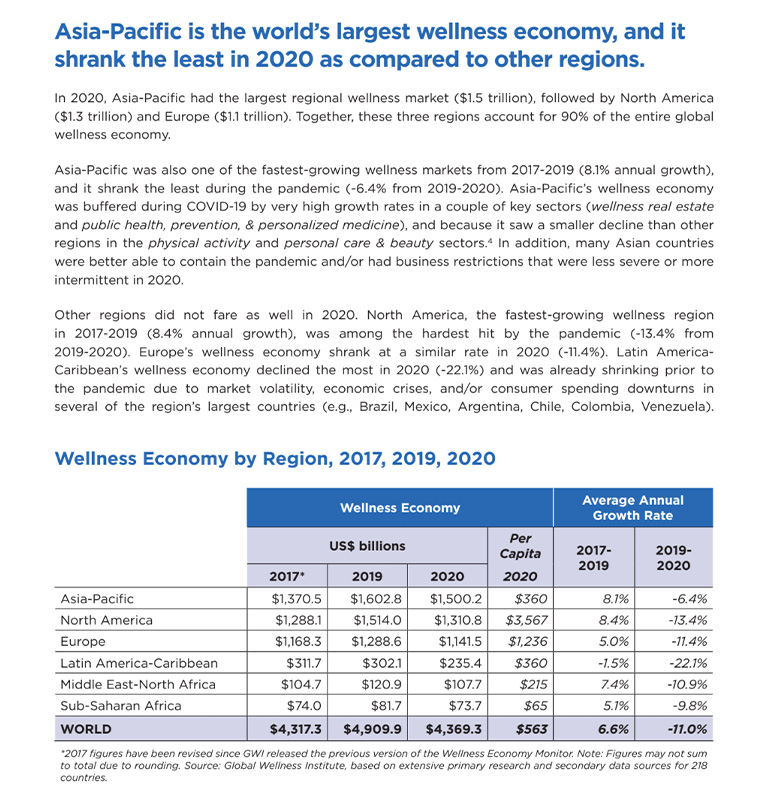 Download full report here.