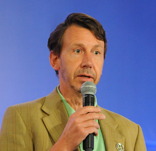 A major issue to watch is how big data and Artificial Intelligence (A.I.), the transformative technology of the 21st century, will impact health and wellbeing. Deep-learning, the continued improvements in computing power, and the fall in storage costs mean that biotech, pharmaceutical, and wellness companies can now not only detect, but also understand hidden patterns dissimulated in huge data sets.
There are already examples of A.I. helping to fine-tune research and clinical trials, as well as providing new measurement capabilities for doctors, insurers and regulators, and even patients themselves. To name just one, Imperial College in London is making use of Formula 1 sensor technology to detect neurological dysfunction. In addition, the fast evolving transformative technology sector (TransTech or science-based technology that has an impact on wellbeing/wellness) is now increasingly benefiting from the rapid progress in A.I. and machine learning.
Some of the best-known companies in that space are Fitbit, Lumosity, Happify, Beyond Verbal, Thalmic Labs, Thync, and Alkili. This is creating huge excitement, but also raising serious privacy and security issues.