"Respite From 'Brexit' Proves a Boon to British Spas" – New York Times,  July 12, 2016
In the wake of Britain's decision to leave the European Union less than three weeks ago, the group of spa-goers is no longer just society women getting ready for summer in Ibiza or well-heeled tourists on city breaks. Instead, many spas report a spike in bookings from harried swathes of London professionals, who are hunting for rest and recuperation as they grapple with the stresses and strains of the Brexit.
"Closest Thing to a Wonder Drug? Try Exercise" – The New York Times, June 20, 2016
Although we don't think of it this way, you can make a pretty good argument that exercise is as good as drugs for many conditions.
"Living with Anxiety in the Age of Nonstop Bad News" – Quartz, June 29, 2016
In the digital age, bad news seems to be always at our fingertips, and for people who are already prone to anxiety or depression, it's hard not to feel overwhelmed by the world's problems.
"Companies Try a New Strategy: Empathy Training" – The Wall Street Journal, June 22, 2016
Corporate empathy may sound like an oxymoron to some, but more businesses are emphasizing the trait in developing managers and products.
"Wearables at Work Are the New Spy Tool, UK Workers Say" – The Telegraph, June 20, 2016
According to a new survey conducted by PwC in the UK, most people want their employer to take an active role in their health and wellbeing. However, the biggest barrier to adoption is trust, with 40 percent saying they don't trust their employer to use it for their benefit, and in fact, believe it will actively be used against them.
"The Body as Machine (How human body metaphors impact health approaches)" – Undark, July 6, 2016
Americans talk about the human body as a "machine." Illness "invades," the body "fights back," the "war on cancer" is won or lost, etc. These metaphors have a powerful effect on real-life behavior as they encourage an aggressive approach to medical treatment on the part of both doctors and patients.
A Striking Stat: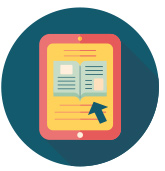 Intrinsic risk factors (i.e., "bad luck") represent only 10-30 percent of the lifetime risk of getting many common cancers. The rest are things one can prevent.
Source: Study in Nature, 12/2015 – "Substantial contribution of extrinsic risk factors in cancer development"