MONTHLY BAROMETER – WELLNESS EDITION: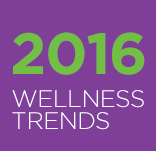 Economist Thierry Malleret predicts important trends in the wellness world to watch in 2016. Issues to watch include:
(1) The transition among many companies to a more holistic approach to wellness, which the new strategy of Weight Watchers epitomizes (it proclaims to no longer sell diets, but a total "lifestyle shift").
(2) The trend towards "localism" combined with a growing suspicion of large companies. A notable example is offered by the commercial and financial success of Patanjali Ayurvev: an Indian company founded by a renowned yoga guru who decided to supplant the global brands by making creams, cleansers and supplements based on Ayurvedic remedies that do not contain chemicals and artificial flavours.
(3) Whether genetic testing offered – or subsidized – by companies for their employees will gain traction… or not. Increasingly, employers seem determined to curb costs by making their workers healthier by aggressively targeting obesity, but this is raising concerns about privacy and illegal discrimination.
More 2016 Wellness Trends
To help businesses understand what's around the bend across every wellness sector, the GWI recently added a "Trends Resource" to its site, aggregating the 2016 global trends reports from organizations and companies as diverse as Euromonitor, FJORD, Global Wellness Summit, Mind Body Green, Spa Business, Spafinder Wellness 365, Well + Good, the World Economic Forum and WTM.