Global Wellness Institute Roundtable: "Redefining Workplace Wellness" July 2015
10 Ways That Workplace Wellness Must Evolve in the Future
#9 in Series: Design Healthy Workspaces & Focus on Environmental Health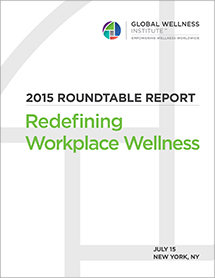 Despite the fact that most people spend the majority of their waking lives working (whether at a business or at home), there has been too little attention paid to designing workspaces that are conducive to human wellbeing and productivity. As Alfredo Carvajal of Delos put it, "Even big companies will still house their employees in what are essentially unhealthy spaces. We will see the design and building of workplaces change in the next decade, with a much-needed new focus on natural light, healthy air, worker privacy and comfort, and flexible office design—and incorporating different types of biophilic design, which reimagines the relationship between nature, human biology and the built environment."
For instance, Delos has been part of the founding of a new International Well Building Institute that consulted with doctors from institutions like the Mayo and Cleveland Clinics to create new standards for air, water, light, nourishment, fitness, comfort and mind in offices (and every type of building). This new standard measures how dozens of design components affect numerous aspects of human health and productivity, from the cognitive to cardiovascular. Going forward more businesses will not only optimize their buildings for human physical and mental health, they will focus on the remote worker, especially in assisting with ergonomic workspaces.
More broadly, the roundtable agreed that future workplace wellness approaches need to have a more powerful focus on the environment. For instance, in high density cities (proliferating worldwide) in places like China, Russia or Mexico, terrible air quality is becoming the No. 1 issue in worker health, and is killing people with lung cancer, COPD and heart disease.
Tackling these deadly environmental issues is beyond the scope of companies, and will have to involve collaboration between governments and businesses. And, as Joel Bennett noted, it's the U.S. that has been the most narrowly "individual-focused" in its workplace wellness efforts, and that more workplace strategies should adapt a systemic or integral approach that includes policy, the environment and programs. And, importantly, this includes full integration and alignment with behavioral health and Employee Assistance Services, which can have a positive impact on psychosocial aspects of the work culture.