MONTHLY BAROMETER:
The global economic outlook is becoming increasingly deflationary. The dual collapse in commodity prices and Emerging Markets (EM) currencies, combined with (and caused by) the sharp deceleration in China, exerts strong deflationary headwinds that affect the rest of the world. A situation compounded by such global megatrends as aging populations, technological innovation and rising inequalities that are deflationary by nature. And as a result, persistent global weakness is the "new normal."
WELLNESS EDITION:
There are two wellness angles pertaining to this critical point about "secular stagnation" and structural global weakness.
1. Persistent slow growth will strain the fiscal outlook of countries around the world, particularly those with a high level of indebtedness and/or a substantial fiscal deficit. In doing so, it will make the incentive to be "well" even stronger than it is today. This is a secular theme on which we often report because we view wellness as an economic/financial imperative in tomorrow's world.
A recent and illustrative example comes from the English National Health Service (NHS), one of the largest employers in the world (the fifth biggest in 2012, with 1.7 million employees) and one that has the highest level of employee illness in England, for which it incurs a cost of GBP 2.4 billion per year. Recently, NHS Chief Executive Simon Stevens said that creating a "healthy workplace" is no longer a "nice to have, but a must-do," announcing that the NHS will invest GBP 5 million in initiatives like serving healthy food and running Zumba and yoga classes.
2. In an aging world where populations are shrinking, there won't be many obvious sources of productivity. Hence it's becoming increasingly critical for businesses to ensure that their employees' productivity isn't affected by absenteeism or presenteeism (people coming to work but underperforming because of illness or stress).
For a few years now, there has been enough evidence to show that workplace wellness programs are not a "nice-to-have," but a strategic imperative. A study conducted by Johnson & Johnson between 2002 and 2008 concluded that the return on the company's internal wellness program was 171 percent ($2.71 for every dollar spent). Making your employees healthy is therefore a great investment!
ABOUT THIERRY MALLERET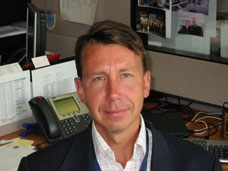 Malleret is managing partner of the Monthly Barometer – a succinct predictive newsletter provided to private investors and decision-makers. Previously, he founded two companies that he sold, founded the Global Risk Network at the WEF, and was in charge of the Davos Annual event. His other professional experience includes: investment banking (London and Moscow), think tanks and academia (New York and Oxford) and government (in the French PM's office). Thierry has written a dozen books, and he holds two MAs and a PhD in Economics.
The Wellness Edition of his Monthly Barometer is written exclusively for the Global Wellness Institute. For a copy of the full report each month, join the GWI as a Member or Ambassador.