Global Wellness Institute Roundtable: "Redefining Workplace Wellness" July 2015
10 Ways That Workplace Wellness Must Evolve in the Future Read full report
#3 in Series: Embrace Technology Opportunities, from Telemedicine to Mobile
Technology, the experts concurred, is very much a "double-edged sword" as it's also rapidly delivering so many once-unimaginable tools that are workplace health's friend. Telemedicine, allowing workers to connect with doctors via phone, text and online, is a major, more prevention-focused opportunity for employees' physical and mental health. Multichannel, 24/7 communications with medical professionals let employees get care from doctors before they are very sick, and companies like Zappos are turning to companies like subscription-based Turntable Health for primary care support.
And Dr. Pelletier, Clinical Professor of Medicine, University of Arizona & University of California Schools of Medicine, stressed that telemedicine, online coaching and the new storm of mobile platforms/apps are allowing employers to reach and support the hardest-to-reach worker populations: remote/at-home workers and isolated offshore/global populations.
Dondeena Bradley (global head of Innovation) and Theresa DiMasi (editor in chief) at Weight Watchers, which hosts thousands of support meetings for its members every week, stressed the importance of multichannel technology for meeting peoples' demands. The more that personalized, easy and immediate technology support can be available to enable healthier choices on demand, the more likely people will stay on their path to a better self. They reinforced that this on-demand healthy info and support via apps will become more "holistic" in the future, yet people will still want a mix of face-to face and digital support.
The use of health-tracking wearable devices/apps now grabs headlines, and a Healthiest Employer survey (7/2015) found that 25 percent of U.S. workplaces now use activity trackers and digital devices to capture workers' health info/activity. But Dr. Pelletier noted that the future will look very different: Rather than clunky wearables, invisible, ingestible nanotechnology, wireless Bluetooth and the next generations of the AppleWatch will capture a broad spectrum of employees' biometric data effortlessly and around the clock.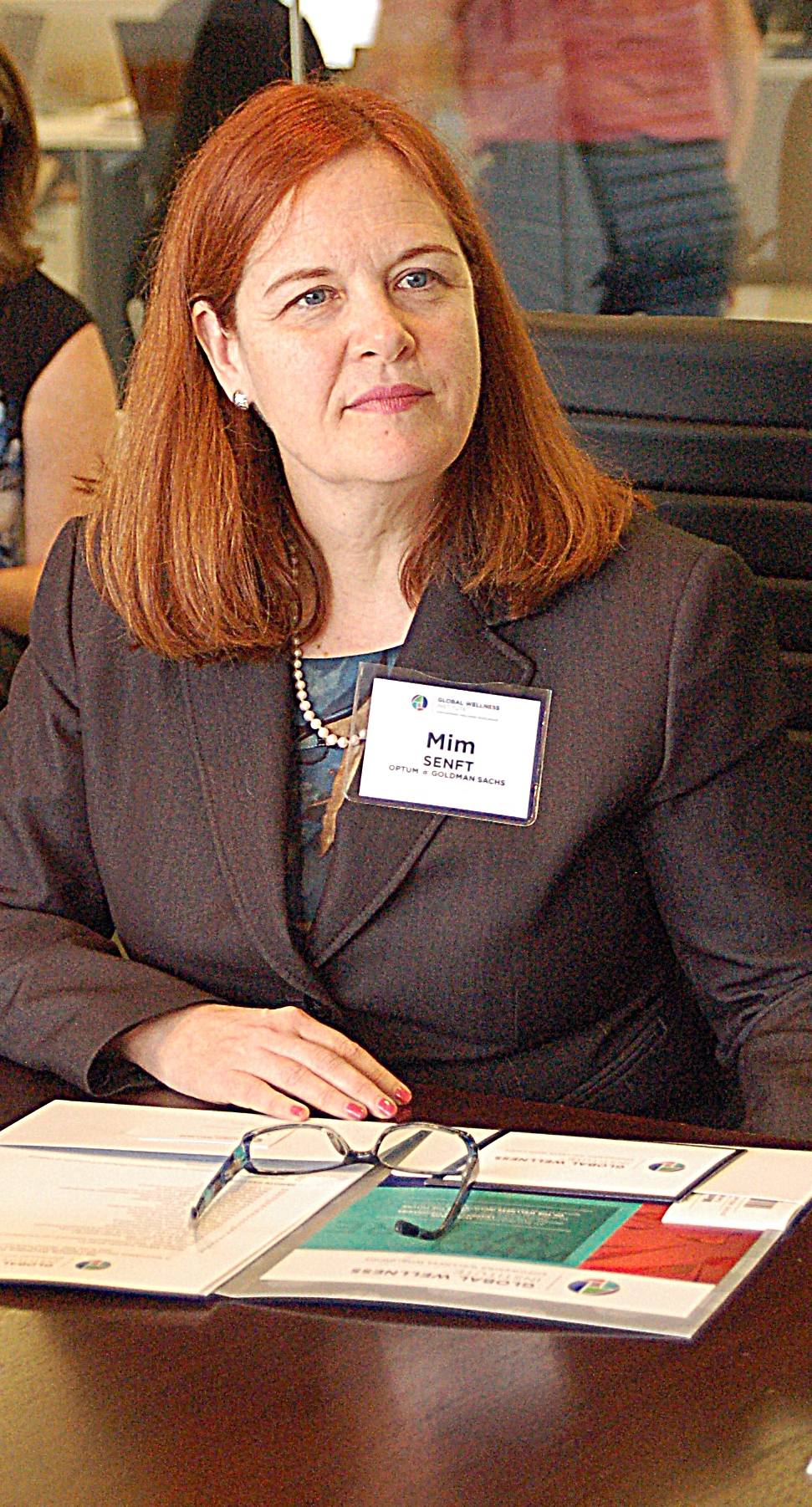 Mim Senft, wellness director, Optum at Goldman Sachs
Mim Senft, wellness director, Optum at Goldman Sachs, cautioned that the negative side of all this technology-enabled transparency into workers' personal health info (PHI) is the serious, mounting data breaches. And she argued that in the future, "what's private and what's not will go through many iterations, and workers' PHI will need to be defined, redefined and protected."
Whether they're tools like sensors in employees' chairs that alert them when they need to stretch/move, or all the proliferating sleep, meditation or workplace vacation technologies, there are huge, future opportunities to harness technology to much better manage an employee's physical and mental health. And technology will radically change the design and delivery of workplace programs worldwide.