Inbound/International Wellness Tourism: Europe Is a Dominator…
The Global Wellness Institute's (GWI) Global Spa & Wellness Economy Monitor found that domestic wellness tourism constitutes the lion's share of this travel category's trips (84 percent) and spending (two-thirds). That is consistent with the fact that more people in general travel domestically rather than internationally (especially those living in massive countries like the U.S., China, India or Russia). And domestic wellness trips are higher in volume because they can be taken more frequently, and are shorter in duration.
But international wellness tourists are the huge spenders: They spend, on average, $1,639 per trip—or roughly 60 percent more than the average country-hopping tourist.
So let's take a look at which 12 nations drive the most inbound/international wellness trips a year: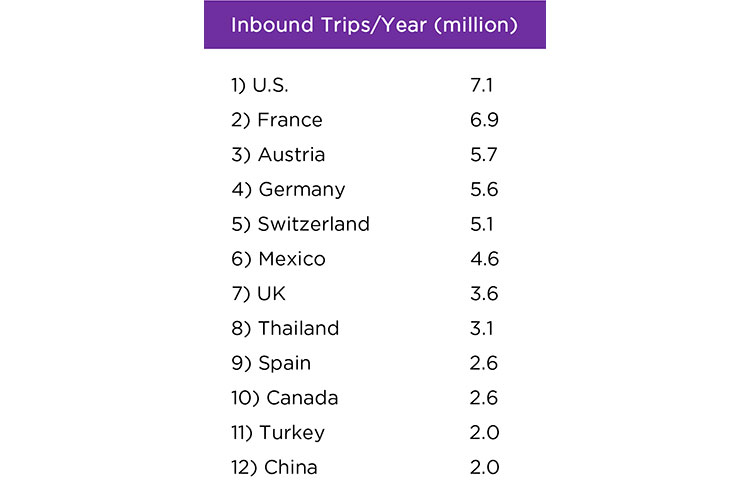 As you can see, European nations—with their strong, established wellness tourism infrastructure (so many health resorts and wellness retreats) and which also benefit from all that quick, close intra-European travel—grab seven of the top 12 spots. When you consider just how small nations like Austria or Switzerland are, their rankings are nothing short of amazing.
Mexico is the clear inbound wellness tourism powerhouse of the Latin American world and "wellness-rich" Thailand dominates in Asia.