Media Contact: Beth McGroarty
[email protected] • +1.213.300.0107
Top 6 Trends in Hydrothermal Spa & Wellness Experiences
Salt inhalation therapy gets real, coed thermal bathing heats up, flotation therapy resurges, and the centuries-old traditional Kneipp therapy will get a reboot, according to the Global Wellness Institute's Hydrothermal Initiative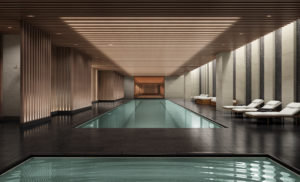 Miami, FL – March 25, 2019 – The Global Wellness Institute (GWI), a nonprofit research and educational resource for the global wellness industry, today released the top six trends in hydrothermal spa and wellness experiences as identified by the GWI's Hydrothermal Initiative. One of 23 GWI initiatives committed to increasing the awareness of both the benefits and business opportunities wellness offers in all its varied forms, the Hydrothermal Initiative is focused on educating both consumers and professionals on the health benefits and proper construction of all hydrothermal experiences from popular saunas and steam rooms to more specific modalities, such as salt inhalation, Kneipp therapy and floatation hydrotherapy pools.
"For thousands of years, people have harnessed the cleansing and healing powers of water and heat—and the unique health benefits of hot/cold contrast therapy," said Don Genders, chair of the GWI Hydrothermal Initiative and CEO of Design for Leisure. "Hydrothermal experiences offer wellness benefits that are difficult to achieve any other way—and the bonus is that the health benefits can be self-administered so are achieved without high labor costs and, of course, easily practiced at home."
Hydrothermal bathing has been shown to improve blood circulation, promote heart health, detox the body, manage high blood pressure, improve the immune system, and much more. Numerous medical studies on the health benefits of sauna bathing and hydrotherapy can be found on GWI's Wellness Evidence website.
GWI's Hydrothermal Initiative's Top Trends for 2019
Salt Therapy for Real Results
In 2019, we predict the use of salt in thermal cabins to soar as spas start putting the health benefits of salt before the aesthetic beauty of pink Himalayan salt blocks. The popularity of designer salt rooms in spas has soared in recent years—and sexy, pink-hued salt brick walls have become ubiquitous in thermal areas of spas across the world—however, though the backlit bricks may look pretty, the salt they are made of offers little to no health benefits. Expect thermal rooms with or without salt walls to add functional salt systems, such as halogenerators for distributing fine particles of dry salt or a nebulizer for a steam-style inhalation of salt. Both enable bathers to reap the actual benefits cleansing salt offers, including better respiratory health (studies show salt inhalation can even alleviate asthma symptoms) and benefits to the skin (including conditions such as acne, rashes and eczema). Devices, such as KLAFS SaltPro X, a portable, battery-operated halogenerator, are helping to bring the benefits of salt to any thermal room or home sauna.
Kneipp Therapy Gets a Reboot
Kneipp therapy (named after a 19th century Bavarian parish priest who discovered this "water cure" for healing his tuberculosis) has long been popular in Europe. Kneipp walks or wading pools are a popular introduction to the health benefits of hot and cold contrast therapy. Bathers alternate walking through hot and cold actions to stimulate blood circulation throughout the body. And, because they can be self-administered (no therapist required), they are growing in popularity in both Europe and North America. One example in the US is the hot/cold walking pools at the recently-opened CIVANA Spa's (Carefree, AZ).
Getting Cold Gets Hot
The importance of cooling down after using saunas, steam rooms or hot pools has become better understood in recent years. The evidence around the benefits of hot and cold contrast therapy*[1] is mounting and has resulted in a greater interest in treatments, such as snow rooms, snow showers and cold plunge pools. Even the humble shower is getting a significant makeover to help bring hot/cold contrast therapy into homes. Manufacturers, such as Dornbracht and Hansgrohe, have introduced specialist "deluge" showers and waterfalls that are specifically aimed at the spa and wellness market and are being used in both residential wellness suites and in professional builds.
Coed Thermal Bathing Gains Traction in US
After many years of resistance (mainly due to some outmoded standards that were ranking US properties without separate male and female hydrothermal areas lower than those with communal, coed facilities), we are seeing the development of exciting and creative unisex wet thermal areas in spas across the US—something most Europeans have long enjoyed. Privacy issues are handled by installing small private areas in coed locker rooms, allowing the main spa areas to be designed and built as social, communal spaces. This trend is gaining major traction in the US, where younger generations seek out social and group wellness activities and recognize that the unique wellness benefits of social spa-ing far outweigh what they get through single-sex, thermal bathing. Some shining examples include the coed facilities at the award-winning Faena Hotel, Miami Beach, and the newly built wellness area in the luxury condominium property at 111 Murray Street in New York's TriBeCa.
Floatation Therapy in Resurgence
Floatation therapy looked to be big back in the 90s, but it never quite took off. Now, seemingly every new hydrothermal project is incorporating a floatation element—from fully enclosed pods to the more popular open tubs that mitigate any claustrophobic element of floatation to large scale, multisensory pools that offer flotation, light and underwater sound therapy. An extension of this trend is a resurgence of Watsu pools for therapist-led floatation therapy, which is gaining popularity and being sought-after by a new generation of spa-goers. One explanation? New research shows a deep drop in anxiety levels after a one-hour float**. H2Oasis Float Center and Tea House (Tulsa, OK) is an interesting example—it combines tea, oxygen therapy and floatation pools in one location.
Adding Hydrothermal Wellness Elements at Home
Once the domain of the wealthy, wellness real estate is becoming more democratized with installations of hydrothermal features in more and more private residences. And more compact designs mean it's possible for even the smallest of homes to incorporate the benefits of wellness with a private sauna. This trend is also being seen in multifamily living environments where apartment and condominium developers are incorporating spa and wellness features into almost every new build. In the past, a fitness center and maybe a pool were considered differentiators, but now, communal wellness and relaxation areas are must-have amenities. Recent GWI research backs this up: The value of real estate developments incorporating wellness elements is projected to grow from $134B in 2017 to $197B in 2022.
To learn more about the design and development of hydrothermal areas, download the GWI-published Guide to Hydrothermal Spa & Wellness Development Standards, which was produced by the Hydrothermal Initiative as a primer for anyone considering building thermal experiences and wet areas in residential homes or commercial properties.
Other GWI Initiative trends, including Hot Springs, Mental Wellness, Sound Healing, Digital Wellness and many more, can be found on the Institute's website.
For more information, contact Beth McGroarty: [email protected].
About the Global Wellness Institute: The Global Wellness Institute (GWI), a nonprofit 501(c)(3), is considered the leading global research and educational resource for the global wellness industry and is known for introducing major industry initiatives and regional events that bring together leaders to chart the future. GWI positively impacts global health and wellness by advocating for both public institutions and businesses that are working to help prevent disease, reduce stress, and enhance the overall quality of life. Its mission is to empower wellness worldwide.
* https://www.ncbi.nlm.nih.gov/pmc/articles/PMC3633882/
** http://www.laureateinstitute.org/current-events/feinstein-laboratory-publishes-float-study-in-plos-one