Media Contact: Beth McGroarty
[email protected] • +1.213.300.0107
Global Wellness Institute's Wellness Real Estate and Communities Symposium Adds Top Investors and Developers to Agenda
Event will bring together power players from Blackstone, Center for Active Design, Delos, JLL, Tavistock Development, Tishman Speyer—and developers of projects underway worldwide—to take a real-world, real-numbers look at the wellness real estate development and investment space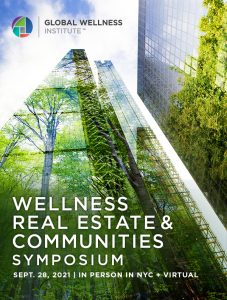 Miami, FL – September 15, 2021 – The nonprofit Global Wellness Institute (GWI), the leading research organization for the global wellness industry, today announced additional keynotes and panels confirmed for the first-ever Wellness Real Estate and Communities Symposium being held in person and virtually Tuesday, September 28, in NYC.
The new speakers and panels show that the symposium will move beyond abstract theory and hype for "building well" to share real-world data and case studies on what impact the "wellness effect" has on residential and commercial real estate. Leading executives in the real estate investment space, from Blackstone to Tishman Speyer, will discuss investor perceptions and the current landscape of wellness real estate (what's getting funded, how and where). Developers and owners of over a dozen very diverse global projects in the pipeline—from AMAALA in Saudi Arabia to Tri Vananda in Thailand—will present the "whys" of their unique concepts and real numbers from their funding structure to pre-sales rates.
"We know the pandemic has led more people to seek homes and communities that are purpose-built to deliver more physical, mental and social wellbeing, but what impact does a wellness focus really have on investment and sales? What's the premium, the ROI? What makes a development successful, and what are the critical mistakes to avoid? What are the leading concepts in the global pipeline and the key trends to watch in the future?" said Susie Ellis, GWI chairman and CEO. "Experts will work to answer these key questions; we plan to get very real."
The symposium, a hybrid event with both in-person and virtual registration (on-demand viewing for global time zones), takes place from 8 AM–4 PM, September 28, at etc.venues (601 Lexington Ave., NYC). In-person attendees are also invited to a VIP reception the evening before.
Registration is open, and space is limited.
View the agenda here—which will continue to evolve.
Added to the lineup:
Investor Perceptions and Realities
The agenda will dive deep into the investment landscape and trends. Joanna Frank, President & CEO, Center for Active Design, will present new research on investor perceptions on health and wellbeing as a value driver in real estate. Frank will also lead a panel on investment realities in the space with
Kevin Davis, Senior Managing Director of Capital Markets for JLL's Hotels and Hospitality Group; Eric Duchon, Global Head of Real Estate ESG, Blackstone; and Jonathan Flaherty, Tishman Speyer's Global Head of Sustainability and Building Technology Innovation.
Developers on Projects in the Pipeline and Their Real Numbers
Video case studies and hard data (from how funded to operations and sales) on over a dozen projects and developers from around the globe will be shared, including presentations from Amrit Ocean Residences (US), GOCO Hospitality, Peninsula Papagayo (Costa Rica), Rancho Mission Viejo (US), Regenerative Communities from the Modern Elder Academy (US), Six Senses (global), Val de Vie Estate (South Africa), Watermark Retirement Communities (US) and more.
The global team behind "Wellness Smart Villages" will explore how wellness developments can regenerate rural communities. Craig Collins, CEO, Tavistock Development Company, will present on how Florida's Lake Nona became one of the sector's extraordinary success stories by taking a uniquely comprehensive approach to health and wellness. Alfredo Carvajal, Advisor, Grupo Espiritu, will present the financial realities of opening during the pandemic with a case study of Rancho La Puerta Residences experience.
Science and Innovation—How the Built Environment Actually Impacts Health
The human "bottom line" that drives the financial bottom line is the hard evidence about how wellness architecture, design and innovations actually impact health and wellbeing. Paul Scialla, CEO, Delos, will keynote on the science leading to a new urgency in his keynote: "Now More than Ever: Wellness in the Built Environment." Rachel Hodgdon, President and CEO, International WELL Building Institute, will present new research on the impact of healthy building. Anjan Chatterjee, MD, Professor of Neurology, Psychology and Architecture at the University of Pennsylvania, will explore "Neuroarchitecture, the Built Environment and Wellness" while Steve Nygren, founder of pioneering wellness community Serenbe, will keynote on biophilic design as the foundation for wellness real estate. Abby Brody, founder and CEO, MYX, will show the eye-opening ways that wellness is disrupting spaces for education.
Identifying the Big Trends
Experts will discuss the most powerful trends in the wellness real estate/communities space, not just temporary shifts born of the pandemic but trends fueled by the big cultural, environmental and demographic shifts that will play out over decades. Beth McGroarty, VP, Research & Forecasting for the GWI, will lead a panel of top media predicting future directions for the market—from developments that blend home, work and wellness to a massive new value for nature to a shakeup in senior living to thinking beyond the billionaires.
About the Global Wellness Institute: The Global Wellness Institute (GWI), a nonprofit 501(c)(3), is considered the leading global research and educational resource for the global wellness industry and is known for introducing major industry initiatives and regional events that bring together leaders to chart the future. GWI positively impacts global health and wellness by educating public institutions, businesses and individuals on how they can work to prevent disease, reduce stress, and enhance the overall quality of life. Its mission is to empower wellness worldwide.