Media Contact: Beth McGroarty
[email protected] • +1.213.300.0107
Global Wellness Institute Initiative Names Top Five Hot Springs Trends Worldwide
Trends put focus on World Bathing Day, June 22, and the new role hot springs are taking in connecting communities, including designing for multiple generations of users and hot springs' unique—and ever-expanding—wellness offerings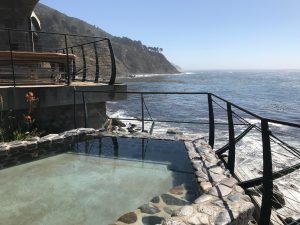 Miami, FL – June 13, 2019 – The Global Wellness Institute™ (GWI), a nonprofit research and educational resource for the global wellness industry, today released the top five trends in hot springs as identified by the GWI's Hot Springs Initiative. The new forecast draws attention to World Bathing Day, a celebration of all the world's water in which we bathe and a rallying cry to create a world where bathing is possible for all.
"It's crucial to remember that every generation benefits from hot springs—and worth noting that all five of the original Blue Zone Communities, places in the world where people live the longest, healthiest lives, feature hot springs in the community or very close by," said Charles Davidson, chairman of the GWI Hot Springs Initiative and founder of Peninsula Hot Springs in Australia.
GWI's Hot Spring Initiative Top Trends for 2019
Multigenerational Features—and Accessibility—Make Hot Springs a Destination for All
Hot springs are being designed with infants and seniors in mind, providing environments, activities and accessibility for people at all stages of life. Experiences range from baby baths and walk-in pools to massaging hydro jets and water slides. Whether it is high energy fun or low impact and easy-entry pools, hot springs facility design is taking heed of visitors' ages and mobility. In addition, facilities are providing separate spaces to pursue tranquil, low-energy activities or noisy, high-level activities without compromising either experience. Examples include renovations at the 130-year-old Glenwood Hot Springs (Colorado) and Chinese wellness real estate developers targeting retirees with villages that are centered around hot springs in China.
Hot Springs Take Lead in Connecting Community
Public bathing is inherently communal and, in keeping with their role as refuges for health, wellbeing and connection, hot springs are engaging with the broader community where they are located. This can take the form of providing health and fitness programs with special midweek entry prices for local visitors as well as direct engagement with community organizations for philanthropy and as a social service. In particular, hot springs are focusing on promoting the mental and physical health of the people in the community. The Esalen Institute in California offers a wide range of wellbeing courses, while Wilbur Hot Springs donated 10 percent of its revenue to water.org on World Bathing Day (June 22) in 2018.
More Wellness Programming Increases Appeal and Revenues
Massage, yoga, Pilates, hot/cold experiences, forest bathing (Shinrin-yoku), hydrotherapy and many more activities are being woven into hot springs offerings, stretching their traditional appeal of relaxation and escape to reach a more proactive, self-help, wellness-motivated consumer. The increased appeal has manifested into "one-day" holiday concepts at some hot springs that can include a VIP hot springs experience that gives visitors more time and space to enjoy the waters. Austria's Vitality World created a new "One Day Holiday" program at its Aqua Dome, resulting in double-digit growth, while Glen Ivy Hot Springs (Los Angeles) offers a hot springs concierge during busy times to enhance the guest experience and help share knowledge about the water and correct bathing practices. In China, the government issued its "Healthy China 2030 Guideline," which encourages hot springs facilities to provide more than relaxation and escape.
Hot Springs Maximize Connection to Nature and Environment
Increasingly, evidence-based research shows the connection between nature and mental and spiritual health. Hot springs stem directly from the earth with life- and health-enhancing minerals and natural warmth that provide an all-weather and all-seasons connection to the environment. Hot springs designs are focusing on providing an aesthetic and physical connection to the environment and, with that, comes a sublime and almost subliminal health outcome—a sense of being connected to and at one with the natural environment. Two hours out of Tokyo, the ancient hot springs town of Kusatsu offers a trail of hot springs (or onsens) where guests walk through the beautiful town in their traditional yukata robes and geta (wooden clogs) from hot spring to hot spring. In any season, guests feel connected to the surrounding space and find blissful relaxation.
Extreme Bathing = Extreme Wellness
Pushing our bodies to extremes helps stimulate the immune system and the body's self-healing mechanisms and is getting the attention of the global media and the global health-conscious consumer. Natural hot springs are playing host to extreme wellness retreats and adventures: The extreme comfort of natural hot pools provides a stark contrast to bathing in snow-covered mountain streams, or try a walking tour in the forest punctuated by the discovery of portable heated hydro hammocks or makeshift steam room tents. At New Zealand's Maruia Hot Springs, guests can combine extreme hot and cold bathing experiences with talks on nutrition, walks, yoga, massage and mindfulness, while Peninsula Hot Springs in Australia has launched a Nordic zone with saunas, ice caves, cold plunge pools and an ice plunge pool supported by trained guides who take guests on Fire & Ice experiences.
The GWI supports 25 industry Initiatives that focus on developing projects that impact wellness in a particular market segment or region of the world. Other GWI Initiative trends, including Mental Wellness, Sound Healing, Digital Wellness and many more, can be found on the Institute's website.
For more information, contact Beth McGroarty: [email protected].
About the Global Wellness Institute: The Global Wellness Institute (GWI), a nonprofit 501(c)(3), is considered the leading global research and educational resource for the global wellness industry and is known for introducing major industry initiatives and regional events that bring together leaders to chart the future. GWI positively impacts global health and wellness by advocating for both public institutions and businesses that are working to help prevent disease, reduce stress, and enhance the overall quality of life. Its mission is to empower wellness worldwide.