Media Contact: Beth McGroarty
[email protected] • +1.213.300.0107
Global Wellness Institute Cautions Industry and Consumers to Sift Fact from Fiction When It Comes to Immunity-Boosting Claims for Coronavirus
With an avalanche of immunity-building claims coming from every corner of the world, GWI's WellnessEvidence.com helps consumers make informed decisions with evidence-backed research on 30 different wellness modalities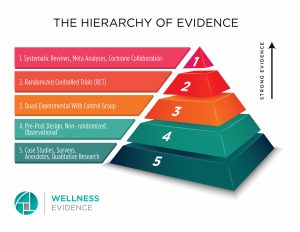 Miami, FL – April 1, 2020 – The Global Wellness Institute™ (GWI), a 501(c)(3) nonprofit organization with a mission to empower wellness worldwide, reminds wellness seekers that there is evidence-based, medical research available on mainstream wellness modalities. Since the launch of WellnessEvidence.com in 2015, the GWI's researchers have made it their mission to help individuals more easily sift through thousands of clinical studies as they seek solutions to health issues. All GWI's resources are absolutely free, including its bi-monthly newsletter, the Global Wellness Brief, which includes important insights and information on wellness evidence.
WellnessEvidence.com provides easy access to, and key summaries of, clinical studies on numerous wellness modalities that appear in the world's most authoritative sources of evidence-based medicine, including Natural Medicines, the Cochrane Library, PubMed and the TRIP Database.
"Online searches on how to bolster immunity and cope with rising stress/anxiety have surged during the Coronavirus crisis," said Susie Ellis, chair and CEO of the GWI. "People are seeking evidence for the best immunity weapons, but fear has also made us vulnerable to the barrage of online ads for 'miracle' supplements, superfoods, tonics, vitamins, essential oils and potions that claim to prevent or treat COVID-19."
Governments and private businesses are also taking action on the avalanche of health and wellness misinformation. For example, in the US, the FDA recently sent warning letters to companies selling wellness teas, aromatherapy oils, tinctures and colloidal silver, as there is no evidence they can prevent or cure Coronavirus. Twitter is pulling down tweets for products/approaches "known to be ineffective or not applicable in the COVID-19 context."
"I've watched with great pride at how our industry is committed to giving consumers much access to wellness while practicing physical distancing during these stressful times," said Ellis. "I encourage everyone to add Wellness Evidence to their 'wellness toolkit,' as it not only provides access to the same databases doctors use when evaluating alternative or complementary medicine, it also simplifies searches for common wellness modalities. It is a much-needed, 'spin-free' wellness research zone."
GWI researchers provided these examples of wellness modalities reviewed on WellnessEvidence.com:
GWI also recently launched PositivelyWell, a movement to replace fear with a focus on wellness. PositivelyWell encourages people around the world to build strong immune systems through exercise, healthy nutrition, stress reduction, smoking cessation, optimism and more. In addition, it features encouraging and timely news on immunity issues as well as quotes from wellness leaders across the globe on how they are replacing fear with a focus on wellness.
About the Global Wellness Institute: The Global Wellness Institute™ (GWI), a 501(c)(3) nonprofit organization, is the leading research and educational resource for the global wellness economy. Through its five pillars—research, industry initiatives, roundtable discussions, Wellness Evidence and The Wellness Moonshot: A World Free of Preventable Disease—the GWI informs and connects key global stakeholders who impact the health and wellness of our planet and its citizens. The GWI's mission is to empower wellness worldwide.