Media Contact: Beth McGroarty
[email protected] • +1.213.300.0107
---
All GWI Press Releases |  Press Image Gallery   |  Global Wellness Institute Press Room   | Global Wellness Summit
---
The Global Wellness Economy Reaches a Record $5.6 Trillion—And It's Forecast to Hit $8.5 Trillion by 2027

New Global Wellness Institute research reveals a wellness market surging post-pandemic: growing 12% annually since 2020 and reaching a 14% higher value than the previous record year of 2019. With strong tailwinds, it's forecast to grow another 52% by 2027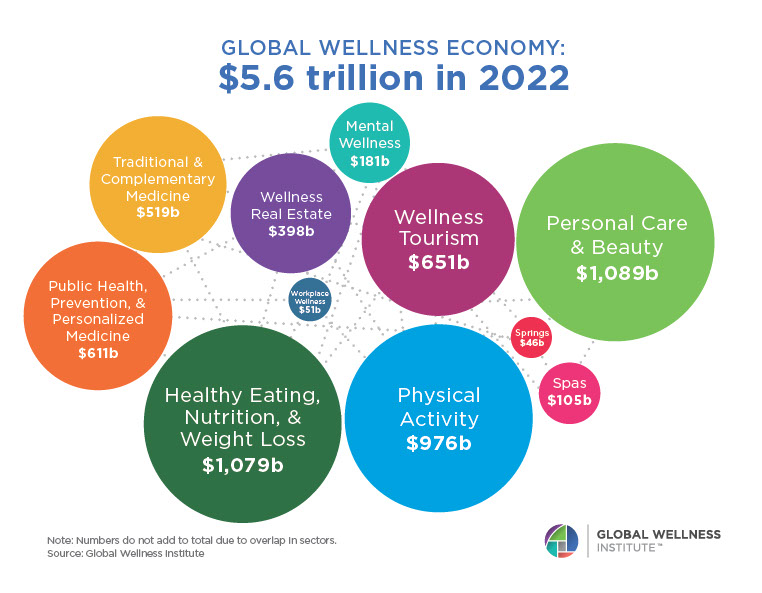 Miami, FL – November 7, 2023 – How has the global wellness economy fared since the massive economic shocks of the pandemic? According to a new report released today by the non-profit Global Wellness Institute (GWI)—the only authoritative, comprehensive source of wellness market data—the industry has made one powerful recovery. If the market was worth a record $4.9 trillion in 2019, and then shrank 11% to $4.4 trillion in the pandemic year of 2020, the research indicates that the wellness economy has seen recent, economy-defying momentum. It grew 27% since 2020 to reach $5.6 trillion, with 7 of the 11 wellness sectors now surpassing their 2019, pre-pandemic values. With consumers, the medical world, and governments now placing a much bigger value on prevention and wellness, the GWI forecasts that the wellness economy will grow at an impressive 8.6% annual pace through 2027, when the market will reach $8.5 trillion—nearly double its 2020 size.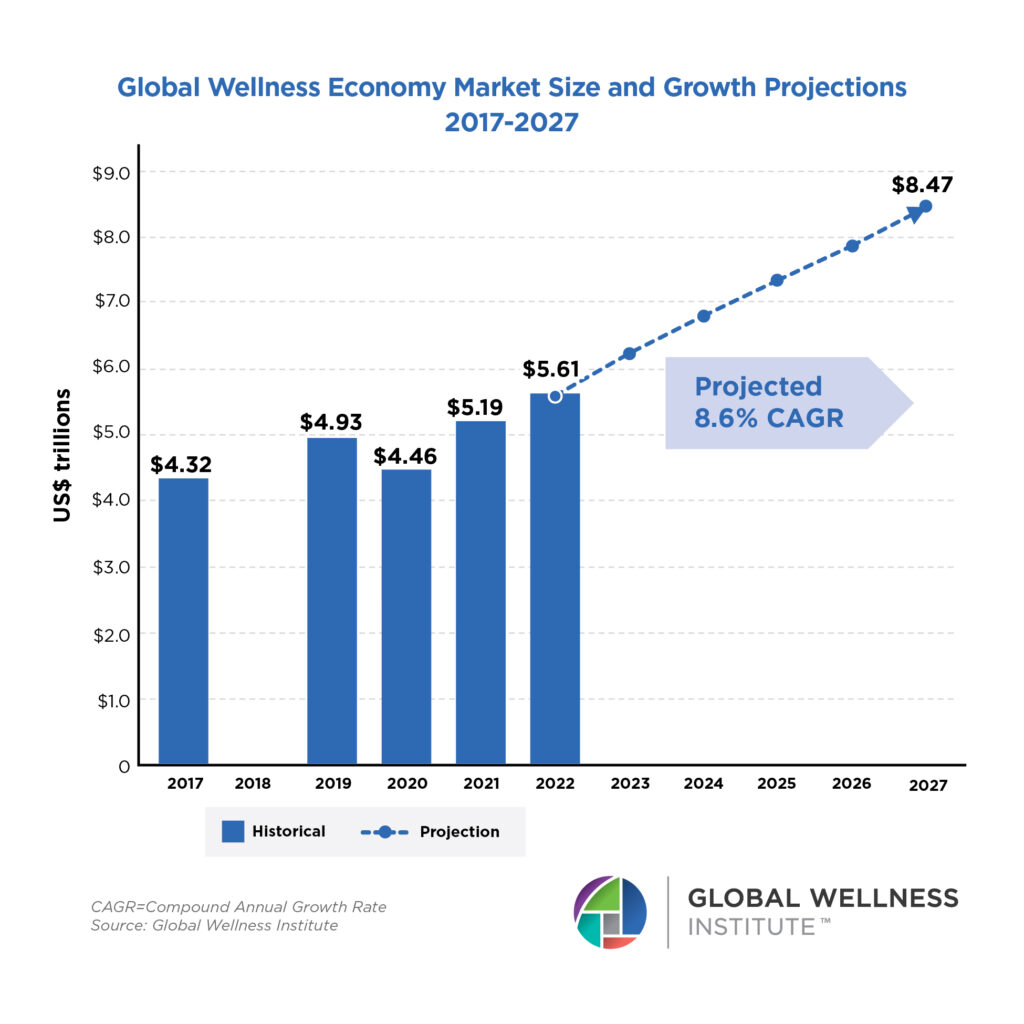 "We are surprised by the resiliency of the global wellness economy, and how quickly it has bounced back from the pandemic. It has exceeded our own expectations and forecasts," said Katherine Johnston, GWI senior research fellow. "If the pandemic disrupted industry momentum in the short term, it has simultaneously created a dramatic shift in the long-term opportunities and trajectory for wellness."
"The Global Wellness Economy 2023" is packed with insights: numbers and analysis for all 11 wellness sectors, regional data, the top-20 national markets for each wellness sector, while exploring the major shifts and trends that will impact each wellness market in the future.
The GWI has announced it will now release a Global Wellness Economy Report annually, at each Global Wellness Summit. Its "Country Rankings Report," companion research providing market size, rankings, analysis, and per capita wellness spending for 150 nations, will be released on January 30, 2024.
Download the 100-plus-page report HERE.
Access snapshots of all 11 wellness markets HERE. 
Access graphs HERE.
KEY FINDINGS:
Post-Pandemic Wellness Economy Growth: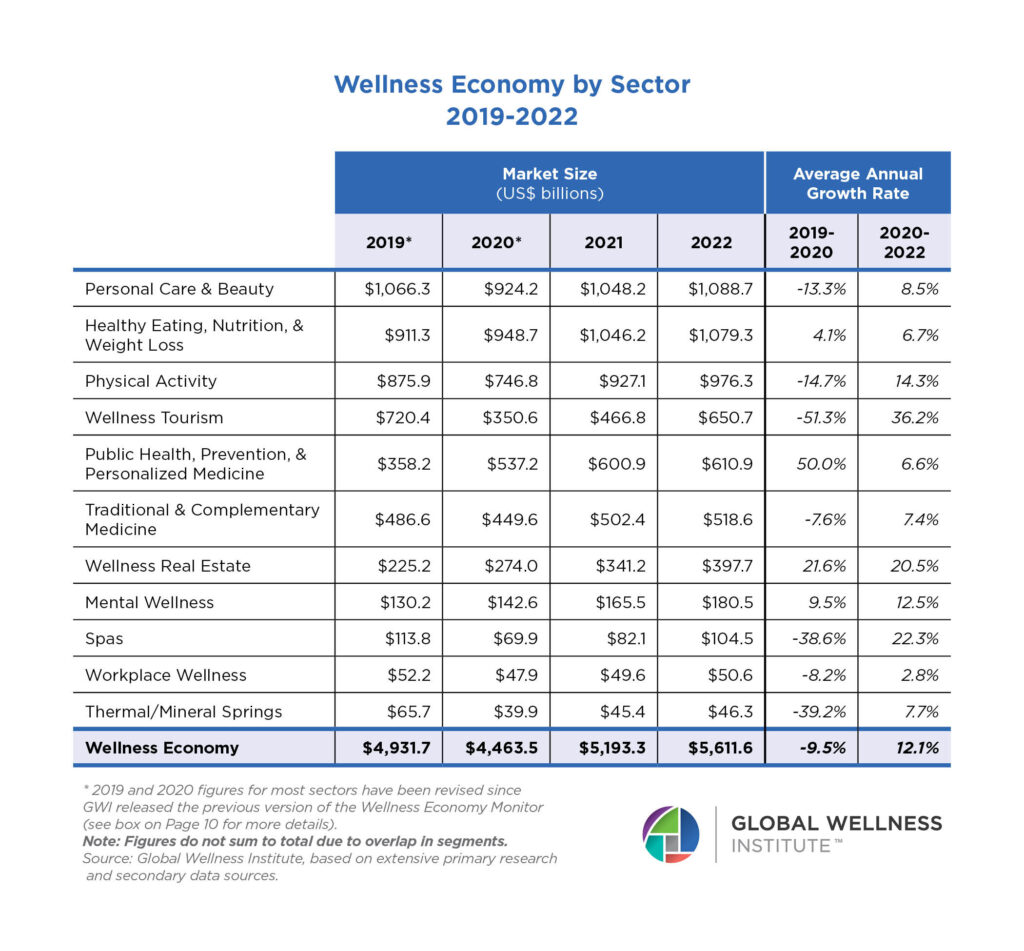 TOTAL WELLNESS ECONOMY: $4.9 trillion in 2019––$4.4 trillion in 2020––$5.6 trillion in 2022––12% annual growth 2020-2022 
While wellness tourism and spas, hit hard by the pandemic, saw the biggest annual growth rates from 2020 to 2022 (36% and 22%), an even better metric is the extent to which each sector has grown from its pre-pandemic level. Seven of 11 wellness markets have surpassed their 2019 market size, with five sectors showing the strongest resilience and growth: 1) wellness real estate (177% of 2019 level); 2) public health, prevention and personalized medicine (171% of 2019); 3) mental wellness (139% of 2019); 4) healthy eating, nutrition and weight loss (118% of 2019); and 5) physical activity (111% of 2019). GWI predicts that full recovery for the slightly lagging sectors of wellness tourism, spas and hot springs will be swift given pent-up demand: wellness tourism and spas will surpass their 2019 value by year-end 2023; hot springs by 2024. 
Wellness markets in all global regions have fully recovered from the pandemic, but North America (123% of 2019 market), Middle East-North Africa (119% of 2019), and Europe (114% of 2019), have shown the most powerful growth rates since 2019. In 2022, as countries in Asia suffered prolonged disruptions and lockdowns, North America (now a $1.9 trillion market) surpassed Asia-Pacific ($1.7 trillion market) as the largest regional wellness economy. These two regions, along with Europe ($1.5 trillion market), now make up 90% of the entire wellness market. Per capita spending on wellness is much higher in North America ($5,108) and Europe ($1,596) than elsewhere.
The Future? Very Bright: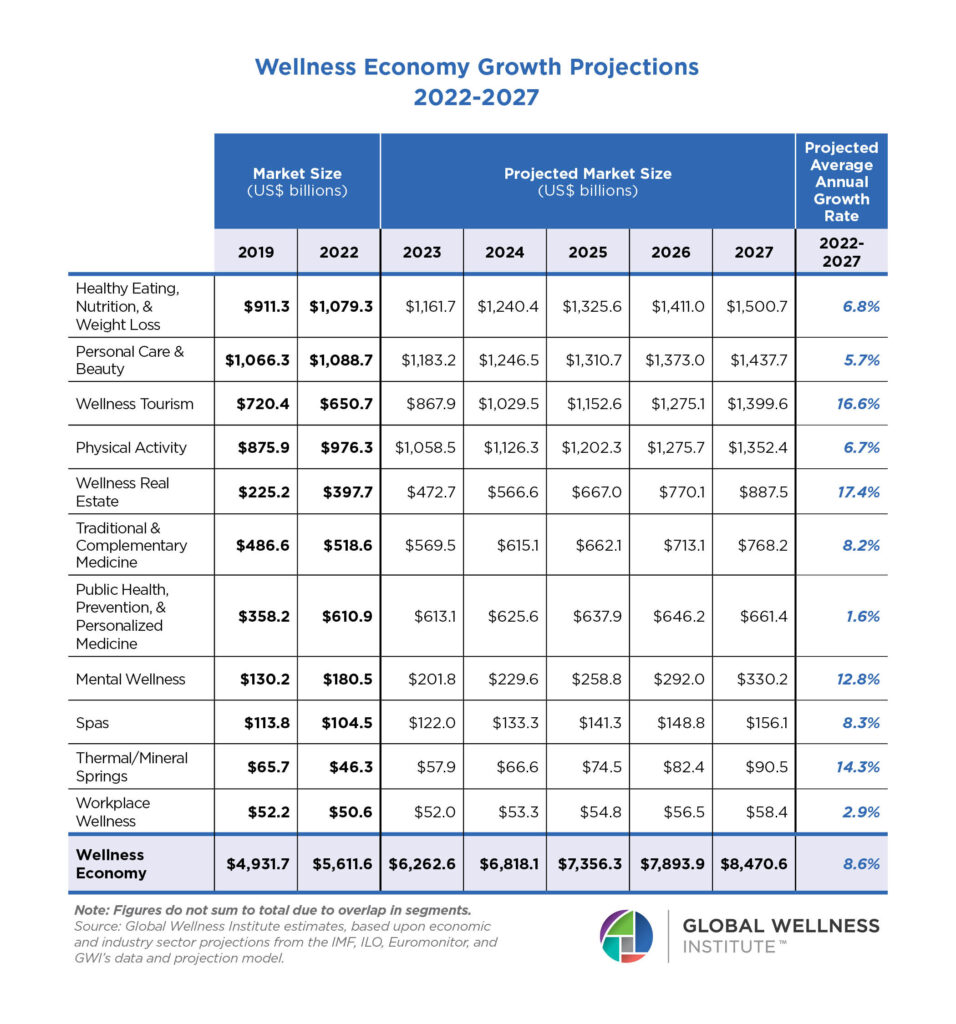 TOTAL WELLNESS ECONOMY: $5.5 trillion in 2022––$8.5 trillion in 2027—+8.6% annual growth 2022-2027
The wellness economy will only expand its share of consumer spending and the global economy over the next five years, growing at a robust annual rate of 8.6%, substantially higher than the projected global GDP growth of 5.1% (IMF forecasts). It will reach $6.3 trillion by year-end 2023 and $7.4 trillion in 2025, on its march toward $8.5 trillion in 2027, when it will represent 6.6% of global GDP (vs. 5.6% in 2022).
The biggest projected wellness growth leaders through 2027 are: 1) wellness real estate (17.4% annually); 2) wellness tourism (16.6% annually); 3) thermal/mineral springs (14.3% annually) and 4) mental wellness (12.8% annually). The unusually high future growth rates for wellness tourism and thermal/mineral springs reflect a period of continued recovery from 2023-2025. GWI projects that four wellness sectors (personal care & beauty; healthy eating, nutrition & weight loss; physical activity; and wellness tourism) will exceed $1 trillion in market size by 2024. Three sectors will exceed half a trillion dollars in 2024: wellness real estate; traditional & complementary medicine; and public health, prevention, and personalized medicine. Healthy eating, nutrition & weight loss will leapfrog beauty to become the largest wellness market by 2025. Wellness real estate will enter the top five sectors in 2025, and will explode from a $398 billion market in 2022 to $887.5 billion in 2027—astonishing, given that the sector was only formally identified/benchmarked in 2018.
"Looking into the horizon, the global wellness economy has a strong current under its wings, based on global trends that are only accelerating: an aging population, rising chronic diseases and mental unwellness, and a shift in consumer values," said Ophelia Yeung, GWI senior research fellow. "But it is also facing some challenging macro conditions like widening wealth gaps, consumer confidence in uncertain economic conditions, and rapidly changing geopolitics that will affect the flow of people, capital, technology and ideas. How the wellness economy will do will depend on the interplay of all of these factors."
Research Sponsors: This research was made possible by the generous support of these leading companies: Fountain Life, Red Sea Global, SIRO, Kohler, Biologique Recherche, Rancho La Puerta, Technogym, Active Pure, Elemis, ESPA, JOALI BEING, Natura Bissé, Six Senses, Universal Companies, Velvaere and Westin.
About the Global Wellness Institute: The Global Wellness Institute (GWI), a nonprofit 501(c)(3), is considered the leading global research and educational resource for the global wellness industry and is known for introducing major industry initiatives and regional events that bring together leaders to chart the future. GWI positively impacts global health and wellness by educating public institutions, businesses and individuals on how they can work to prevent disease, reduce stress, and enhance the overall quality of life. Its mission is to empower wellness worldwide.