Eastern European Initiative
This Initiative was active from 2016  to 2019.
Initiative Chair: Alla Sokolova, Founder & CEO, Inbalans, LATVIA
Vice Chair: Mare Kuruson, Co-Founder and CEO, Wellmonde, Finland
Initiative Members:
Arkadiusz Dawidowski, Managing Director, FoSpa Group, Poland
Ioana Marian, Managing Director, Exclusive About Spa, Romania
Nataša Ranitović, Founder & CEO, Sunny, Serbia
Sofia Roupakia, Operations Support, EF Cultural Tours, Switzerland
Resources
Best Practices – Wellness in the Baltics Roundtable
On April 20, the Eastern European Initiative hosted a roundtable to discuss today's trends, opportunities and challenges of the Baltics region in collaboration with the Baltic Spa Association. The discussion was moderated by Alla Sokolova, founder and CEO of Inbalans, and the initiative chair of the Eastern European Initiative. Click HERE to learn more.
Infographic about Wellness in Eastern Europe
The below infographic is the result of a survey taken between Aug. 15 and Oct. 31 2016. The initiative's goal was to assess the general awareness of wellness in the Eastern European region, and to evaluate the limitations and opportunities of actively participating in wellness activities. The majority (70%) of respondents were females between 25- and 34-years-old.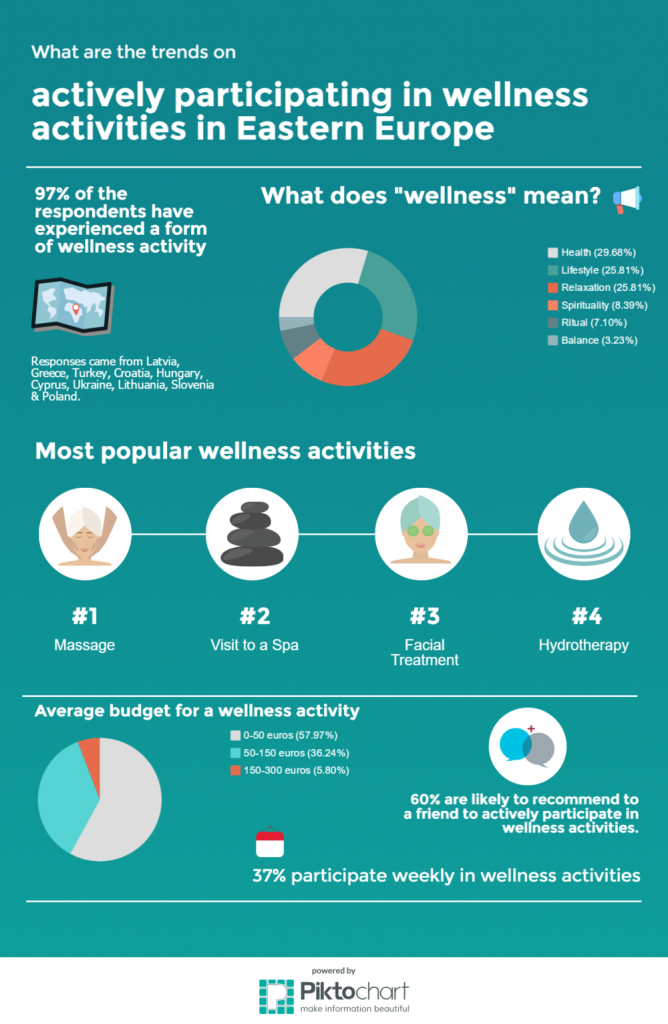 Books/Articles & Reports
Healing Sources: Spas and Wellbeing from the Baltic to the Black Sea
By Alla Sokolova, Eastern European Initiative Chair
Spa & Wellness Romania
July 2017 Edition
2017 Briefing Paper
The briefing paper is a snapshot of this industry sector including valuable information on latest trends, challenges and initiative accomplishments. Read full paper HERE.
The Global Wellness Institute serves as an umbrella organization for numerous Initiatives, that are independently chaired and run. The resources, editorial, research and opinions presented by the Initiatives do not necessarily reflect the opinions of the Global Wellness Institute.