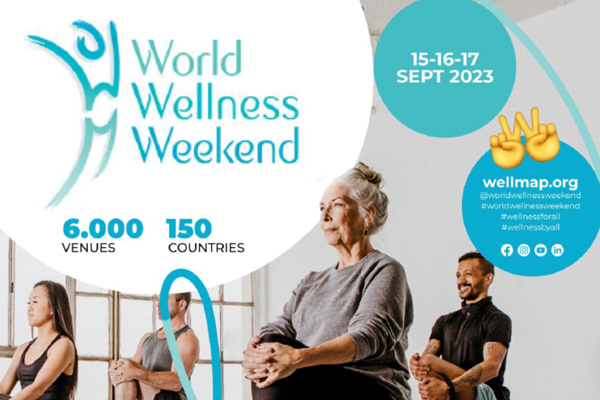 Join a wellness event celebrated in 147 countries on September 15-17, 2023.
In 2015, the UNITED NATIONS adopted the 2030 Agenda with 17 Sustainable Development Goals and a blueprint for peace and prosperity.
In 2017, World Wellness Weekend (WWW) was launched as a pro-bono event on the third weekend of September (just before the Equinox) to promote "Good Health and Wellbeing for All" (SDG 3). Professionals in Fitness, Hospitality, Tourism, Beauty, Spa are encouraged to open their doors and organize one fun and free collective activity to improve the vitality and serenity of guests, staff and local residents.
World Wellness Weekend is now celebrated in 147 countries, from sunrise in Fiji on Friday 15 until sunset in Hawaii on Sunday 17 September 2023. A record-breaking 6,000 venues appear on the World Wellness Map (www.wellmap.org) with a geo-locator (in 18 languages) to offer group in-person, and online sessions, to inspire and empower millions of people to be more active more often with family, colleagues, and wellness buddies.
Over the years, WWW has received the support of 4 Secretaries of Tourism, 2 Secretaries of Health, 7 Governors, 30 Mayors and 60 professional federations.
PARTICIPATING IS REALLY EASY
SIGN UP (free) to immediately appear on the World Wellness Map with a geolocator  www.wellmap.org
ORGANIZE fun and free group activities (see examples of yoga or fitness class, guided meditation, or pool activity…) for:
– GUESTS
– and / or STAFF (back of house to make them feel special)
– or local inter-generational COMMUNITY (to be inclusive)
– and / or possibly ONLINE to reach a global audience..
Venues that organize ONE fun and free group activity can download the "2023 OFFICIAL PARTICIPANT" badge from page 35 of the Communication Kit.
Venues that organize THREE fun and free group activities shall receive the "2023 WELLNESS CHAMPION" badge (see page 35 of the Communication Kit)
On top of one, or three fun & free activities, venues can promote their irresistible packages and special bounce-back offers to encourage people to come back with friends, family or colleagues.
Over 100 hours of inspiring online content
In addition to thousands of free & fun in-person group activities in over 2,000 cities, over 100 hours of free online wellness videos will be acccessible Sept 15-16-17, including:
Bija Bennett, CEO of BijaB, and Chair of the GWI Yoga Therapy Initiative, is giving access to 72 "YogaAway™ by BijaB" videos.
Karen Ballou, CEO Immunocologie Skincare, and GWS Shark Tank of Wellness judge, is producing two webinars consisting of multiple wellness speakers discussing the 5 Pillars of Wellness and a panel discussion, Wellness in Your Daily Life: Living Well. The panel discussion and six-hour webinar aim to provide the tools for participants to live a longer, healthier, and happier life while simultaneously incorporating World Wellness Weekend's five pillars of wellness.
C. Victor Brick , GWI Advisory Board Member, is also partnering with World Wellness Weekend with the John W. Brick Foundation and the Mental Health Global Summit
More about World Wellness Weekend
World Wellness Weekend was founded by Jean-Guy de Gabriac, CEO of award-winning spa & wellness training company Tip Touch International. Jean-Guy served as Chair of the GWI "Global Mentorship Initiative" (2014-2017) and Chair of the GWI "Support the UN's 17 SDGs Initiative" (2018).
World Wellness Weekend is completely free for venues to participate thanks to the support of these wellness brands: Val di Fiemme (Winter Olympics Valley in 2026), Biologique Recherche (1st Cosmetic brand to join the Global Compact of the UNITED NATIONS), LEMI, MATIX France, Milanosoftware, bbspa, BijaB, Tip Touch International, Vagheggi.