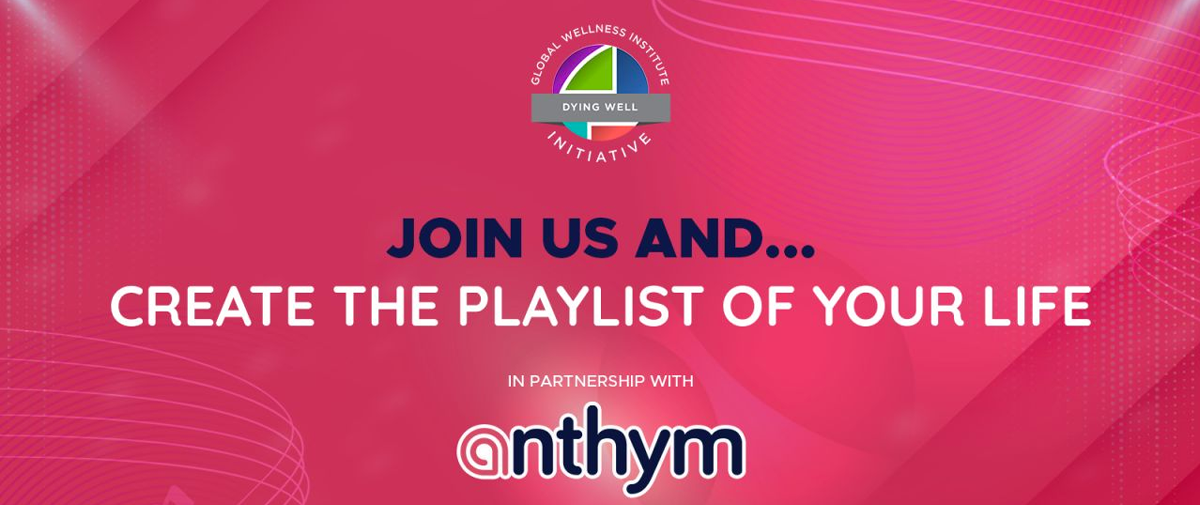 GWI Dying Well Initiative Event:
Pre-Planning Is Adulting
Wednesday, September 21, 7:00-8:30PM ET
Confronting our own mortality by planning and sharing our desired intentions and plans for life after we leave is important and a global trend, as noted in the 2022 Trends reported by the Global Wellness Institute (GWI) Dying Well Initiative. To make Pre-Planning more playful, the Dying Well Initiative has partnered with anthym and Founders Brian Mohr and Jeremy Glock who are giving each participant access to anthym's platform to create their Life PlayList. These memories (and the songs cherished during our lives) can serve as a highlight reel of the lessons learned, the victories celebrated, the challenges overcome, the losses suffered, and the moments that truly touched our lives.
Join GWI Dying Well Initiative co-chairs Amy McDonald, Owner of Under a Tree Health and Wellness Consulting, and Diane Doster, Chief Relevance Officer & Founder of Project Relevance, for this engaging event. They will be using Zoom Breakout rooms and some pre-event Home Play is involved so PLEASE RSVP EARLY at this link.
Dying Well Initiative Member and Event Host: Candi K. Cann, PhD
Candi Cann is a death scholar and researcher, teaching at Baylor University in the BIC and the Religion department. She received her AM and PhD in Comparative Religion from Harvard University, an MA in Asian Religions from the University of Hawai'i at Manoa, and a BA in Asian Studies and English from St. Andrews in North Carolina.
Her research focuses on death and dying, and the impact of remembering (and forgetting) in shaping how lives are recalled, remembered and celebrated. Her first book,Virtual Afterlives: Grieving the Dead in the Twenty-first Centurywith the University Press of Kentucky (2014), centered on grief and memorialization in the contemporary world. Her second bookDying to Eat: Cross Cultural Perspectives on Food, Death and the Afterlife(also with University Press of Kentucky, 2017) is an edited collection on the intersection of food in death and grief. Her third book,The Routledge Handbook of Death and Afterlife(Routledge, 2018), is an edited collection containing thirty chapters examining death and afterlife from around the world. Her fourth book is available now with Routledge, and is titledDeath and the Religion: The Basics. It examines the intersection of death and religious afterlives and the ways afterlife imaginaries affect grief and bereavement.
In addition she has written lots of articles and book chapters, including an article titled "African American Deathways" in Oxford Bibliographies in African American Studies. (Oxford University Press, 2020), and her co-written piece on COVID, "Death, Grief, and Funerals in the COVID age (www.covidpaper.org) utilized by Option B, National Hospice and Palliative Care Organization, Presidential Taskforce on Grief & Loss, and the New York State Psychological Association, among many others.
Learn more about Dr.Candi Cann from her website and this Patheos film, A Good Goodbye, featuring her work.
Event Facilitator: Brian Mohr, Co-Founder anthym
Brian Mohr's career is a learning-based journey with an intense focus on people, purpose, values, culture, and leadership while advocating capitalism as a powerful force for good. Today, he is channeling his experiences and energy towards unlocking the power of authentic human connection through his startup, anthym, a social wellness company focused on helping culture-driven organizations create and nurture meaningful relationships amongst their people to create more value, both for the business and the people. The core purpose at anthym is to bring people closer together. using their interactive personal storytelling platform leveraging the power of music and other inspirational media to help people catalog some of the most significant and memorable moments in our lives.
About the GWI Dying Well Initiative
Death is the bookend to birth, yet it is much more resisted, unplanned and often avoided in most cultures today. The collective impact of the pandemic, and baby boomers and their elder parents approaching later life, formal religion declining, medicalization of dying, and increased urbanization across the globe is contributing to many more people dying alone or under suboptimal conditions.
Death is part of the wellness conversation. It is being re-thought from what a healthy end-of-life looks like to a surge in eco-friendly and creative burial options. Henry Fersko-Weiss, creator of the death doula, shares, "People that face death and impermanence live differently, better and more consciously; they realize that how they live matters; they make wiser choices about how they spend time and about how they relate to other people."
Learn more and meet the GWI Dying Well Initiative team here.