Spa locations have nearly tripled in the MENA region from 2007-2013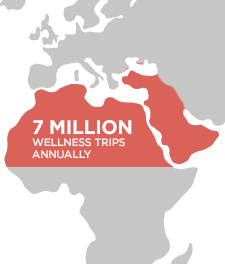 In conjunction with early May's Arabian Travel Market in Dubai, the GWI unveiled new data* on the expansion underway in more stable countries in the $7.3 billion annual Middle East/North Africa wellness tourism market. If MENA is now the world's second fastest growing wellness travel market in pure percentage terms (trailing only Sub-Saharan Africa, with its smaller base), this new research reveals which ten nations will be the region's growth leaders through 2017.
The GWI calculated this top ten ranking by combining total wellness trips added, and annual percentage growth, from 2012-2017. For several countries in the region, there is, of course, serious political instability/violence, which impacted nations included. For instance, Egypt was not included in 2012-2017 projections, as recent tourism disruptions are revising growth figures. And while the unrest in certain countries may now be having a ripple effect on regional tourism, the overall story for MENA wellness tourism across 2012-2017 is one of growth.
And the top three growth powerhouses, each essentially doubling wellness trips from 2012-2017, are: #1 UAE (993,352 trips added, 17.9% annual growth), #2 Israel (847,872 trips added, 18.6% annual growth) and #3 Morocco (825,703 trips added, 14.7% annual growth). But regional growth will be widespread: other nations – from Jordan, to Saudi Arabia, to Algeria – will also see double-digit annual wellness tourism growth, and double their total wellness trips, from 2012 to 2017.
NEW REPORT: The GWI also just released the Middle East-North Africa Spa & Wellness Economy Report, rounding up the organization's research on the region's wellness tourism, spa and hot springs markets, with detailed data on more nations and segment leaders.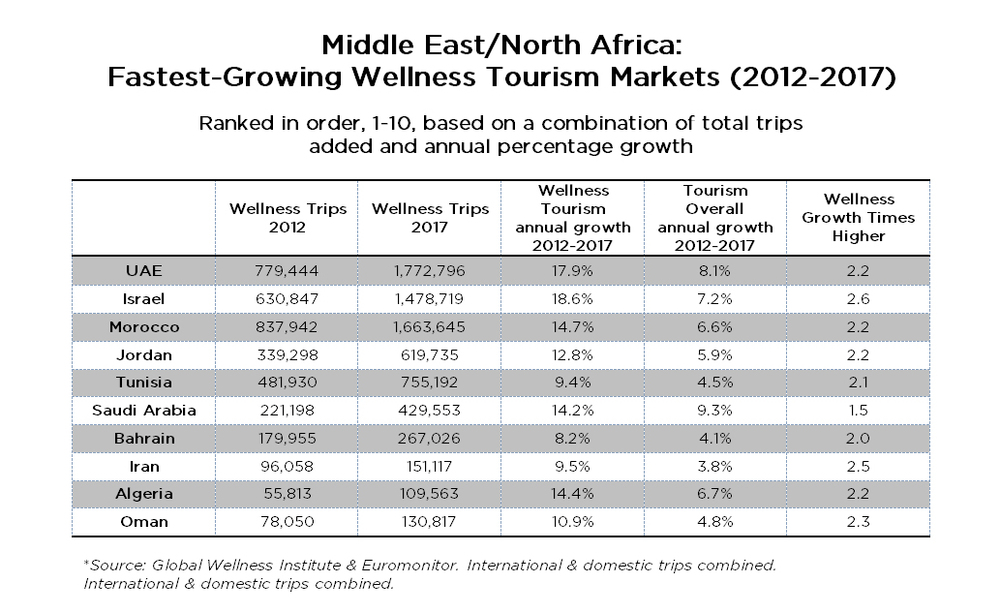 Anni Hood, the GWI's director of wellness tourism noted, "For many Middle East/North Africa nations, wellness tourism is growing twice as fast each year as tourism overall – and their wellness-focused trips will double in five short years."
"So many forces are driving this growth. The region's luxury/spa resort boom (especially in GCC countries) and the revitalization of indigenous practices (like hammams and baths) that appeal to the authentic-experience-craving modern traveler are driving inbound trips. And wellness travel within the region is being spurred by rising incomes, which have also meant a serious rise in unhealthy lifestyles and chronic disease, so more people are seeking healthy travel."
THE MENA SPA BOOM: Spa tourism is a crucial segment of wellness tourism, representing 47% of the global market. And the Middle East/North African spa industry is experiencing amazing growth: the number of spas nearly tripled from 2007-2013: from 1,014 to 3,889. And spa revenues grew 134% in that period, to $1.7 billion USD.
HELP WANTED: And if roughly 57,000 people were employed in the MENA spa industry in 2013, the projected need in 2018 will more than triple, to over 175,000 workers needed. Countries with the largest spa growth from 2007-2013 include Morocco, the United Arab Emirates (especially Dubai), Saudi Arabia and Israel.
*A special GWI data compilation with SRI International, grounded in the 2013 "Global Wellness Tourism Economy" and the 2014 "Global Spa & Wellness Economy Monitor" reports – with 2012-2017 overall tourism projections from Euromonitor Int'l.