Media Contact: Cassandra Cavanah
[email protected]
"No-Touch" New Normal Prompts a Closer Look at Augmenting Wellness with Touchless, Automated Hydromassage
Global Wellness Institute's Hydrothermal Initiative Releases White Paper on the Opportunities and Benefits of Automated, Dry Hydromassage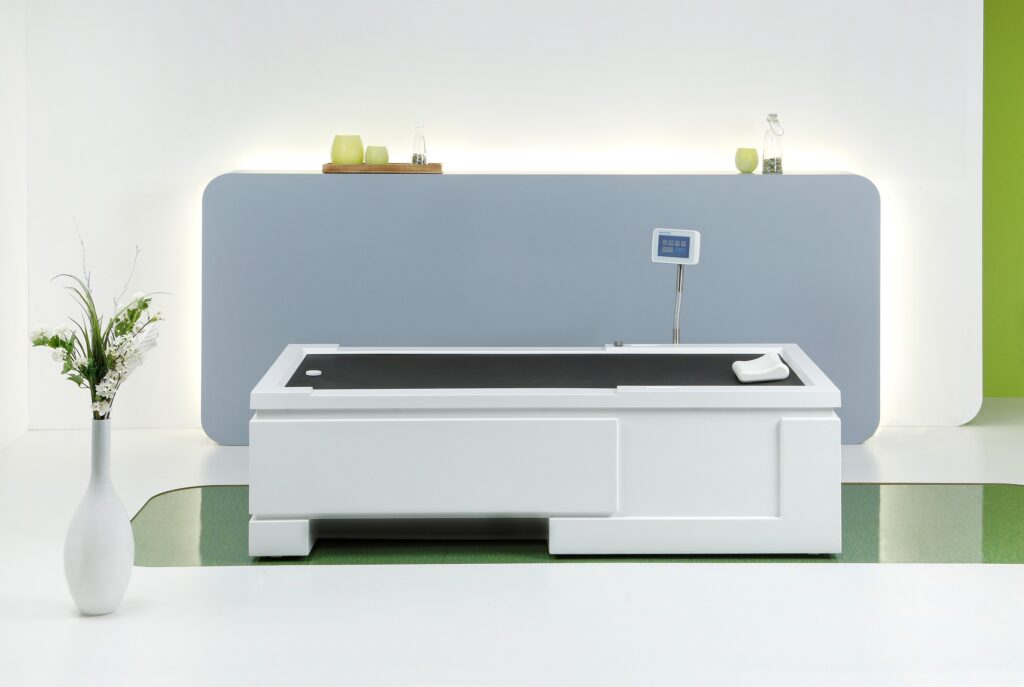 Miami, FL – September 8, 2020  – A new white paper, entitled "Hydromassage in Today's 'No Touch' Normal," from the Global Wellness Institute's Hydrothermal Initiative explores the opportunities and benefits that automated, therapist-free dry hydromassage offers spas in a physically-distant, post-COVID environment.
The paper's author, Dr. Kerstin Bremser, a professor at Germany's Pforzheim University of Applied Sciences, suggests that evidence-based automated dry hydromassage, which has been proven in clinical studies to successfully treat issues like sciatica, chronic low-back pain, and pinched nerves, etc., could be an effective alternative for those seeking touchless body work. The automated devices have been effectively used in medical and rehab centers throughout Europe for over a quarter of a century[1].
"Dry hydromassage systems not only deliver high-quality hygienic treatments that are touchless and require minimal staff time, but they can also be customized for personalized wellness experiences," said Bremser. "For example, guests choose which body zones need more attention and can alter pressure, speed and duration of a treatment. The customization also makes it possible for spas to create and save numerous treatments/massage journeys."
The paper includes interviews with numerous spa and wellness experts, all of which acknowledged that, though most spa-goers would prefer going back to the treatments they know and love, changes in behavior will be necessary due to new norms and regulations to inhibit virus spread. Spas will have to update and refine their existing spa menu, reducing treatments that demand touch and finding high-quality wellness alternatives, such as automated massages, relaxation pods, inhalation therapy and hydrothermal bathing.
In addition, the paper acknowledges that a key issue for spa operators pre-COVID was the availability of well-trained staff. Industry experts anticipate this problem to become even more acute post-pandemic, given the added pressure that the new norms will put on therapists safeguarding their own well-being and that of guests. And, because therapists are responsible for the hygiene of the treatment rooms they work in, another byproduct is that they will likely have less time to dedicate to clients as sanitizing and disinfecting rooms will take longer.
"At least in the short term, social distancing rules will limit the number of guests that can be in a spa at any one time, while new protocols will likely increase operating costs," said Don Genders, Chair of the GWI Hydrothermal Initiative and CEO of Design for Leisure. "To minimize the financial impact, operators will need to get creative in how they offer safe, hygienic and unique spa experiences – automated dry hydromassage offer a relevant and effective alternative."
The white paper, which was commissioned by GWI's Hydrothermal Initiative, a collaborative of hydrothermal experts and thought leaders, can be accessed here. The Initiative's white paper series is supported by the following companies: Unbescheiden, Barr + Wray, Design for Leisure, Dornbracht, Gharieni Group, Hygromatik, KLAFS, Kemitron, Lux Elements, Sommerhuber, TechnoAlpin and WDT.
About the GWI Hydrothermal Initiative: This Initiative was formed in 2010 to increase education and transparency regarding the design and implementation of thermal and wet areas. To this end, the Initiative has developed and published a key resource, the Guide to Hydrothermal Spa & Wellness Development Standards, available for free download. In addition, the Initiative aims to educate therapists, specialists and users on the most beneficial ways to use these features to attain health and wellness. To learn more about the Global Wellness Institute's Hydrothermal Initiative, click here.
About the Global Wellness Institute: The Global Wellness Institute (GWI), a nonprofit 501(c)(3), is considered the leading global research and educational resource for the global wellness industry and is known for introducing major industry initiatives and regional events that bring together leaders to chart the future. GWI positively impacts global health and wellness by advocating for both public institutions and businesses that are working to help prevent disease, reduce stress, and enhance overall quality of life. Its mission is to empower wellness worldwide.
[1] Harter, W. H. / FPZ (2004) (https://bit.ly/3frHriO)