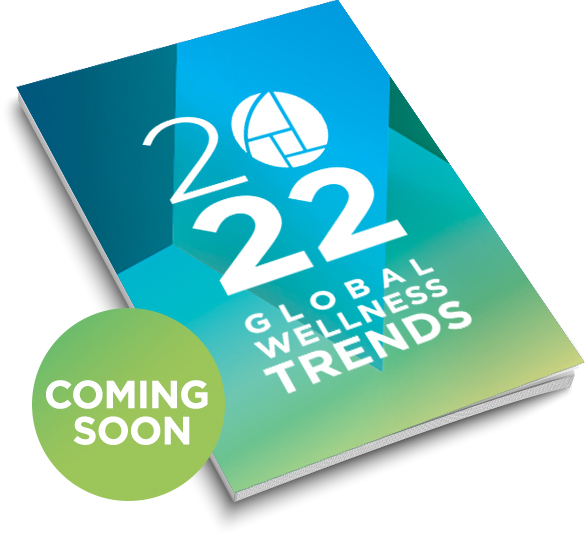 2022 Global Wellness Trends Report:
To Be Released February 8
In a joint Media Event on February, GWI will release exciting new country-specific global wellness economy research, and its sister organization GWS will release its annual Global Wellness Trends Report which offers expert-based predictions on the future of wellness. GWI Research is always free, but the GWS report can be pre-ordered today.
$95 $65
(Pre-order by January 21, 2022 to save $30)
All pre-orders come with the additional benefit of receiving an exclusive invitation to attend virtually the 2022 Global Wellness Media Event: Trends + Research via Zoom from 9am-12noon ET on February 8 or on demand anytime. Your comprehensive, in-depth report will be emailed to you on February 8, 2022.
MORE DETAILS ON THE 2022 GLOBAL WELLNESS TRENDS+RESEARCH REPORTS
GWS Global Wellness Trends Report:
Anticipate the Future of Wellness with
In-Depth Insights and Analysis
The Global Wellness Summit's annual "Future of Wellness" Trends Report offers expert-based predictions to help businesses and investors plan with confidence. This is the only wellness forecast based on the insights of hundreds of top executives of wellness companies, economists, doctors, investors, academics and technologists (from dozens of nations) that gather in person and virtually each year to debate where wellness is headed—making for a highly anticipated, uniquely informed and global set of predictions.
GWI New Companion Report:
Global Wellness Economy Research
In December 2021, the Global Wellness Institute (GWI) released its new research report, The Global Wellness Economy: Looking Beyond COVID. This report provided updated wellness economy data for 2017, 2019, 2020, across the eleven sectors that comprise the wellness economy. The report also presented, for the first time, a detailed breakdown of the wellness economy, sector-by-sector, in every region around the world.
This new companion report – The Global Wellness Economy: Regional Analysis & Country Rankings – focuses on the geographical trends and differences in the wellness economy. Using our newly expanded and comprehensive dataset, which breaks out the eleven wellness sectors by region and by country, we are now able to examine the size and development of the wellness economy across different parts of the world. While country rankings (e.g., the World Happiness Index or the World Competitiveness Index) always generate a lot of attention, the importance is not the rankings themselves, but the opportunity to ask questions such as:
How do different countries rank for the size and scale of their wellness economies?
How is the global wellness economy distributed across the world?
How does the size, growth, and composition of the wellness economy vary across different countries and regions, and what do those differences tell us?
How did the pandemic affect wellness spending across different countries and regions?
What factors are associated with higher levels of wellness spending across different countries (e.g., GDP, population, wealth, tourism dependence)?
This paper will examine these questions and will also set the stage for the 2022 GWI research on Wellness Policy.