Media Contact: Beth McGroarty
[email protected] • +1.213.300.0107
Welltech1 Calls on Wellness Start-ups to Apply for
$200,000 Investment during Coronavirus Crisis
The Israeli wellness technology fund, in partnership with the Global Wellness Institute's The Wellness Moonshot, will award up to $200K to start-ups with the innovative ideas in wellness, healthy living and disease prevention we'll need most in a pandemic and post-pandemic world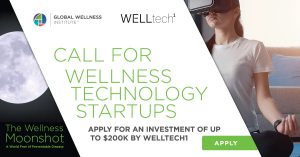 Tel Aviv, Israel – April 30, 2020 – Welltech1, an Israeli innovation hub and micro-fund that invests in early-stage companies that make people healthier and happier, today called on start-ups in the wellness technology space to apply for new investment. The start-ups, which will be chosen by wellness experts from high-profile companies around the globe, will earn an investment of up to $200,000. Applications open today, and the deadline is Monday, May 18, 2020.
The initiative is launched in partnership with the Global Wellness Institute's The Wellness Moonshot: A World Free of Preventable Disease, the first global campaign dedicated to eradicating preventable, chronic diseases.
"We felt it was a critical time to launch this initiative: The Coronavirus crisis has hurt overall seed-stage funding for start-ups (down 22 percent in 2020), but has also intensely accelerated the importance of wellness and prevention—and how technology can deliver it. For instance, global VC funding for digital health companies doubled in Q1 2020 over Q4 2019, while funding for mental health/wellness companies jumped 65 percent year-over-year," said Amir Alroy, co-founder, Welltech1. "We're delighted that the Global Wellness Institute's Moonshot has joined us as part of their constant efforts to create a healthier world."
"We're thrilled that our Moonshot partner in Israel has put this money on the table to offer companies across the wellness technology space much-needed investment in a time of both unprecedented crisis and opportunity," noted Nancy Davis, GWI's chief creative officer and executive director and one of the start-up evaluators. "Wellness, which we define as the personal, proactive and prevention-focused pursuit of healthy activities and lifestyles (self-care versus healthcare), has become radically more important to people during COVID-19. This fund will spur the new ideas we need now and in a post-virus world."
The Competition Process
After applications close Monday, May 18, Welltech1 will then conduct an initial screening, and then companies will have one-on-one Zoom meetings with industry leaders, followed by a Virtual Demo Day (a 3–4 week process after applications close).
The fund is looking for: 1) innovation, 2) ability to scale, 3) a growing market for the solution, 4) ready-for-market companies or those with initial revenues, and 5) an aggressive B-Plan. More than one start-up may receive the investment.
Global Partners & Industry Experts
Global wellness, financial and technology leaders will participate in the selection process and Virtual Demo Day. These partners will be exposed to these new technologies from around the world, which they can invest in or implement in their organizations.
Current list of industry experts: https://www.welltech1.com/competition
CEOs, founders and leaders from the following companies are official partners, with more to be added in the coming weeks.
Global Wellness Institute: The leading research and educational resource for the global wellness economy.
Legia Warsaw: One of the most successful professional Polish football clubs in the country's history.
Harel Insurance Investments & Financial Services Ltd.: Israel's largest insurance and financial group.
Smart Group: A leading, Singapore-based, diversified business conglomerate with interests in mobility, finance, healthcare, entertainment, technology, clean energy and life sciences.
IFF: A leading global innovator of taste, scent and nutrition and ingredients.
Facebook: The world's largest social networking site, supporting the growth of the Israeli wellness startup ecosystem through its Global Business Group arm in Israel.
Viola: Israel's leading technology-focused investment group, with over $3 billion assets under management.
SZ Accounting & Financial Consulting Firm: Provides financial solutions to multi-national companies, technology companies and startups. Members of Allinial Global, an association of independent international accounting and financial consulting firms.
ZAG – S&W: An international law firm focused on corporate and commercial law for more than three decades, with practices spanning the US, Israel, the UK and China.
ESOP Excellence: Offers the widest range of investment and savings products in the capital market in Israel.
SolaVieve: A progressive technology, real estate development, and operations company focused on building communities worldwide around healthy and smart living—headquartered in Heidelberg, Germany.
"These international partners joined us in the 'call for start-ups' because they understand, now more than ever, that innovation in wellness technology is not a trend, it's a necessity," said Galit Horovitz, Welltech1 co-founder. "More companies are approaching us to find and adapt technologies in the wellness sector because they understand these solutions will create new revenues and retain existing customers—and that the $4.5 trillion wellness industry is only poised for further growth post-virus."
Start-ups selected for funding will be showcased at the Global Wellness Summit, being held in Israel (Tel Aviv) for the first time November 10–13, 2020. The conference will be squarely focused on wellness innovation, with its first Wellness Innovation Pavilion spotlighting standout companies from Israel and the world. Israel is the perfect place for the 2020 GWS, as there are roughly 2,000 health start-ups there, with 500 focused on wellness—and the conference will shine a bright light on the nation as a wellness and health innovation center.
About Welltech1: Welltech1 is a micro-fund and innovation hub that provides global companies with an innovation platform and bridges the gap between Israel, the 'start-up nation,' and the rest of the world. They help partners identify emerging technologies based on their needs. The fund invests in and accelerates wellness start-ups with the goals of increasing viability, seeking additional investment, and connecting them to global partners in the wellness market. It provides start-ups with know-how, a dedicated team of wellness experts, and business advisors.
About the Global Wellness Institute: The Global Wellness Institute™ (GWI), a 501(c)(3) nonprofit organization, is the leading research and educational resource for the global wellness economy. Through its five pillars—research, industry initiatives, roundtable discussions, Wellness Evidence and The Wellness Moonshot: A World Free of Preventable Disease—the GWI informs and connects key global stakeholders who impact the health and wellness of our planet and its citizens. The GWI's mission is to empower wellness worldwide.