Media Contact: Beth McGroarty
[email protected] • +1.213.300.0107
New Data Released at WTTC Indicates Powerful Role Wellness Tourism Can Play in Inbound Tourism Recovery for Countries with Crisis-Driven Disruptions
Global Wellness Institute: countries with recent tourism shocks (i.e., India, Mexico) or those re-building tourism after past conflicts (i.e., Cambodia, Nicaragua) that capitalize on wellness tourism as a re-branding tool will see 60%-200% more inbound wellness tourism trips than inbound trips overall from 2012-2017
Good News for All Nations: Wellness Travelers Spend 137% more/trip
Miami, FL – April 15, 2015 – Today, in conjunction with the start of the World Travel & Tourism Council's (WTTC) Global Summit in Madrid, Spain, the Global Wellness Institute (GWI) released new data* that shines a light on the role that a wellness tourism focus can have on nations that are rebuilding inbound tourism after short- or long-term "image problems" – whether from wars, acts of terrorism, drug violence or natural disasters.
The 2015 WTTC agenda focuses on "disruption and reinvention" and this new data suggests that wellness tourism can be a powerful force for growing inbound trips following negative tourism disruptions. The ten nations analyzed (that have experienced either historic or shorter-term "perception problems" with tourists), will see, on average, an annual 7.2% growth rate in inbound trips overall, but a much healthier 19.5% annual rise in inbound wellness tourism trips (each year from 2012-2017). This represents roughly 170% more inbound wellness-focused trips across those five years.
The GWI defines wellness tourism as all travel associated with maintaining or enhancing one's personal wellbeing, and this travel category's global growth is estimated at 9.1% annually from 2012-2017, or 58% faster than the 5.8% annual growth rate for global tourism overall.
"Wellness tourism can play a major role in the image-building that is critical for nations that have experienced crisis-driven tourism disruptions. It's an opportunity for countries to tell an ongoing story about their unique in-nature experiences, indigenous healing traditions or wellness/spa destinations, which casts a 'healthy halo' over their country. A wellness-based brand can be a unique weapon in transforming people's perceptions (i.e., from a place of danger, to a place of health and sanctuary) when bad events occur," said GWI Senior Research Fellow and Senior Economist at SRI International, Katherine Johnston. "It may be intuitive, but this data shows the wellness tourism opportunity in action."
Johnston further noted that increased global political volatility and climate change is likely in the future, with more terrorist and natural disasters set to decimate more nations' tourism equation overnight. "For instance, it will be interesting to track how the growing wellness tourism market in countries like Tunisia or Kenya (with recent, devastating terrorist attacks) will impact their overall tourism recovery. Tunisia saw 70% growth in inbound wellness tourism from 2012-2013 (vs. 3% inbound growth overall), while Kenya saw 450% growth in international wellness travel that year (vs. 4% overall). How will these booming wellness tourism markets mitigate tourism losses in the years ahead?"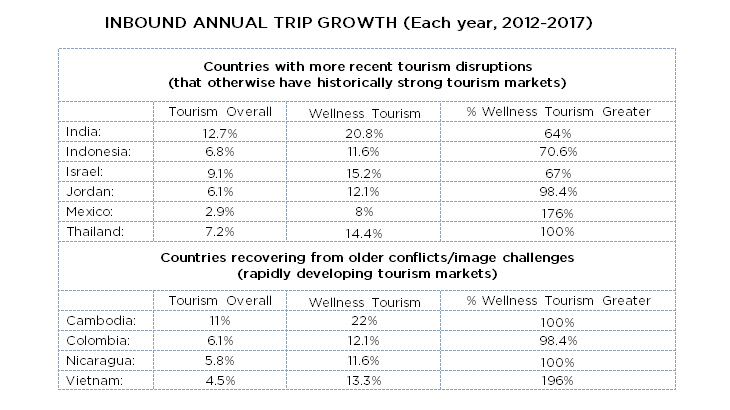 "With these nations experiencing, on average, 170% more inbound wellness tourism trips than inbound trips overall from 2012-2017, you can see how a focus on the wellness market and message can be a serious driver of tourism growth and recovery," said Susie Ellis, chairman and CEO, GWI. "And it's extraordinary how even one, great, well-marketed wellness-focused property can put an entire nation on the healthy traveler's map: like Ananda in the Himalayas for India – Sha Wellness Clinic for Spain – or Mukul for Nicaragua. A single property can open the world's eyes and jumpstart a wellness travel wave."
Ellis and Global Wellness Summit Board Member Jean-Claude Baumgarten are attending the WTTC.
International Wellness Tourism: High-Growth & High-Yield
New GWI data also revealed that global inbound wellness tourism trips will grow twice as fast each year (8.3%) as international trips overall (4.1%) from 2012-2017. And data on how exceptionally high-yield wellness tourists are, is welcome news for any nation: they spend 137% more than the average tourist per trip. And the international wellness traveler spends 59% more per trip than the average inbound tourist: at $1,639 USD vs. $1,030 USD.
Global Wellness Tourism Congress Set for Mexico City, Nov. 13-15
The next Global Wellness Summit and Global Wellness Tourism Congress, bringing world tourism leaders together to explore wellness travel growth strategies, will take place at the St. Regis, Mexico City from Nov. 12-15. To learn more, or to apply to become a delegate, visit: www.globalwellnesssummit.com.
*A special GWI data compilation with SRI International, grounded in the 2013 "Global Wellness Tourism Economy" and the 2014 "Global Spa & Wellness Economy Monitor" reports – with 2012-2017 overall tourism projections from Euromonitor Int'l.
**GWI, "Global Wellness Tourism Economy," 2013
About the Global Wellness Institute: The Global Wellness Institute (GWI) is an international think-tank that brings together leaders and visionaries from private and public sectors to positively impact and shape the future of the wellness industry. The GWI is the sister organization to the Global Wellness Summit (GWS) and includes the Global Wellness Tourism Congress (GWTC). The GWI is considered the leading global research and educational resource for the $3.4 trillion wellness industry. WellnessEvidence.com, the world's first online portal to the medical evidence for common wellness approaches, is also a GWI initiative.