Media Contact: Beth McGroarty
[email protected] • +1.213.300.0107
New Research: The Fastest Growing Middle East/North Africa
Wellness Tourism Markets
Global Wellness Institute data released at Arabian Travel Market reveals that the UAE, Israel and Morocco will be the region's growth leaders, with each of these nations doubling – and adding nearly 1 million – wellness trips from 2012-2017
Miami, FL – May 4, 2015 – Today, in conjunction with the start of the Arabian Travel Market in Dubai, the Global Wellness Institute (GWI) released new data* on the dramatic expansion underway in the Middle East/North Africa (MENA) wellness tourism market. If MENA is now the world's second-fastest growing wellness travel market (trailing only Sub-Saharan Africa, with its smaller base), this new research reveals which ten nations will be the region's growth leaders through 2017.
The GWI calculated this top ten ranking of the fastest growing MENA wellness tourism markets by combining total wellness trips added, and annual percentage growth, from 2012-2017. And the top three growth powerhouses, each essentially doubling wellness trips from 2012-2017, are: #1 UAE (993,352 trips added, 17.9% annual growth), #2 Israel (847,872 trips added, 18.6% annual growth) and #3 Morocco (825,703 trips added, 14.7% annual growth). But regional growth is widespread: other nations – from Jordan, to Saudi Arabia, to Algeria – will also see double-digit annual growth, and double total wellness trips, from 2012 to 2017.
The GWI today also released the Middle East-North Africa Spa & Wellness Economy Report, aggregating the organization's recent research on the region's wellness tourism, spa and hot springs markets, with detailed data on more nations and market segment leaders. Access this new report here.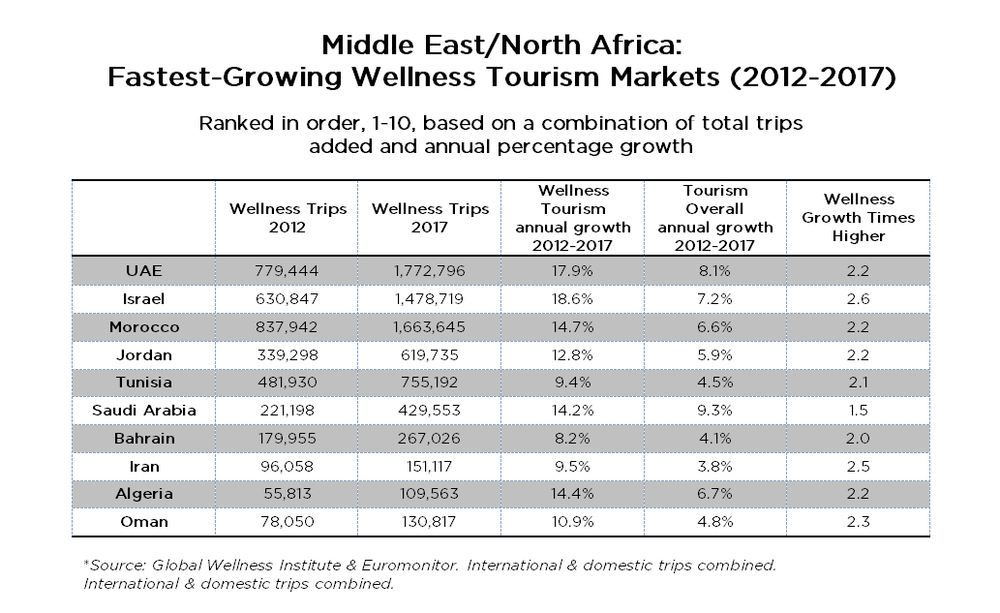 "For many Middle East/North Africa nations, wellness tourism is growing twice as fast each year as tourism overall – and their wellness-focused trips will double in five short years," said Anni Hood, director, wellness tourism for the GWI. "So many forces are fueling this growth. The region's luxury/spa resort boom (especially in GCC countries) and the revitalization of indigenous practices (like hammams and baths) that appeal to the authentic-experience-craving modern traveler are driving inbound trips. And wellness travel within the region is being spurred by rising incomes, which have also meant a serious rise in unhealthy lifestyles and chronic disease, so more people are seeking healthy travel."
Current MENA Wellness Tourism Market: Wellness tourism trips across the Middle East/North Africa (inbound and domestic combined) have reached 7 million annually, while expenditures have reached $7.3 billion USD.**

Current MENA Wellness Tourism Market Leaders – Ranked 1-10, by annual expenditures:
Annual Trips Annual Expenditures (USD)
UAE 1.2 mil $2.25 bil
Morocco 2.2 mil $1.75 bil
Israel 800,000 $1.05 bil
Tunisia 800,000 $429 mil
Jordan 400,000 $338 mil
Egypt 400,000 $309 mil
Saudi Arabia 300,000 $223 mil
Oman 100,000 $208 mil
Bahrain 200,000 $181 mil
Qatar 100,000 $181 mil
Inbound Wellness Tourism Reigns Supreme: Globally domestic wellness tourism dominates, representing 84% of trips and two-thirds of spending (only 16% of wellness trips are international). But for the MENA region the opposite is true: inbound tourists account for the great majority of trips and spend. Sixty-three percent of wellness trips, and 75% of expenditures, come from inbound tourists, while only 37% of wellness trips are domestic.
Regional Spa Boom: Spa tourism is a critical segment of wellness tourism, representing 47% of the global market. And the Middle East/North African spa industry is experiencing extraordinary growth: the number of spas nearly tripled from 2007-2013: from 1,014 to 3,889. And spa revenues grew 134% in that period, to $1.7 billion USD. If roughly 57,000 people were employed in the MENA spa industry in 2013, the projected need in 2018 will more than triple, to over 175,000 workers needed. Countries with the largest spa growth from 2007-2013 include Morocco, the United Arab Emirates (especially Dubai), Saudi Arabia and Israel.**
Global Wellness Institute at ATM: On May 6 at 12:15, the GWI's Director of Wellness Tourism, Anni Hood, will moderate a panel of experts on the topic "Making Wellness Tourism Work In Your Destination".
The next Global Wellness Summit and Global Wellness Tourism Congress, bringing tourism leaders together to strategize wellness travel growth strategies, will take place at the St. Regis, Mexico City from Nov. 13-15.
To learn more, or to apply to become a delegate, visit: www.globalwellnesssummit.com.
*A special GWI data compilation with SRI International, grounded in the 2013 "Global Wellness Tourism Economy" and the 2014 "Global Spa & Wellness Economy Monitor" reports – with 2012-2017 overall tourism projections from Euromonitor Int'l. Egypt was not included in 2012-2017 projections, as tourism disruptions are revising growth figures.
**GWI's "Global Spa and Wellness Economy Monitor," 2014
About the Global Wellness Institute: The Global Wellness Institute (GWI) is an international think-tank that brings together leaders and visionaries from private and public sectors to positively impact and shape the future of the wellness industry. The GWI is the sister organization to the Global Wellness Summit (GWS) and includes the Global Wellness Tourism Congress (GWTC). The GWI is considered the leading global research and educational resource for the $3.4 trillion wellness industry. WellnessEvidence.com, the world's first online portal to the medical evidence for common wellness approaches, is also a GWI initiative.