Media Contact: Beth McGroarty
[email protected] • +1.213.300.0107
MENA's Wellness Tourism Market Ranks #1 in World for Pure Percentage Growth
Global Wellness Institute Symposium at Arabian Travel Market reveals that MENA's annual wellness tourism market is growing 13.3 percent, its spa industry 15.4 percent, and its thermal springs sector 30.4 percent; Experts tackled the unique opportunities for both medical and wellness tourism in the region
Dubai, UAE – April 30, 2019 – Today at the Arabian Travel Market (ATM) in Dubai, the Global Wellness Institute (GWI) held its third annual Wellness Symposium, presenting the latest research and trends for the Middle East-North Africa wellness tourism markets. In terms of recent growth percentages, no wellness tourism market is growing faster than MENA's: 13.4 percent annually (from 2015–2017) to reach $10.7 billion. MENA's spa industry is also seeing explosive 15.4 percent yearly growth and is now valued at $2.8 billion. And its thermal/mineral springs market also has the #1 recent growth rate worldwide at 30 percent a year.
Access the report: https://globalwellnessinstitute.org/industry-research/mena-wellness-tourism/
This year's symposium put the focus on "Medical Tourism and Wellness Tourism: Understanding the Opportunities," and featured experts from both tourism sectors exploring the key trends for MENA: from the Gulf's growing opportunities in medical tourism to a unique "medical-wellness" model unfolding in that region to the rise of far more comprehensive wellness resorts to Ayurveda being sought by so many more wellness travelers.
Today's speakers and topics: https://arabiantravelmarket.wtm.com/en/sessions/73563/medical-tourism-and-wellness-tourism-understanding-the-opportunities
MENA Wellness Tourism: The Growth Story
Wellness trips across MENA (domestic and inbound combined) grew from 8.5 million in 2015 to 11 million in 2017. Wellness tourism revenues jumped from $8.3 billion in 2015 to $11 billion in 2017 and will grow another 75 percent to reach $18.7 billion by 2022. MENA's recent wellness tourism revenue growth rate of 13.3 percent annually is more than double the global average (6.5 percent). And MENA wellness travelers are high spenders: spending 44 percent more on inbound wellness trips ($1,305) than the average traveler to the region, while domestic wellness trips command a 65 percent premium ($599).
Top 10 MENA Wellness Tourism Markets (Annual Trips/Expenditures)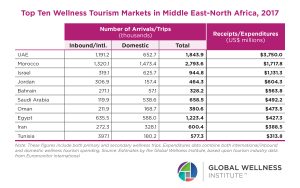 Spa Industry Catches Up to Hospitality Market
With hotels/resorts being built at a breakneck pace and spas now seen as a "must" in properties from mid-price up, MENA's spa industry is fast catching up to its hyper-developed hospitality market. Spa locations jumped from 4,465 in 2015 to 6,057 in 2017 while spa revenues grew from $2.1 billion to $2.8 billion (15.4 percent annual growth versus 9.9 percent for the average global spa market). The UAE is the overwhelming leader (ranking among the top 20 spa markets in the world) with $873 million in yearly spa revenues—followed by Saudi Arabia ($347 million) and Morocco ($295 million).
Hot Springs Market Ranks #1 for Pure Growth
For recent percentage growth, MENA's thermal/mineral springs market ranks #1 worldwide. Revenues grew from $240 million in 2015 to $410 million in 2017 (30.4 percent annually versus 10 percent for the average global market). Hot springs establishments across MENA grew from 324 to 416. Tunisia is the clear leader ($190 million market), followed by Israel ($66.5 million) and Algeria ($45.4 million).
A Few Key Trends:
Gulf Nations' Medical Tourism Opportunity
GWI's research associate, the global medical tourism experts Patients Beyond Borders, defines a medical traveler as anyone who crosses borders for the purpose of receiving medical care and estimates the world market size as $65 to $87.5 billion, with 20–24 million medical travelers annually. Medical travel is set to grow another 15–20 percent in 2019. Josef Woodman, CEO, notes, "The UAE now accounts for an astounding 20 percent (207 medical facilities) of all Joint Commission International-accredited hospitals and clinics worldwide. This represents a huge calling card for promoting medical tourism to the UAE, and Middle Eastern destinations, like the UAE, are now actively vying for the outbound wave of Chinese patients."
Trailblazing a Medical-Wellness Model
Gulf countries, such as the UAE, Bahrain, Kuwait and Qatar, are pioneering a medical-wellness model, where medical travel and wellness tourism offerings are packaged together. Massive, billion-dollar new projects are marrying medical facilities, residences, hotels, retail, green building, fitness offerings and alternative/preventative medicine to provide uniquely integrative health destinations for both locals and visitors. Examples: Dubai Healthcare City/WorldCare Wellness Village in UAE, the Qatar Foundation Stadium and Health & Wellness Precinct/Education City project, and the Dilmunia Island project in Bahrain.
Beyond the Luxe Hotel Spa: More Comprehensive – and Authentic – Wellness Resorts
The region is moving beyond the generic luxury-hotel-plus-luxury-spa model to more comprehensive wellness resorts with more unique, authentic offerings. When Six Senses Shaharut in Israel's Arava Valley opens this year, it will feature the brand's deep wellness programming but with indigenous "spins," such as design inspired by the desert topography, authentic hammams, and overnight camel camping. The UAE's Alma Retreat is a comprehensive, affordable wellness camp focused on bringing back-to-desert-nature experiences to the Emirates. Corinthia Meydan Beach, coming to Dubai's beachfront in 2020 (Corinthia's first resort and the first ESPA Life spa in the Middle East), will deliver their holistic, ancient-meets-modern approaches to spa, fitness, nutrition and mindfulness. Lux Al Zorah, coming to Ajman in 2021, will offer everything from wellbeing safaris in nature to an integrated wellness Vitalité program.
As cities get increasingly crushed by residents and tourists, the Gulf is out in front of the "urban wellness resort" trend. Its first holistic wellness retreat was the Retreat Palm Dubai, and when the first One&Only Urban Resorts (Za 'abeel) opens in Dubai in 2020, it will be a "well" challenge to a traditional city hotel.
Hot Springs Development Just Keeps Heating Up  
Hot springs are hot with global wellness travelers, and countries such as Tunisia, Morocco, Algeria, Iran, Egypt, Oman and Saudi Arabia all have powerful natural thermal springs resources. Whether developed markets (Tunisia and Algeria) or those new to development (Oman, Saudi Arabia, Iraq), the action is heating up. In Tunisia, plans are underway to privatize historic thermal centers and build 54 new ones by 2020. In Algeria, 70 springs have been granted to private investors, 13 new facilities have opened, and $100 million is being invested to modernize eight publicly owned thermal centers and 40 traditional hammams. Saudi Arabia is pushing investment in hot springs to create all-new medical-wellness resorts.
For more info, contact Beth McGroarty: [email protected] or (+1) 213-300-0107
About the Global Wellness Institute: The Global Wellness Institute (GWI), a nonprofit 501(c)(3), is considered the leading global research and educational resource for the global wellness industry. It's known for its proprietary research that quantifies the global wellness economy, now valued at $4.2 trillion, as well as for introducing major industry initiatives and hosting regional events that bring together leaders to chart the future. GWI positively impacts global health and wellness by advocating for both public institutions and businesses that are working to help prevent disease, reduce stress, and enhance the overall quality of life. Its mission is to empower wellness worldwide. www.globalwellnessinstitute.org