Media Contact: Beth McGroarty
[email protected] • +1.213.300.0107
International Wellness Tourism Growing Much Faster than Domestic
 New Global Wellness Institute data presented at the World Travel Market London: U.S. is largest national wellness tourism market by far – China made biggest gains from 2013-2015, jumping from 9th to 4th worldwide, with over 300% revenue growth
November 7, 2016 – The Global Wellness Institute (GWI) recently reported that global wellness tourism revenues grew an impressive 14% from 2013-2105 (to $563 billion), more than twice as fast as overall tourism (6.9%*) – while also projecting that this "unstoppable" travel category would grow another 37.5%, to $808 billion, by year 2020.
And today the GWI released new data, revealing that international wellness tourism revenues have been growing at a significantly faster clip (20% from 2013-2015) than domestic wellness travel (11%). And that secondary wellness tourism (wellness services sought during travel, but where wellness is not the main purpose of the trip) is growing slightly faster than primary wellness tourism (where the main purpose of the trip is wellness).
The top twenty national wellness travel markets (inbound and domestic combined) were also released, and the U.S. remains the global powerhouse, with $202 billion in revenues, or more than three times more than #2 market, Germany. But China showed the biggest growth: jumping from the 9th largest market in 2013, to 4th in 2015, with revenues growing more than 300%, from $12.3 billion to $29.5 billion.
This new data will be presented tomorrow at the World Travel Market London, who tapped the GWI to create the program for this year's Wellness Travel Symposium. The Symposium, on Tuesday, November 8th (10:30AM- 1:30 PM), includes panels on topics like "Creating a Winning Wellness Strategy for Your Destination" and how "Medical Wellness Concepts Are on the Rise", featuring numerous global experts and executives, from Vinod Zutshi, Secretary of Tourism, India, to Joshua Luckow, Executive Director, Canyon Ranch. The GWI's full report on global wellness and wellness tourism markets will be released in early 2017.
International Wellness Tourism Growing Fast
Domestic wellness tourism represents the majority of wellness trips (83%) and revenues (67%). But international/inbound wellness travel grew at a much faster rate than its domestic equivalent from 2013-2015: 22% growth in trips and 20% growth in revenues for international, compared to 17% and 11% for domestic. While international revenues grew more than twice as fast as domestic, both categories saw strong growth from 2013-2015: international trips grew from 95.3 million to 116 million, while domestic trips jumped from 491 million to 575 million.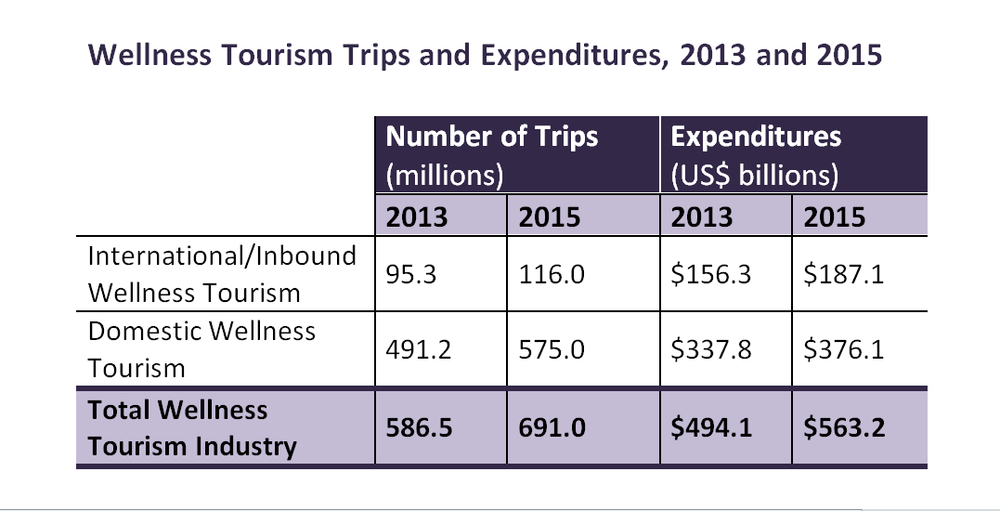 Secondary Wellness Tourism Dominates & Grows Share
The bulk of wellness travel is done by secondary wellness tourists, those who seek wellness experiences during travel, but where wellness is not the primary motivation for the trip. Secondary wellness tourists accounted for 89% of wellness tourism trips and 86% of expenditures in 2015 – up from 87% of trips and 84% expenditures in 2013. While the travel and hospitality industry tends to focus on the primary wellness traveler (where wellness is the main motivation for the trip) they need to pay keen attention to mainstream travelers who are increasingly incorporating more healthy experiences (whether spa treatments, fitness or food) into their overall leisure and business travel.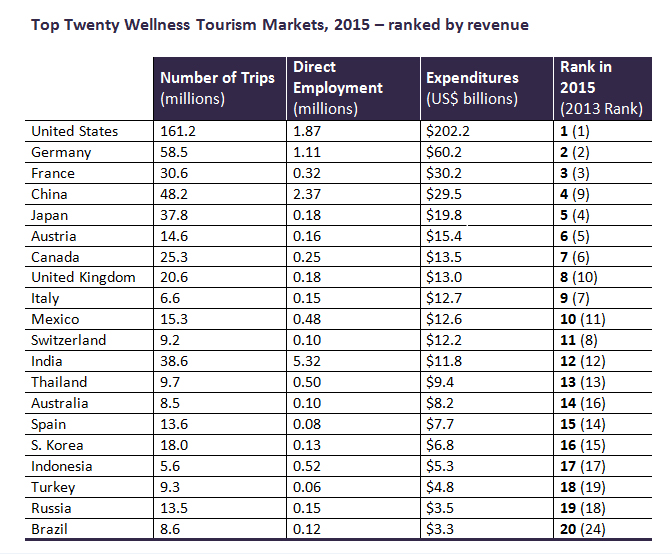 The United States remains the overwhelming world leader, representing over one-third of global wellness tourism revenues, while the top five countries (U.S., Germany, France, China, Japan) represent 61% of the world market. A key story from 2013-2015: China gaining significantly in the rankings (from # 9 to #4) for revenues, which jumped from $12.3 billion to $29.5 billion – more than 300% growth. Additionally,
Brazil entered the top twenty for the first time (supplanting Portugal).
"The Chinese consumer's appetite for wellness-focused travel is huge and growing, but the current infrastructure for delivering these services and experiences in China at an international standard is still limited," noted Katherine Johnston, Senior Research Fellow, GWI. "But given the country's unique wellness 'assets' – from TCM and herbal medicine, to energy work and martial arts – there is enormous potential for China to become both an international and domestic wellness tourism destination."
Most European countries, Japan, and Canada actually show a decline in wellness tourism revenues since 2013 – and many fell slightly in the rankings – due to significant depreciation of the Euro and other major currencies against the US$ during this period. But the currency factors seriously mask the very robust growth in wellness tourism throughout these countries, made plain by their strong growth in wellness tourism trip numbers – as seen below.
Top Nations for Revenues: Ranked by Wellness Tourism TRIP GROWTH
                 Trips 2013         Trips 2015                   % growth
 Australia           4.6 million         8.5 million                   85%
China                  30.1 million        48.2 million                60%
Brazil                   5.9 million         8.6 million                  46%
Indonesia           4 million            5.6 million                  40%
Russia                 10.3 million      13.5 million                   31%
Mexico                12 million          15.3 million                 27.5%
Austria                12.1 million       14.6 million                  21%
Spain                   11.3 million       13.6 million                  20%
France                25.8 million       30.6 million                18.6%
India                   32.7 million       38.6 million                  18%
Thailand             8.3 million         9.7 million                    17%
Germany            50.2 million       58.5 million                 16.5%
South Korea      15.6 million        18 million                     15%
Canada               23.1 million       25.3 million                  9.5%
UK                        18.9 million       20.6 million                  9%
United States    148.6 million    161.2 million                  8.5%
Turkey                 8.7 million        9.3 million                     7%
Japan                  36 million         37.8 million                    5%
The top five growth leaders for percentage increase in wellness trips (among the top twenty nations for wellness tourism revenues) are: 1) Australia (+85%), 2) China (+60%), 3) Brazil (+46%), 4) Indonesia (+40%) and 5) Russia (+31%) – clear evidence that developing nations are a developing story in wellness travel.
Research Sponsors: The 2016 Global Wellness Economy Monitor was underwritten with support from the following industry leaders: Spafinder Wellness, Biologique Recherche, Universal Companies, Elemis, HydraFacial, Miraval, Performance Health, The BodyHoliday, Treatwell and Two Bunch Palms.
For more information, or to speak to Global Wellness Institute researchers, contact Beth McGroarty: [email protected] or (+1) 213-300-0107.
* Euromonitor data, 2013-2015
About the Global Wellness Institute: The Global Wellness Institute (GWI), a non-profit 501(c)(3), is considered the leading global research and educational resource for the global wellness industry, and is known for introducing major industry initiatives and regional events that bring together leaders and visionaries to chart the future.
GWI positively impacts global health and wellness by advocating for both public institutions and businesses that are working to help prevent disease, reduce stress, and enhance overall quality of life. Its mission is to empower wellness worldwide. www.globalwellnessinstitute.org