Media Contact: Beth McGroarty
[email protected] • +1.213.300.0107
Global Wellness Institute Releases 2nd White Paper in its
"Understanding Wellness" Series

Second report explores the opportunities and impact the wellness economy has for regional development; series brings clear, expert insights on how wellness is evolving now and into the future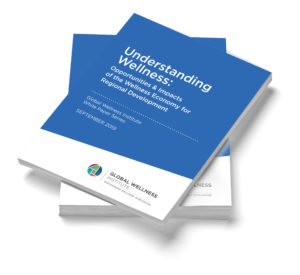 Miami, FL – October 8, 2019 – The Global Wellness Institute™ (GWI), a nonprofit research and educational resource for the world wellness industry, today released the second white paper in its "Understanding Wellness" series. The white papers are designed to serve as primers for policymakers, businesspeople, researchers and students on how wellness has become a major force around the world and the ways it will evolve in the future.
This second paper, "Opportunities and Impacts of the Wellness Economy for Regional Development," outlines the ways a growing wellness industry can facilitate development and growth in countries, regions and communities around the world.
"The wellness economy is now a $4.2 trillion global industry, yet the growth has been largely a private sector phenomenon and off the radar of most government leaders, policymakers and economic developers," explained Ophelia Yeung, GWI senior researcher and coauthor of the series.
"We think it's time governments around the world start paying more attention to this crucial sector, not only because it enables economic development, competitiveness and growth, but because it has massive implications in the arenas of health, urban planning, environmental and cultural sustainability, workforce equity and diversity, social and cultural affairs, and much more," continued Katherine Johnston, GWI senior researcher and coauthor of the series.
Wellness is now over half the size of global health expenditures, which were estimated at $7.3 trillion in 2015*. As an industry, wellness is a major force in the global economy—close in size to the information and communications technology (ICT) industry and larger than the sports, pharmaceuticals, and travel and tourism industries.
Expect in-depth, digestible analysis on the following topics:
Wellness is an economic growth driver.
Employment creation and small business development
Promotion of locally sourced, produced and branded products
Women's empowerment and benefits to families
Wellness improves public health.
Mitigating rising healthcare costs
Improving health equity by engaging wellness workers in the community
Addressing the growing mental health epidemic
Harnessing indigenous wellness knowledge, traditions and modalities
Wellness supports the protection of natural and cultural assets.
Environmental protection
Preserve and celebrate local culture and heritage
Mitigate tourism-related challenges
Wellness supports workforce development and worker welfare.
Developing new models and solutions for businesses and workers
For more information, contact Beth McGroarty: [email protected].
About the Global Wellness Institute: The Global Wellness Institute (GWI), a nonprofit 501(c)(3), is considered the leading global research and educational resource for the global wellness industry and is known for introducing major industry initiatives and regional events that bring together leaders to chart the future. GWI positively impacts global health and wellness by advocating for both public institutions and businesses that are working to help prevent disease, reduce stress, and enhance the overall quality of life. Its mission is to empower wellness worldwide.