Media Contact: Beth McGroarty
[email protected] • +1.213.300.0107
Global Wellness Institute Finds Mental Wellness Is a $121 Billion Market
First research report to define, analyze and size the global mental wellness economy identifies and measures the four sub-markets: 1) senses, spaces and sleep ($49.5 billion), 2) brain-boosting nutraceuticals & botanicals ($34.8 billion), 3) self-improvement ($33.6 billion), and 4) meditation and mindfulness ($2.9 billion)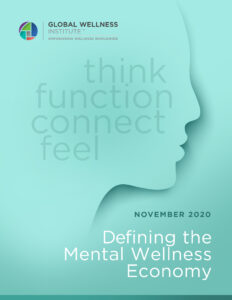 Palm Beach, FL – November 9, 2020 – The Global Wellness Institute (GWI) today released its major research report for 2020: "Defining the Mental Wellness Economy." It's the first study to define mental wellness as opposed to mental health and to clarify the key concepts and pathways. It's also the first research to measure mental wellness as a global industry and to identify and benchmark its key sub-segments.
The in-depth (115-page) report finds that the global mental wellness economy is worth $120.8 billion, based on consumer spend in four markets: senses, spaces and sleep ($49.5 billion), brain-boosting nutraceuticals & botanicals ($34.8 billion), self-improvement ($33.6 billion), and meditation and mindfulness ($2.9 billion). Mental wellness becomes a new "industry bubble" in the GWI's Global Wellness Economy framework, capturing a crucial set of economic activities not previously included in the organization's wellness economy measurements.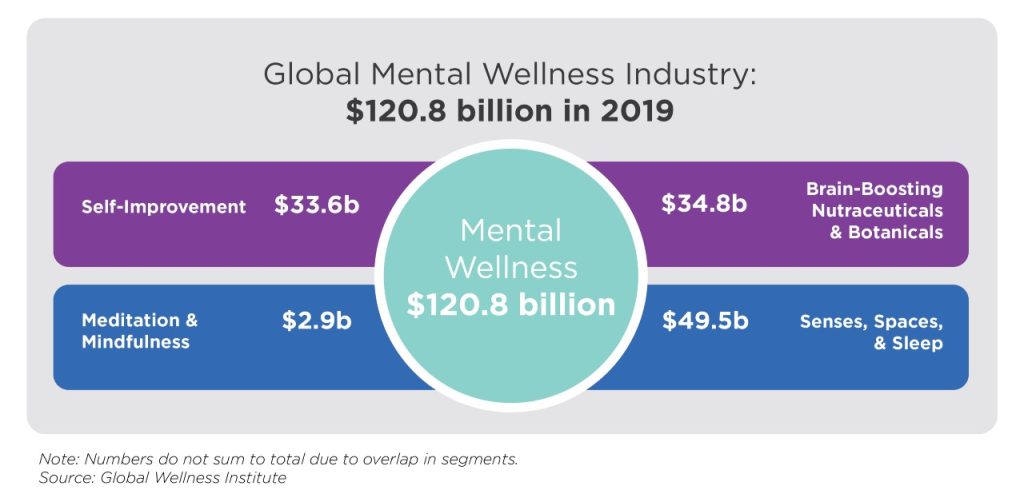 "Stress, loneliness and burnout were exploding pre-pandemic, and a stronger focus on mental wellness has been a cultural mega-shift these last few years: People awakening to the importance of integrative solutions including meditation, sleep and brain health, with businesses rushing in to offer all kinds of solutions. But mental wellness as a concept, and what constitutes it as an industry, has remained incredibly fuzzy," said Ophelia Yeung, GWI senior research fellow. "Clarifying what it is, and delineating its business segments, is overdue. And while most mental wellness strategies are free–like spending time in nature or with friends–people increasingly seek non-clinical help in coping with everyday mental challenges, and that's where the mental wellness industry comes in."
Katherine Johnston, GWI senior research fellow, added: "There is urgency to this research: Study after study shows how the human suffering and economic dislocations caused by the pandemic have ravaged our mental wellbeing. We're excited to release this study because people are desperate for alternative strategies to cope, and we hope it clarifies how important it is to promote mental wellness–and how businesses, governments and individuals can all play different roles in addressing a growing crisis."
Defining Mental Wellness vs. Mental Health
The GWI defines mental wellness as "an internal resource that helps us think, feel, connect, and function. It is an active process that helps us to build resilience, grow, and flourish."
The report provides a comprehensive paradigm for understanding the difference between "mental health" and "mental wellness," impossible to replicate here. The authors propose a "dual continuum model," in which mental wellness is a dynamic process of moving from languishing, to resilience, to flourishing. Key strategies for mental wellness fall into four pathways: activity and creativity; growth and nourishment; rest and rejuvenation; and connection and meaning.
The Mental Wellness Industry: What's Included & Why
The research is the first to define the mental wellness industry: "Encompassing businesses whose primary aim is to help us along the mental wellness pathways of growth and nourishment and rest and rejuvenation." Within those pathways, it identifies four sectors coalescing to form an emerging market: 1) senses, spaces and sleep, 2) brain-boosting nutraceuticals & botanicals, 3) self-improvement and 4) meditation and mindfulness.
The report carefully explains what's included in the mental wellness industry, what's not, and why. The four segments were chosen because they're the ones most closely identified by consumers and businesses as explicitly associated with mental wellness. It doesn't include solutions that may be very beneficial for mental wellness but whose primary purpose is something else (e.g., fitness, healthy foods, arts and literature, pets), or anything in the medical arena (e.g., psychotherapy or sleep labs).
The Mental Wellness Economy:
Senses, spaces, & sleep–$49.5 billion
The largest mental wellness sector, this category spans products, services, and design that target our senses and the mind-body connection, with the growing understanding that environmental stimuli have a major impact on our mood, stress levels and sleep. Sleep is the goliath sub-segment, with an exploding array of sleep- and sleep-environment-optimizing solutions, including smart bedding and sleep accessories; sleep apps, wearables and trackers; and sleep retreats and nap cafés.
The segment includes sound (sound therapy, white noise, noise cancellation and wellness music); scent (aromatherapy, home fragrances and diffusers); touch (stress toys and gadgets and weighted blankets); and light (human-centric light and light therapy consumer devices). It includes multisensory experiences (from flotation tanks to forest bathing) at wellness travel, spa, fitness and entertainment destinations and sensory-based design and architecture (i.e., biophilic design and circadian lighting).
Brain-boosting nutraceuticals & botanicals–$34.8 billion
Ingestible products with the specific goal of improving mental health and wellbeing, including natural supplements, herbals and botanicals, and functional foods and beverages, are proliferating–claiming to boost brain health, sleep, memory and energy.
The category also includes plant-based drugs increasingly used for mental wellness, with the legal cannabis and its derivatives market exploding in the last couple years, with cannabis, hemp, and CBD making their way into many supplements, foods, and beverages. The segment also includes psilocybin and other functional mushrooms, with the former seeing a rapid acceleration in clinical research for use for almost every mental health and wellness issue. A quickening relaxation of regulation means plant-based psychedelic drugs will increasingly be used for both mental wellness and clinical treatment purposes. For instance, in the US last week, Oregon legalized magic mushrooms and the District of Columbia decriminalized the recreational use of psilocybin and other psychedelics.
Self-Improvement–$33.6 billion
This segment spans a wide range of activities typically associated with self-help and personal development, including self-help books, media, video, apps and online platforms; self-help gurus and influencers; personal and life coaches; organizations delivering classes, workshops and retreats; self-help organizations and mutual support groups; cognitive enhancement and brain training products/services; and new, creative organizations, apps and online platforms combatting loneliness and isolation.
Meditation & mindfulness– $2.9 billion
While meditation and mindfulness are perhaps the approaches most firmly associated with "mental wellness," it's the smallest (if an extremely fast-growing) market, because while millions of people worldwide practice meditation, only a small fraction spend money on it.
The category includes all forms of meditation practice, related mindfulness practices (e.g., breathwork, guided imagery, body scan, relaxation exercises), and products and services that support these practices. Key spending categories include classes, teachers, retreats, books and online platforms–with mobile apps (such as Calm, Headspace, Insight Timer) a huge driver of consumer adoption and spend. There is a growing market for meditation accessories (e.g., cushions, beads, chimes) and mindfulness products (e.g., journals, coloring books), as well as a fast-growing range of connected gadgets, trackers and monitors to support meditation (e.g., headbands, glasses, wearable sensors, lamps) – many of which build upon biofeedback, neurofeedback, and virtual reality technologies.
The analysis of each of these four markets includes historical background and the modern evolution of the space, the key companies and market innovators, and business models and developments to watch.
The full report is available to in-person and virtual 2020 Global Wellness Summit delegates; Virtual access (including access to all conference keynotes and panels) can be purchased anytime.
Media may request the report's executive summary. Contact Beth McGroarty: [email protected]
About the Global Wellness Institute: The Global Wellness Institute (GWI), a nonprofit 501(c)(3), is considered the leading global research and educational resource for the global wellness industry and is known for introducing major industry initiatives and regional events that bring together leaders to chart the future. GWI positively impacts global health and wellness by educating public institutions, businesses and individuals on how they can work to prevent disease, reduce stress, and enhance the overall quality of life. Its mission is to empower wellness worldwide.